Jurassic World: Dominion Dominates Fandom Wikis - The Loop
打开音效
育母蜘蛛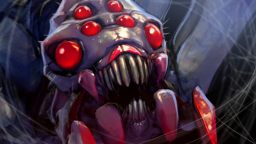 等级
0
1
15
25
30

生命值

200
560
1340
2140
2460
+0
+1.8
+5.72
+9.72
+11.32

魔法值

75
291
627
1011
1155
+0
+0.9
+2.3
+3.9
+4.5
护甲
0

2.5

9.5

16.5

19.33

伤害格挡
16
(

50%

)
魔法抗性
25%
状态抗性
0%
攻击力
29‒35
44‒50
86‒92
128‒134
145‒151

攻击频率

0.74/秒
0.82/秒
1.07/秒
1.32/秒
1.42/秒
攻击距离
150
(600)
攻击速度
Link▶️
125
(1.7秒 BAT)
攻击动作

0.4

+

0.5

弹道速度

瞬间

移动速度
Link▶️
275
转身速率
0.5
碰撞体积
24
视野
(地)

1800

 • 

800

腿

8
碎片类型

腐臭

技能升级
没有神杖升级
没有魔晶升级
布蕾克·艾拉齐娜,育母蜘蛛是一名近战敏捷英雄,拥有很强的推进能力。作为她的资本也是她的责任,她标志性的小蜘蛛决定了她的玩法。如果没有细腻的微操和大量的关注,小蜘蛛非常容易推线,甚至成为对面获得额外金钱、经验的来源。育母蜘蛛的技能让她用召唤的小蜘蛛来帮她补兵,如果敌人疏于防范还可以减速并杀掉他们,她可以通过网和被动让人难以接近。因为她的小蜘蛛和蛛网给予的被动效果,她可以在游戏前期用小的精力给兵线施加压力,而选择了正确的装备后她也可以转型为一个难以击杀的近战核心,跟踪一个落单的敌人然后迅速解决掉。
介绍
[
]
技能
[
]
蛛网的技能
[
]
Lua错误:A database query error has occurred. Did you forget to run your application's database schema updater after upgrading? Query: SELECT `cargo__abilities`.`title` AS `title`,`cargo__abilities`.`type` AS `type`,`cargo__abilities`.`source` AS `source`,`cargo__abilities`.`sound` AS `sound`,`cargo__abilities`.`sound2` AS `sound2`,`cargo__abilities`.`sound3` AS `sound3`,`cargo__abilities`.`image` AS `image`,`cargo__abilities`.`description` AS `description`,`cargo__abilities`.`lore` AS `lore`,`cargo__abilities`.`target` AS `target`,`cargo__abilities`.`target2` AS `target2`,`cargo__abilities`.`affects` AS `affects`,`cargo__abilities`.`affects2` AS `affects2`,`cargo__abilities`.`damage_type` AS `damage type`,`cargo__abilities`.`damage_type2` AS `damage type2`,`cargo__abilities`.`BKB_block` AS `BKB block`,`cargo__abilities`.`BKB_text` AS `BKB text`,`cargo__abilities`.`linkens_block` AS `linkens block`,`cargo__abilities`.`linkens_text` AS `linkens text`,`cargo__abilities`.`illusionuse` AS `illusionuse`,`cargo__abilities`.`illusion_text` AS `illusion text`,`cargo__abilities`.`breakable` AS `breakable`,`cargo__abilities`.`break_text` AS `break text`,`cargo__abilities`.`disjointable` AS `disjointable`,`cargo__abilities`.`disjointtext` AS `disjointtext`,`cargo__abilities`.`rootdisables` AS `rootdisables`,`cargo__abilities`.`roottext` AS `roottext`,`cargo__abilities`.`oncastproc` AS `oncastproc`,`cargo__abilities`.`oncasttext` AS `oncasttext`,`cargo__abilities`.`default_key` AS `default key`,`cargo__abilities`.`legacy_key` AS `legacy key`,`cargo__abilities`.`mana_cost` AS `mana cost`,`cargo__abilities`.`mana_cost_aghs` AS `mana cost aghs`,`cargo__abilities`.`mana_cost_shard` AS `mana cost shard`,`cargo__abilities`.`mana_cost_tal` AS `mana cost tal`,`cargo__abilities`.`current_mana_cost` AS `current mana cost`,`cargo__abilities`.`max_mana_cost` AS `max mana cost`,`cargo__abilities`.`cooldown` AS `cooldown`,`cargo__abilities`.`cooldown_aghs` AS `cooldown aghs`,`cargo__abilities`.`cooldown_shard` AS `cooldown shard`,`cargo__abilities`.`cooldown_tal` AS `cooldown tal`,`cargo__abilities`.`cooldown_aghs_tal` AS `cooldown aghs tal`,`cargo__abilities`.`aghanims_upgrade` AS `aghanims upgrade`,`cargo__abilities`.`aghshard` AS `aghshard`,`cargo__abilities`.`cast_point` AS `cast point`,`cargo__abilities`.`cast_point_tal` AS `cast point tal`,`cargo__abilities`.`cast_point_aghs` AS `cast point aghs`,`cargo__abilities`.`cast_point_shard` AS `cast point shard`,`cargo__abilities`.`cast_point_aghs_tal` AS `cast point aghs tal`,`cargo__abilities`.`cast_backswing` AS `cast backswing`,`cargo__abilities`.`cast_backswing_tal` AS `cast backswing tal`,`cargo__abilities`.`cast_backswing_aghs` AS `cast backswing aghs`,`cargo__abilities`.`cast_backswing_shard` AS `cast backswing shard`,`cargo__abilities`.`cast_backswing_aghs_tal` AS `cast backswing aghs tal`,`cargo__abilities`.`notes` AS `notes`,`cargo__abilities`.`game` AS `game`,`cargo__abilities_traits`.`trait1` AS `trait1`,`cargo__abilities_traits`.`value1` AS `value1`,`cargo__abilities_aghstraits`.`value1_aghs` AS `value1 aghs`,`cargo__abilities_aghstraits`.`value1_shard` AS `value1 shard`,`cargo__abilities_traits`.`value1_tal` AS `value1 tal`,`cargo__abilities_aghstraits`.`value1_aghs_tal` AS `value1 aghs tal`,`cargo__abilities_traits`.`trait2` AS `trait2`,`cargo__abilities_traits`.`value2` AS `value2`,`cargo__abilities_aghstraits`.`value2_aghs` AS `value2 aghs`,`cargo__abilities_aghstraits`.`value2_shard` AS `value2 shard`,`cargo__abilities_traits`.`value2_tal` AS `value2 tal`,`cargo__abilities_aghstraits`.`value2_aghs_tal` AS `value2 aghs tal`,`cargo__abilities_traits`.`trait3` AS `trait3`,`cargo__abilities_traits`.`value3` AS `value3`,`cargo__abilities_aghstraits`.`value3_aghs` AS `value3 aghs`,`cargo__abilities_aghstraits`.`value3_shard` AS `value3 shard`,`cargo__abilities_traits`.`value3_tal` AS `value3 tal`,`cargo__abilities_aghstraits`.`value3_aghs_tal` AS `value3 aghs tal`,`cargo__abilities_traits`.`trait4` AS `trait4`,`cargo__abilities_traits`.`value4` AS `value4`,`cargo__abilities_aghstraits`.`value4_aghs` AS `value4 aghs`,`cargo__abilities_aghstraits`.`value4_shard` AS `value4 shard`,`cargo__abilities_traits`.`value4_tal` AS `value4 tal`,`cargo__abilities_aghstraits`.`value4_aghs_tal` AS `value4 aghs tal`,`cargo__abilities_traits`.`trait5` AS `trait5`,`cargo__abilities_traits`.`value5` AS `value5`,`cargo__abilities_aghstraits`.`value5_aghs` AS `value5 aghs`,`cargo__abilities_aghstraits`.`value5_shard` AS `value5 shard`,`cargo__abilities_traits`.`value5_tal` AS `value5 tal`,`cargo__abilities_aghstraits`.`value5_aghs_tal` AS `value5 aghs tal`,`cargo__abilities_traits`.`trait6` AS `trait6`,`cargo__abilities_traits`.`value6` AS `value6`,`cargo__abilities_aghstraits`.`value6_aghs` AS `value6 aghs`,`cargo__abilities_aghstraits`.`value6_shard` AS `value6 shard`,`cargo__abilities_traits`.`value6_tal` AS `value6 tal`,`cargo__abilities_aghstraits`.`value6_aghs_tal` AS `value6 aghs tal`,`cargo__abilities_traits`.`trait7` AS `trait7`,`cargo__abilities_traits`.`value7` AS `value7`,`cargo__abilities_aghstraits`.`value7_aghs` AS `value7 aghs`,`cargo__abilities_aghstraits`.`value7_shard` AS `value7 shard`,`cargo__abilities_traits`.`value7_tal` AS `value7 tal`,`cargo__abilities_aghstraits`.`value7_aghs_tal` AS `value7 aghs tal`,`cargo__abilities_traits`.`trait8` AS `trait8`,`cargo__abilities_traits`.`value8` AS `value8`,`cargo__abilities_aghstraits`.`value8_aghs` AS `value8 aghs`,`cargo__abilities_aghstraits`.`value8_shard` AS `value8 shard`,`cargo__abilities_traits`.`value8_tal` AS `value8 tal`,`cargo__abilities_aghstraits`.`value8_aghs_tal` AS `value8 aghs tal`,`cargo__abilities_traits`.`trait9` AS `trait9`,`cargo__abilities_traits`.`value9` AS `value9`,`cargo__abilities_aghstraits`.`value9_aghs` AS `value9 aghs`,`cargo__abilities_aghstraits`.`value9_shard` AS `value9 shard`,`cargo__abilities_traits`.`value9_tal` AS `value9 tal`,`cargo__abilities_aghstraits`.`value9_aghs_tal` AS `value9 aghs tal`,`cargo__abilities_traits`.`trait10` AS `trait10`,`cargo__abilities_traits`.`value10` AS `value10`,`cargo__abilities_aghstraits`.`value10_aghs` AS `value10 aghs`,`cargo__abilities_aghstraits`.`value10_shard` AS `value10 shard`,`cargo__abilities_traits`.`value10_tal` AS `value10 tal`,`cargo__abilities_aghstraits`.`value10_aghs_tal` AS `value10 aghs tal`,`cargo__abilities_traits`.`trait11` AS `trait11`,`cargo__abilities_traits`.`value11` AS `value11`,`cargo__abilities_aghstraits`.`value11_aghs` AS `value11 aghs`,`cargo__abilities_aghstraits`.`value11_shard` AS `value11 shard`,`cargo__abilities_traits`.`value11_tal` AS `value11 tal`,`cargo__abilities_aghstraits`.`value11_aghs_tal` AS `value11 aghs tal`,`cargo__abilities_traits`.`trait12` AS `trait12`,`cargo__abilities_traits`.`value12` AS `value12`,`cargo__abilities_aghstraits`.`value12_aghs` AS `value12 aghs`,`cargo__abilities_aghstraits`.`value12_shard` AS `value12 shard`,`cargo__abilities_traits`.`value12_tal` AS `value12 tal`,`cargo__abilities_aghstraits`.`value12_aghs_tal` AS `value12 aghs tal`,`cargo__abilities_traits`.`trait13` AS `trait13`,`cargo__abilities_traits`.`value13` AS `value13`,`cargo__abilities_aghstraits`.`value13_aghs` AS `value13 aghs`,`cargo__abilities_aghstraits`.`value13_shard` AS `value13 shard`,`cargo__abilities_traits`.`value13_tal` AS `value13 tal`,`cargo__abilities_aghstraits`.`value13_aghs_tal` AS `value13 aghs tal`,`cargo__abilities_traits`.`trait14` AS `trait14`,`cargo__abilities_traits`.`value14` AS `value14`,`cargo__abilities_aghstraits`.`value14_aghs` AS `value14 aghs`,`cargo__abilities_aghstraits`.`value14_shard` AS `value14 shard`,`cargo__abilities_traits`.`value14_tal` AS `value14 tal`,`cargo__abilities_aghstraits`.`value14_aghs_tal` AS `value14 aghs tal`,`cargo__abilities_traits`.`trait15` AS `trait15`,`cargo__abilities_traits`.`value15` AS `value15`,`cargo__abilities_aghstraits`.`value15_aghs` AS `value15 aghs`,`cargo__abilities_aghstraits`.`value15_shard` AS `value15 shard`,`cargo__abilities_traits`.`value15_tal` AS `value15 tal`,`cargo__abilities_aghstraits`.`value15_aghs_tal` AS `value15 aghs tal`,`cargo__abilities_buffs`.`buff1` AS `buff1`,`cargo__abilities_buffs`.`buff1dispel` AS `buff1dispel`,`cargo__abilities_buffs`.`buff1text` AS `buff1text`,`cargo__abilities_buffs`.`buff2` AS `buff2`,`cargo__abilities_buffs`.`buff2dispel` AS `buff2dispel`,`cargo__abilities_buffs`.`buff2text` AS `buff2text`,`cargo__abilities_buffs`.`buff3` AS `buff3`,`cargo__abilities_buffs`.`buff3dispel` AS `buff3dispel`,`cargo__abilities_buffs`.`buff3text` AS `buff3text`,`cargo__abilities_buffs`.`buff4` AS `buff4`,`cargo__abilities_buffs`.`buff4dispel` AS `buff4dispel`,`cargo__abilities_buffs`.`buff4text` AS `buff4text`,`cargo__abilities_buffs`.`debuff1` AS `debuff1`,`cargo__abilities_buffs`.`debuff1dispel` AS `debuff1dispel`,`cargo__abilities_buffs`.`debuff1text` AS `debuff1text`,`cargo__abilities_buffs`.`debuff2` AS `debuff2`,`cargo__abilities_buffs`.`debuff2dispel` AS `debuff2dispel`,`cargo__abilities_buffs`.`debuff2text` AS `debuff2text`,`cargo__abilities_buffs`.`debuff3` AS `debuff3`,`cargo__abilities_buffs`.`debuff3dispel` AS `debuff3dispel`,`cargo__abilities_buffs`.`debuff3text` AS `debuff3text`,`cargo__abilities_buffs`.`debuff4` AS `debuff4`,`cargo__abilities_buffs`.`debuff4dispel` AS `debuff4dispel`,`cargo__abilities_buffs`.`debuff4text` AS `debuff4text` FROM `cargo__abilities` LEFT OUTER JOIN `cargo__abilities_traits` ON ((`cargo__abilities`.`uid`=`cargo__abilities_traits`.`uid`)) LEFT OUTER JOIN `cargo__abilities_aghstraits` ON ((`cargo__abilities`.`uid`=`cargo__abilities_aghstraits`.`uid`)) LEFT OUTER JOIN `cargo__abilities_buffs` ON ((`cargo__abilities`.`uid`=`cargo__abilities_buffs`.`uid`)) WHERE `cargo__abilities`.`title` = '摧毁蛛网' AND `cargo__abilities`.`_pageName` = '蛛网' ORDER BY `cargo__abilities`.`title`,`cargo__abilities`.`type`,`cargo__abilities`.`source`,`cargo__abilities`.`sound`,`cargo__abilities`.`sound2` LIMIT 1 Function: CargoSQLQuery::run Error: 1267 Illegal mix of collations (utf8_unicode_ci,IMPLICIT) and (utf8_general_ci,IMPLICIT) for operation '=' (geo-db-i-master.query.consul.) 。
小蜘蛛的技能
[
]
Lua错误:A database query error has occurred. Did you forget to run your application's database schema updater after upgrading? Query: SELECT `cargo__abilities`.`title` AS `title`,`cargo__abilities`.`type` AS `type`,`cargo__abilities`.`source` AS `source`,`cargo__abilities`.`sound` AS `sound`,`cargo__abilities`.`sound2` AS `sound2`,`cargo__abilities`.`sound3` AS `sound3`,`cargo__abilities`.`image` AS `image`,`cargo__abilities`.`description` AS `description`,`cargo__abilities`.`lore` AS `lore`,`cargo__abilities`.`target` AS `target`,`cargo__abilities`.`target2` AS `target2`,`cargo__abilities`.`affects` AS `affects`,`cargo__abilities`.`affects2` AS `affects2`,`cargo__abilities`.`damage_type` AS `damage type`,`cargo__abilities`.`damage_type2` AS `damage type2`,`cargo__abilities`.`BKB_block` AS `BKB block`,`cargo__abilities`.`BKB_text` AS `BKB text`,`cargo__abilities`.`linkens_block` AS `linkens block`,`cargo__abilities`.`linkens_text` AS `linkens text`,`cargo__abilities`.`illusionuse` AS `illusionuse`,`cargo__abilities`.`illusion_text` AS `illusion text`,`cargo__abilities`.`breakable` AS `breakable`,`cargo__abilities`.`break_text` AS `break text`,`cargo__abilities`.`disjointable` AS `disjointable`,`cargo__abilities`.`disjointtext` AS `disjointtext`,`cargo__abilities`.`rootdisables` AS `rootdisables`,`cargo__abilities`.`roottext` AS `roottext`,`cargo__abilities`.`oncastproc` AS `oncastproc`,`cargo__abilities`.`oncasttext` AS `oncasttext`,`cargo__abilities`.`default_key` AS `default key`,`cargo__abilities`.`legacy_key` AS `legacy key`,`cargo__abilities`.`mana_cost` AS `mana cost`,`cargo__abilities`.`mana_cost_aghs` AS `mana cost aghs`,`cargo__abilities`.`mana_cost_shard` AS `mana cost shard`,`cargo__abilities`.`mana_cost_tal` AS `mana cost tal`,`cargo__abilities`.`current_mana_cost` AS `current mana cost`,`cargo__abilities`.`max_mana_cost` AS `max mana cost`,`cargo__abilities`.`cooldown` AS `cooldown`,`cargo__abilities`.`cooldown_aghs` AS `cooldown aghs`,`cargo__abilities`.`cooldown_shard` AS `cooldown shard`,`cargo__abilities`.`cooldown_tal` AS `cooldown tal`,`cargo__abilities`.`cooldown_aghs_tal` AS `cooldown aghs tal`,`cargo__abilities`.`aghanims_upgrade` AS `aghanims upgrade`,`cargo__abilities`.`aghshard` AS `aghshard`,`cargo__abilities`.`cast_point` AS `cast point`,`cargo__abilities`.`cast_point_tal` AS `cast point tal`,`cargo__abilities`.`cast_point_aghs` AS `cast point aghs`,`cargo__abilities`.`cast_point_shard` AS `cast point shard`,`cargo__abilities`.`cast_point_aghs_tal` AS `cast point aghs tal`,`cargo__abilities`.`cast_backswing` AS `cast backswing`,`cargo__abilities`.`cast_backswing_tal` AS `cast backswing tal`,`cargo__abilities`.`cast_backswing_aghs` AS `cast backswing aghs`,`cargo__abilities`.`cast_backswing_shard` AS `cast backswing shard`,`cargo__abilities`.`cast_backswing_aghs_tal` AS `cast backswing aghs tal`,`cargo__abilities`.`notes` AS `notes`,`cargo__abilities`.`game` AS `game`,`cargo__abilities_traits`.`trait1` AS `trait1`,`cargo__abilities_traits`.`value1` AS `value1`,`cargo__abilities_aghstraits`.`value1_aghs` AS `value1 aghs`,`cargo__abilities_aghstraits`.`value1_shard` AS `value1 shard`,`cargo__abilities_traits`.`value1_tal` AS `value1 tal`,`cargo__abilities_aghstraits`.`value1_aghs_tal` AS `value1 aghs tal`,`cargo__abilities_traits`.`trait2` AS `trait2`,`cargo__abilities_traits`.`value2` AS `value2`,`cargo__abilities_aghstraits`.`value2_aghs` AS `value2 aghs`,`cargo__abilities_aghstraits`.`value2_shard` AS `value2 shard`,`cargo__abilities_traits`.`value2_tal` AS `value2 tal`,`cargo__abilities_aghstraits`.`value2_aghs_tal` AS `value2 aghs tal`,`cargo__abilities_traits`.`trait3` AS `trait3`,`cargo__abilities_traits`.`value3` AS `value3`,`cargo__abilities_aghstraits`.`value3_aghs` AS `value3 aghs`,`cargo__abilities_aghstraits`.`value3_shard` AS `value3 shard`,`cargo__abilities_traits`.`value3_tal` AS `value3 tal`,`cargo__abilities_aghstraits`.`value3_aghs_tal` AS `value3 aghs tal`,`cargo__abilities_traits`.`trait4` AS `trait4`,`cargo__abilities_traits`.`value4` AS `value4`,`cargo__abilities_aghstraits`.`value4_aghs` AS `value4 aghs`,`cargo__abilities_aghstraits`.`value4_shard` AS `value4 shard`,`cargo__abilities_traits`.`value4_tal` AS `value4 tal`,`cargo__abilities_aghstraits`.`value4_aghs_tal` AS `value4 aghs tal`,`cargo__abilities_traits`.`trait5` AS `trait5`,`cargo__abilities_traits`.`value5` AS `value5`,`cargo__abilities_aghstraits`.`value5_aghs` AS `value5 aghs`,`cargo__abilities_aghstraits`.`value5_shard` AS `value5 shard`,`cargo__abilities_traits`.`value5_tal` AS `value5 tal`,`cargo__abilities_aghstraits`.`value5_aghs_tal` AS `value5 aghs tal`,`cargo__abilities_traits`.`trait6` AS `trait6`,`cargo__abilities_traits`.`value6` AS `value6`,`cargo__abilities_aghstraits`.`value6_aghs` AS `value6 aghs`,`cargo__abilities_aghstraits`.`value6_shard` AS `value6 shard`,`cargo__abilities_traits`.`value6_tal` AS `value6 tal`,`cargo__abilities_aghstraits`.`value6_aghs_tal` AS `value6 aghs tal`,`cargo__abilities_traits`.`trait7` AS `trait7`,`cargo__abilities_traits`.`value7` AS `value7`,`cargo__abilities_aghstraits`.`value7_aghs` AS `value7 aghs`,`cargo__abilities_aghstraits`.`value7_shard` AS `value7 shard`,`cargo__abilities_traits`.`value7_tal` AS `value7 tal`,`cargo__abilities_aghstraits`.`value7_aghs_tal` AS `value7 aghs tal`,`cargo__abilities_traits`.`trait8` AS `trait8`,`cargo__abilities_traits`.`value8` AS `value8`,`cargo__abilities_aghstraits`.`value8_aghs` AS `value8 aghs`,`cargo__abilities_aghstraits`.`value8_shard` AS `value8 shard`,`cargo__abilities_traits`.`value8_tal` AS `value8 tal`,`cargo__abilities_aghstraits`.`value8_aghs_tal` AS `value8 aghs tal`,`cargo__abilities_traits`.`trait9` AS `trait9`,`cargo__abilities_traits`.`value9` AS `value9`,`cargo__abilities_aghstraits`.`value9_aghs` AS `value9 aghs`,`cargo__abilities_aghstraits`.`value9_shard` AS `value9 shard`,`cargo__abilities_traits`.`value9_tal` AS `value9 tal`,`cargo__abilities_aghstraits`.`value9_aghs_tal` AS `value9 aghs tal`,`cargo__abilities_traits`.`trait10` AS `trait10`,`cargo__abilities_traits`.`value10` AS `value10`,`cargo__abilities_aghstraits`.`value10_aghs` AS `value10 aghs`,`cargo__abilities_aghstraits`.`value10_shard` AS `value10 shard`,`cargo__abilities_traits`.`value10_tal` AS `value10 tal`,`cargo__abilities_aghstraits`.`value10_aghs_tal` AS `value10 aghs tal`,`cargo__abilities_traits`.`trait11` AS `trait11`,`cargo__abilities_traits`.`value11` AS `value11`,`cargo__abilities_aghstraits`.`value11_aghs` AS `value11 aghs`,`cargo__abilities_aghstraits`.`value11_shard` AS `value11 shard`,`cargo__abilities_traits`.`value11_tal` AS `value11 tal`,`cargo__abilities_aghstraits`.`value11_aghs_tal` AS `value11 aghs tal`,`cargo__abilities_traits`.`trait12` AS `trait12`,`cargo__abilities_traits`.`value12` AS `value12`,`cargo__abilities_aghstraits`.`value12_aghs` AS `value12 aghs`,`cargo__abilities_aghstraits`.`value12_shard` AS `value12 shard`,`cargo__abilities_traits`.`value12_tal` AS `value12 tal`,`cargo__abilities_aghstraits`.`value12_aghs_tal` AS `value12 aghs tal`,`cargo__abilities_traits`.`trait13` AS `trait13`,`cargo__abilities_traits`.`value13` AS `value13`,`cargo__abilities_aghstraits`.`value13_aghs` AS `value13 aghs`,`cargo__abilities_aghstraits`.`value13_shard` AS `value13 shard`,`cargo__abilities_traits`.`value13_tal` AS `value13 tal`,`cargo__abilities_aghstraits`.`value13_aghs_tal` AS `value13 aghs tal`,`cargo__abilities_traits`.`trait14` AS `trait14`,`cargo__abilities_traits`.`value14` AS `value14`,`cargo__abilities_aghstraits`.`value14_aghs` AS `value14 aghs`,`cargo__abilities_aghstraits`.`value14_shard` AS `value14 shard`,`cargo__abilities_traits`.`value14_tal` AS `value14 tal`,`cargo__abilities_aghstraits`.`value14_aghs_tal` AS `value14 aghs tal`,`cargo__abilities_traits`.`trait15` AS `trait15`,`cargo__abilities_traits`.`value15` AS `value15`,`cargo__abilities_aghstraits`.`value15_aghs` AS `value15 aghs`,`cargo__abilities_aghstraits`.`value15_shard` AS `value15 shard`,`cargo__abilities_traits`.`value15_tal` AS `value15 tal`,`cargo__abilities_aghstraits`.`value15_aghs_tal` AS `value15 aghs tal`,`cargo__abilities_buffs`.`buff1` AS `buff1`,`cargo__abilities_buffs`.`buff1dispel` AS `buff1dispel`,`cargo__abilities_buffs`.`buff1text` AS `buff1text`,`cargo__abilities_buffs`.`buff2` AS `buff2`,`cargo__abilities_buffs`.`buff2dispel` AS `buff2dispel`,`cargo__abilities_buffs`.`buff2text` AS `buff2text`,`cargo__abilities_buffs`.`buff3` AS `buff3`,`cargo__abilities_buffs`.`buff3dispel` AS `buff3dispel`,`cargo__abilities_buffs`.`buff3text` AS `buff3text`,`cargo__abilities_buffs`.`buff4` AS `buff4`,`cargo__abilities_buffs`.`buff4dispel` AS `buff4dispel`,`cargo__abilities_buffs`.`buff4text` AS `buff4text`,`cargo__abilities_buffs`.`debuff1` AS `debuff1`,`cargo__abilities_buffs`.`debuff1dispel` AS `debuff1dispel`,`cargo__abilities_buffs`.`debuff1text` AS `debuff1text`,`cargo__abilities_buffs`.`debuff2` AS `debuff2`,`cargo__abilities_buffs`.`debuff2dispel` AS `debuff2dispel`,`cargo__abilities_buffs`.`debuff2text` AS `debuff2text`,`cargo__abilities_buffs`.`debuff3` AS `debuff3`,`cargo__abilities_buffs`.`debuff3dispel` AS `debuff3dispel`,`cargo__abilities_buffs`.`debuff3text` AS `debuff3text`,`cargo__abilities_buffs`.`debuff4` AS `debuff4`,`cargo__abilities_buffs`.`debuff4dispel` AS `debuff4dispel`,`cargo__abilities_buffs`.`debuff4text` AS `debuff4text` FROM `cargo__abilities` LEFT OUTER JOIN `cargo__abilities_traits` ON ((`cargo__abilities`.`uid`=`cargo__abilities_traits`.`uid`)) LEFT OUTER JOIN `cargo__abilities_aghstraits` ON ((`cargo__abilities`.`uid`=`cargo__abilities_aghstraits`.`uid`)) LEFT OUTER JOIN `cargo__abilities_buffs` ON ((`cargo__abilities`.`uid`=`cargo__abilities_buffs`.`uid`)) WHERE `cargo__abilities`.`title` = '毒刺' AND `cargo__abilities`.`_pageName` = '蜘蛛幼虫' ORDER BY `cargo__abilities`.`title`,`cargo__abilities`.`type`,`cargo__abilities`.`source`,`cargo__abilities`.`sound`,`cargo__abilities`.`sound2` LIMIT 1 Function: CargoSQLQuery::run Error: 1267 Illegal mix of collations (utf8_unicode_ci,IMPLICIT) and (utf8_general_ci,IMPLICIT) for operation '=' (geo-db-i-master.query.consul.) 。

Lua错误:A database query error has occurred. Did you forget to run your application's database schema updater after upgrading? Query: SELECT `cargo__abilities`.`title` AS `title`,`cargo__abilities`.`type` AS `type`,`cargo__abilities`.`source` AS `source`,`cargo__abilities`.`sound` AS `sound`,`cargo__abilities`.`sound2` AS `sound2`,`cargo__abilities`.`sound3` AS `sound3`,`cargo__abilities`.`image` AS `image`,`cargo__abilities`.`description` AS `description`,`cargo__abilities`.`lore` AS `lore`,`cargo__abilities`.`target` AS `target`,`cargo__abilities`.`target2` AS `target2`,`cargo__abilities`.`affects` AS `affects`,`cargo__abilities`.`affects2` AS `affects2`,`cargo__abilities`.`damage_type` AS `damage type`,`cargo__abilities`.`damage_type2` AS `damage type2`,`cargo__abilities`.`BKB_block` AS `BKB block`,`cargo__abilities`.`BKB_text` AS `BKB text`,`cargo__abilities`.`linkens_block` AS `linkens block`,`cargo__abilities`.`linkens_text` AS `linkens text`,`cargo__abilities`.`illusionuse` AS `illusionuse`,`cargo__abilities`.`illusion_text` AS `illusion text`,`cargo__abilities`.`breakable` AS `breakable`,`cargo__abilities`.`break_text` AS `break text`,`cargo__abilities`.`disjointable` AS `disjointable`,`cargo__abilities`.`disjointtext` AS `disjointtext`,`cargo__abilities`.`rootdisables` AS `rootdisables`,`cargo__abilities`.`roottext` AS `roottext`,`cargo__abilities`.`oncastproc` AS `oncastproc`,`cargo__abilities`.`oncasttext` AS `oncasttext`,`cargo__abilities`.`default_key` AS `default key`,`cargo__abilities`.`legacy_key` AS `legacy key`,`cargo__abilities`.`mana_cost` AS `mana cost`,`cargo__abilities`.`mana_cost_aghs` AS `mana cost aghs`,`cargo__abilities`.`mana_cost_shard` AS `mana cost shard`,`cargo__abilities`.`mana_cost_tal` AS `mana cost tal`,`cargo__abilities`.`current_mana_cost` AS `current mana cost`,`cargo__abilities`.`max_mana_cost` AS `max mana cost`,`cargo__abilities`.`cooldown` AS `cooldown`,`cargo__abilities`.`cooldown_aghs` AS `cooldown aghs`,`cargo__abilities`.`cooldown_shard` AS `cooldown shard`,`cargo__abilities`.`cooldown_tal` AS `cooldown tal`,`cargo__abilities`.`cooldown_aghs_tal` AS `cooldown aghs tal`,`cargo__abilities`.`aghanims_upgrade` AS `aghanims upgrade`,`cargo__abilities`.`aghshard` AS `aghshard`,`cargo__abilities`.`cast_point` AS `cast point`,`cargo__abilities`.`cast_point_tal` AS `cast point tal`,`cargo__abilities`.`cast_point_aghs` AS `cast point aghs`,`cargo__abilities`.`cast_point_shard` AS `cast point shard`,`cargo__abilities`.`cast_point_aghs_tal` AS `cast point aghs tal`,`cargo__abilities`.`cast_backswing` AS `cast backswing`,`cargo__abilities`.`cast_backswing_tal` AS `cast backswing tal`,`cargo__abilities`.`cast_backswing_aghs` AS `cast backswing aghs`,`cargo__abilities`.`cast_backswing_shard` AS `cast backswing shard`,`cargo__abilities`.`cast_backswing_aghs_tal` AS `cast backswing aghs tal`,`cargo__abilities`.`notes` AS `notes`,`cargo__abilities`.`game` AS `game`,`cargo__abilities_traits`.`trait1` AS `trait1`,`cargo__abilities_traits`.`value1` AS `value1`,`cargo__abilities_aghstraits`.`value1_aghs` AS `value1 aghs`,`cargo__abilities_aghstraits`.`value1_shard` AS `value1 shard`,`cargo__abilities_traits`.`value1_tal` AS `value1 tal`,`cargo__abilities_aghstraits`.`value1_aghs_tal` AS `value1 aghs tal`,`cargo__abilities_traits`.`trait2` AS `trait2`,`cargo__abilities_traits`.`value2` AS `value2`,`cargo__abilities_aghstraits`.`value2_aghs` AS `value2 aghs`,`cargo__abilities_aghstraits`.`value2_shard` AS `value2 shard`,`cargo__abilities_traits`.`value2_tal` AS `value2 tal`,`cargo__abilities_aghstraits`.`value2_aghs_tal` AS `value2 aghs tal`,`cargo__abilities_traits`.`trait3` AS `trait3`,`cargo__abilities_traits`.`value3` AS `value3`,`cargo__abilities_aghstraits`.`value3_aghs` AS `value3 aghs`,`cargo__abilities_aghstraits`.`value3_shard` AS `value3 shard`,`cargo__abilities_traits`.`value3_tal` AS `value3 tal`,`cargo__abilities_aghstraits`.`value3_aghs_tal` AS `value3 aghs tal`,`cargo__abilities_traits`.`trait4` AS `trait4`,`cargo__abilities_traits`.`value4` AS `value4`,`cargo__abilities_aghstraits`.`value4_aghs` AS `value4 aghs`,`cargo__abilities_aghstraits`.`value4_shard` AS `value4 shard`,`cargo__abilities_traits`.`value4_tal` AS `value4 tal`,`cargo__abilities_aghstraits`.`value4_aghs_tal` AS `value4 aghs tal`,`cargo__abilities_traits`.`trait5` AS `trait5`,`cargo__abilities_traits`.`value5` AS `value5`,`cargo__abilities_aghstraits`.`value5_aghs` AS `value5 aghs`,`cargo__abilities_aghstraits`.`value5_shard` AS `value5 shard`,`cargo__abilities_traits`.`value5_tal` AS `value5 tal`,`cargo__abilities_aghstraits`.`value5_aghs_tal` AS `value5 aghs tal`,`cargo__abilities_traits`.`trait6` AS `trait6`,`cargo__abilities_traits`.`value6` AS `value6`,`cargo__abilities_aghstraits`.`value6_aghs` AS `value6 aghs`,`cargo__abilities_aghstraits`.`value6_shard` AS `value6 shard`,`cargo__abilities_traits`.`value6_tal` AS `value6 tal`,`cargo__abilities_aghstraits`.`value6_aghs_tal` AS `value6 aghs tal`,`cargo__abilities_traits`.`trait7` AS `trait7`,`cargo__abilities_traits`.`value7` AS `value7`,`cargo__abilities_aghstraits`.`value7_aghs` AS `value7 aghs`,`cargo__abilities_aghstraits`.`value7_shard` AS `value7 shard`,`cargo__abilities_traits`.`value7_tal` AS `value7 tal`,`cargo__abilities_aghstraits`.`value7_aghs_tal` AS `value7 aghs tal`,`cargo__abilities_traits`.`trait8` AS `trait8`,`cargo__abilities_traits`.`value8` AS `value8`,`cargo__abilities_aghstraits`.`value8_aghs` AS `value8 aghs`,`cargo__abilities_aghstraits`.`value8_shard` AS `value8 shard`,`cargo__abilities_traits`.`value8_tal` AS `value8 tal`,`cargo__abilities_aghstraits`.`value8_aghs_tal` AS `value8 aghs tal`,`cargo__abilities_traits`.`trait9` AS `trait9`,`cargo__abilities_traits`.`value9` AS `value9`,`cargo__abilities_aghstraits`.`value9_aghs` AS `value9 aghs`,`cargo__abilities_aghstraits`.`value9_shard` AS `value9 shard`,`cargo__abilities_traits`.`value9_tal` AS `value9 tal`,`cargo__abilities_aghstraits`.`value9_aghs_tal` AS `value9 aghs tal`,`cargo__abilities_traits`.`trait10` AS `trait10`,`cargo__abilities_traits`.`value10` AS `value10`,`cargo__abilities_aghstraits`.`value10_aghs` AS `value10 aghs`,`cargo__abilities_aghstraits`.`value10_shard` AS `value10 shard`,`cargo__abilities_traits`.`value10_tal` AS `value10 tal`,`cargo__abilities_aghstraits`.`value10_aghs_tal` AS `value10 aghs tal`,`cargo__abilities_traits`.`trait11` AS `trait11`,`cargo__abilities_traits`.`value11` AS `value11`,`cargo__abilities_aghstraits`.`value11_aghs` AS `value11 aghs`,`cargo__abilities_aghstraits`.`value11_shard` AS `value11 shard`,`cargo__abilities_traits`.`value11_tal` AS `value11 tal`,`cargo__abilities_aghstraits`.`value11_aghs_tal` AS `value11 aghs tal`,`cargo__abilities_traits`.`trait12` AS `trait12`,`cargo__abilities_traits`.`value12` AS `value12`,`cargo__abilities_aghstraits`.`value12_aghs` AS `value12 aghs`,`cargo__abilities_aghstraits`.`value12_shard` AS `value12 shard`,`cargo__abilities_traits`.`value12_tal` AS `value12 tal`,`cargo__abilities_aghstraits`.`value12_aghs_tal` AS `value12 aghs tal`,`cargo__abilities_traits`.`trait13` AS `trait13`,`cargo__abilities_traits`.`value13` AS `value13`,`cargo__abilities_aghstraits`.`value13_aghs` AS `value13 aghs`,`cargo__abilities_aghstraits`.`value13_shard` AS `value13 shard`,`cargo__abilities_traits`.`value13_tal` AS `value13 tal`,`cargo__abilities_aghstraits`.`value13_aghs_tal` AS `value13 aghs tal`,`cargo__abilities_traits`.`trait14` AS `trait14`,`cargo__abilities_traits`.`value14` AS `value14`,`cargo__abilities_aghstraits`.`value14_aghs` AS `value14 aghs`,`cargo__abilities_aghstraits`.`value14_shard` AS `value14 shard`,`cargo__abilities_traits`.`value14_tal` AS `value14 tal`,`cargo__abilities_aghstraits`.`value14_aghs_tal` AS `value14 aghs tal`,`cargo__abilities_traits`.`trait15` AS `trait15`,`cargo__abilities_traits`.`value15` AS `value15`,`cargo__abilities_aghstraits`.`value15_aghs` AS `value15 aghs`,`cargo__abilities_aghstraits`.`value15_shard` AS `value15 shard`,`cargo__abilities_traits`.`value15_tal` AS `value15 tal`,`cargo__abilities_aghstraits`.`value15_aghs_tal` AS `value15 aghs tal`,`cargo__abilities_buffs`.`buff1` AS `buff1`,`cargo__abilities_buffs`.`buff1dispel` AS `buff1dispel`,`cargo__abilities_buffs`.`buff1text` AS `buff1text`,`cargo__abilities_buffs`.`buff2` AS `buff2`,`cargo__abilities_buffs`.`buff2dispel` AS `buff2dispel`,`cargo__abilities_buffs`.`buff2text` AS `buff2text`,`cargo__abilities_buffs`.`buff3` AS `buff3`,`cargo__abilities_buffs`.`buff3dispel` AS `buff3dispel`,`cargo__abilities_buffs`.`buff3text` AS `buff3text`,`cargo__abilities_buffs`.`buff4` AS `buff4`,`cargo__abilities_buffs`.`buff4dispel` AS `buff4dispel`,`cargo__abilities_buffs`.`buff4text` AS `buff4text`,`cargo__abilities_buffs`.`debuff1` AS `debuff1`,`cargo__abilities_buffs`.`debuff1dispel` AS `debuff1dispel`,`cargo__abilities_buffs`.`debuff1text` AS `debuff1text`,`cargo__abilities_buffs`.`debuff2` AS `debuff2`,`cargo__abilities_buffs`.`debuff2dispel` AS `debuff2dispel`,`cargo__abilities_buffs`.`debuff2text` AS `debuff2text`,`cargo__abilities_buffs`.`debuff3` AS `debuff3`,`cargo__abilities_buffs`.`debuff3dispel` AS `debuff3dispel`,`cargo__abilities_buffs`.`debuff3text` AS `debuff3text`,`cargo__abilities_buffs`.`debuff4` AS `debuff4`,`cargo__abilities_buffs`.`debuff4dispel` AS `debuff4dispel`,`cargo__abilities_buffs`.`debuff4text` AS `debuff4text` FROM `cargo__abilities` LEFT OUTER JOIN `cargo__abilities_traits` ON ((`cargo__abilities`.`uid`=`cargo__abilities_traits`.`uid`)) LEFT OUTER JOIN `cargo__abilities_aghstraits` ON ((`cargo__abilities`.`uid`=`cargo__abilities_aghstraits`.`uid`)) LEFT OUTER JOIN `cargo__abilities_buffs` ON ((`cargo__abilities`.`uid`=`cargo__abilities_buffs`.`uid`)) WHERE `cargo__abilities`.`title` = '产生寄生蜘蛛' AND `cargo__abilities`.`_pageName` = '蜘蛛幼虫' ORDER BY `cargo__abilities`.`title`,`cargo__abilities`.`type`,`cargo__abilities`.`source`,`cargo__abilities`.`sound`,`cargo__abilities`.`sound2` LIMIT 1 Function: CargoSQLQuery::run Error: 1267 Illegal mix of collations (utf8_unicode_ci,IMPLICIT) and (utf8_general_ci,IMPLICIT) for operation '=' (geo-db-i-master.query.consul.) 。
天赋
[
]
最近改动
[
]
没有结果
推荐出装
[
]
育母蜘蛛/攻略
玩法
[
]
Inhabiting the lava tubes below the caldera of Mount Pyrotheos, Black Arachnia grew tired of recent adventurers stepping on her many offspring. And so, the Broodmother set out to rid the world of every potential intruder, one hero at a time. Paralytic venom drips from her fangs, crippling and blinding her prey with each Incapacitating Bite. Warm bodies make ideal nurseries, a fact not lost on Black Arachnia as she injects her eggs into dying foes to Spawn Spiderlings. Across patches of land she Spins Webs of silken fiber, sheltering herself within to recuperate injuries. Driven by Insatiable Hunger, the Broodmother goes into a feeding frenzy, sucking the vital fluids from wandering heroes to replenish herself for the next spawn cycle.

定位:
核心 推进 逃生 爆发
复杂程度:
★★☆
音频
[
]
历史
[
]
装备
[
]
花絮
[
]
In her DotA biography, Broodmother's spiderlings originated from her relationship with Anub'arak, the Nerubian Assassin ( 司夜刺客). In Dota 2, no relationship between the two heroes exists.
Broodmother is sometimes called by her nickname, "Broodmama".
Broodmother's name, Black Arachnia, resembles the name of the character Blackarachnia from the Transformers franchise.
画廊
[
]