狼人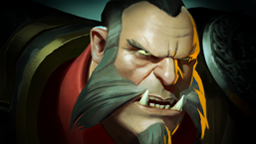 等级
0
1
15
25
30

生命值

200
720
1660
2580
2960
+0
+2.6
+7.36
+11.96
+13.86

魔法值

75
351
579
891
999
+0
+1.15
+2.13
+3.43
+3.88
护甲
-1

1.67

4

7.67

8.83

伤害格挡
16
(

50%

)
魔法抗性
25%
状态抗性
0%
攻击力
24‒29
50‒55
97‒102
143‒148
162‒167

攻击频率

0.59/秒
0.68/秒
0.76/秒
0.89/秒
0.94/秒
攻击距离
150
(600)
攻击速度
Link▶️
100
(1.7秒 BAT)
攻击动作

0.55

+

0.55

弹道速度

瞬间

移动速度
Link▶️
305
转身速率
0.5
碰撞体积
8
视野
(地)

1800

 • 

800

腿

2
碎片类型

默认

技能升级
没有神杖升级
没有魔晶升级
贝恩霍勒,狼人是一个力量型近战英雄,拥有巨大的物理能力和可观的移动速度,擅长推进建筑和增加队伍的攻击力和生命值。他的召狼能够在伤害来源和侦查目标方面有出色的发挥。他的嗥叫能够极大地增加他的友军的攻击力和生命值,而野性驱使能够让狼人和他的狼群获得额外攻击力和生命恢复而成为一个优秀的战士。如果时机成熟了,变身能够让狼人自己也加入捕猎中,以致命一击和不可思议的移动速度压制敌人。
介绍
[
]
技能
[
]
精灵狼
[
]
Lua错误:A database query error has occurred. Did you forget to run your application's database schema updater after upgrading? Query: SELECT `cargo__abilities`.`title` AS `title`,`cargo__abilities`.`type` AS `type`,`cargo__abilities`.`source` AS `source`,`cargo__abilities`.`sound` AS `sound`,`cargo__abilities`.`sound2` AS `sound2`,`cargo__abilities`.`sound3` AS `sound3`,`cargo__abilities`.`image` AS `image`,`cargo__abilities`.`description` AS `description`,`cargo__abilities`.`lore` AS `lore`,`cargo__abilities`.`target` AS `target`,`cargo__abilities`.`target2` AS `target2`,`cargo__abilities`.`affects` AS `affects`,`cargo__abilities`.`affects2` AS `affects2`,`cargo__abilities`.`damage_type` AS `damage type`,`cargo__abilities`.`damage_type2` AS `damage type2`,`cargo__abilities`.`BKB_block` AS `BKB block`,`cargo__abilities`.`BKB_text` AS `BKB text`,`cargo__abilities`.`linkens_block` AS `linkens block`,`cargo__abilities`.`linkens_text` AS `linkens text`,`cargo__abilities`.`illusionuse` AS `illusionuse`,`cargo__abilities`.`illusion_text` AS `illusion text`,`cargo__abilities`.`breakable` AS `breakable`,`cargo__abilities`.`break_text` AS `break text`,`cargo__abilities`.`disjointable` AS `disjointable`,`cargo__abilities`.`disjointtext` AS `disjointtext`,`cargo__abilities`.`rootdisables` AS `rootdisables`,`cargo__abilities`.`roottext` AS `roottext`,`cargo__abilities`.`oncastproc` AS `oncastproc`,`cargo__abilities`.`oncasttext` AS `oncasttext`,`cargo__abilities`.`default_key` AS `default key`,`cargo__abilities`.`legacy_key` AS `legacy key`,`cargo__abilities`.`mana_cost` AS `mana cost`,`cargo__abilities`.`mana_cost_aghs` AS `mana cost aghs`,`cargo__abilities`.`mana_cost_shard` AS `mana cost shard`,`cargo__abilities`.`mana_cost_tal` AS `mana cost tal`,`cargo__abilities`.`current_mana_cost` AS `current mana cost`,`cargo__abilities`.`max_mana_cost` AS `max mana cost`,`cargo__abilities`.`cooldown` AS `cooldown`,`cargo__abilities`.`cooldown_aghs` AS `cooldown aghs`,`cargo__abilities`.`cooldown_shard` AS `cooldown shard`,`cargo__abilities`.`cooldown_tal` AS `cooldown tal`,`cargo__abilities`.`cooldown_aghs_tal` AS `cooldown aghs tal`,`cargo__abilities`.`aghanims_upgrade` AS `aghanims upgrade`,`cargo__abilities`.`aghshard` AS `aghshard`,`cargo__abilities`.`cast_point` AS `cast point`,`cargo__abilities`.`cast_point_tal` AS `cast point tal`,`cargo__abilities`.`cast_point_aghs` AS `cast point aghs`,`cargo__abilities`.`cast_point_shard` AS `cast point shard`,`cargo__abilities`.`cast_point_aghs_tal` AS `cast point aghs tal`,`cargo__abilities`.`cast_backswing` AS `cast backswing`,`cargo__abilities`.`cast_backswing_tal` AS `cast backswing tal`,`cargo__abilities`.`cast_backswing_aghs` AS `cast backswing aghs`,`cargo__abilities`.`cast_backswing_shard` AS `cast backswing shard`,`cargo__abilities`.`cast_backswing_aghs_tal` AS `cast backswing aghs tal`,`cargo__abilities`.`notes` AS `notes`,`cargo__abilities`.`game` AS `game`,`cargo__abilities_traits`.`trait1` AS `trait1`,`cargo__abilities_traits`.`value1` AS `value1`,`cargo__abilities_aghstraits`.`value1_aghs` AS `value1 aghs`,`cargo__abilities_aghstraits`.`value1_shard` AS `value1 shard`,`cargo__abilities_traits`.`value1_tal` AS `value1 tal`,`cargo__abilities_aghstraits`.`value1_aghs_tal` AS `value1 aghs tal`,`cargo__abilities_traits`.`trait2` AS `trait2`,`cargo__abilities_traits`.`value2` AS `value2`,`cargo__abilities_aghstraits`.`value2_aghs` AS `value2 aghs`,`cargo__abilities_aghstraits`.`value2_shard` AS `value2 shard`,`cargo__abilities_traits`.`value2_tal` AS `value2 tal`,`cargo__abilities_aghstraits`.`value2_aghs_tal` AS `value2 aghs tal`,`cargo__abilities_traits`.`trait3` AS `trait3`,`cargo__abilities_traits`.`value3` AS `value3`,`cargo__abilities_aghstraits`.`value3_aghs` AS `value3 aghs`,`cargo__abilities_aghstraits`.`value3_shard` AS `value3 shard`,`cargo__abilities_traits`.`value3_tal` AS `value3 tal`,`cargo__abilities_aghstraits`.`value3_aghs_tal` AS `value3 aghs tal`,`cargo__abilities_traits`.`trait4` AS `trait4`,`cargo__abilities_traits`.`value4` AS `value4`,`cargo__abilities_aghstraits`.`value4_aghs` AS `value4 aghs`,`cargo__abilities_aghstraits`.`value4_shard` AS `value4 shard`,`cargo__abilities_traits`.`value4_tal` AS `value4 tal`,`cargo__abilities_aghstraits`.`value4_aghs_tal` AS `value4 aghs tal`,`cargo__abilities_traits`.`trait5` AS `trait5`,`cargo__abilities_traits`.`value5` AS `value5`,`cargo__abilities_aghstraits`.`value5_aghs` AS `value5 aghs`,`cargo__abilities_aghstraits`.`value5_shard` AS `value5 shard`,`cargo__abilities_traits`.`value5_tal` AS `value5 tal`,`cargo__abilities_aghstraits`.`value5_aghs_tal` AS `value5 aghs tal`,`cargo__abilities_traits`.`trait6` AS `trait6`,`cargo__abilities_traits`.`value6` AS `value6`,`cargo__abilities_aghstraits`.`value6_aghs` AS `value6 aghs`,`cargo__abilities_aghstraits`.`value6_shard` AS `value6 shard`,`cargo__abilities_traits`.`value6_tal` AS `value6 tal`,`cargo__abilities_aghstraits`.`value6_aghs_tal` AS `value6 aghs tal`,`cargo__abilities_traits`.`trait7` AS `trait7`,`cargo__abilities_traits`.`value7` AS `value7`,`cargo__abilities_aghstraits`.`value7_aghs` AS `value7 aghs`,`cargo__abilities_aghstraits`.`value7_shard` AS `value7 shard`,`cargo__abilities_traits`.`value7_tal` AS `value7 tal`,`cargo__abilities_aghstraits`.`value7_aghs_tal` AS `value7 aghs tal`,`cargo__abilities_traits`.`trait8` AS `trait8`,`cargo__abilities_traits`.`value8` AS `value8`,`cargo__abilities_aghstraits`.`value8_aghs` AS `value8 aghs`,`cargo__abilities_aghstraits`.`value8_shard` AS `value8 shard`,`cargo__abilities_traits`.`value8_tal` AS `value8 tal`,`cargo__abilities_aghstraits`.`value8_aghs_tal` AS `value8 aghs tal`,`cargo__abilities_traits`.`trait9` AS `trait9`,`cargo__abilities_traits`.`value9` AS `value9`,`cargo__abilities_aghstraits`.`value9_aghs` AS `value9 aghs`,`cargo__abilities_aghstraits`.`value9_shard` AS `value9 shard`,`cargo__abilities_traits`.`value9_tal` AS `value9 tal`,`cargo__abilities_aghstraits`.`value9_aghs_tal` AS `value9 aghs tal`,`cargo__abilities_traits`.`trait10` AS `trait10`,`cargo__abilities_traits`.`value10` AS `value10`,`cargo__abilities_aghstraits`.`value10_aghs` AS `value10 aghs`,`cargo__abilities_aghstraits`.`value10_shard` AS `value10 shard`,`cargo__abilities_traits`.`value10_tal` AS `value10 tal`,`cargo__abilities_aghstraits`.`value10_aghs_tal` AS `value10 aghs tal`,`cargo__abilities_traits`.`trait11` AS `trait11`,`cargo__abilities_traits`.`value11` AS `value11`,`cargo__abilities_aghstraits`.`value11_aghs` AS `value11 aghs`,`cargo__abilities_aghstraits`.`value11_shard` AS `value11 shard`,`cargo__abilities_traits`.`value11_tal` AS `value11 tal`,`cargo__abilities_aghstraits`.`value11_aghs_tal` AS `value11 aghs tal`,`cargo__abilities_traits`.`trait12` AS `trait12`,`cargo__abilities_traits`.`value12` AS `value12`,`cargo__abilities_aghstraits`.`value12_aghs` AS `value12 aghs`,`cargo__abilities_aghstraits`.`value12_shard` AS `value12 shard`,`cargo__abilities_traits`.`value12_tal` AS `value12 tal`,`cargo__abilities_aghstraits`.`value12_aghs_tal` AS `value12 aghs tal`,`cargo__abilities_traits`.`trait13` AS `trait13`,`cargo__abilities_traits`.`value13` AS `value13`,`cargo__abilities_aghstraits`.`value13_aghs` AS `value13 aghs`,`cargo__abilities_aghstraits`.`value13_shard` AS `value13 shard`,`cargo__abilities_traits`.`value13_tal` AS `value13 tal`,`cargo__abilities_aghstraits`.`value13_aghs_tal` AS `value13 aghs tal`,`cargo__abilities_traits`.`trait14` AS `trait14`,`cargo__abilities_traits`.`value14` AS `value14`,`cargo__abilities_aghstraits`.`value14_aghs` AS `value14 aghs`,`cargo__abilities_aghstraits`.`value14_shard` AS `value14 shard`,`cargo__abilities_traits`.`value14_tal` AS `value14 tal`,`cargo__abilities_aghstraits`.`value14_aghs_tal` AS `value14 aghs tal`,`cargo__abilities_traits`.`trait15` AS `trait15`,`cargo__abilities_traits`.`value15` AS `value15`,`cargo__abilities_aghstraits`.`value15_aghs` AS `value15 aghs`,`cargo__abilities_aghstraits`.`value15_shard` AS `value15 shard`,`cargo__abilities_traits`.`value15_tal` AS `value15 tal`,`cargo__abilities_aghstraits`.`value15_aghs_tal` AS `value15 aghs tal`,`cargo__abilities_buffs`.`buff1` AS `buff1`,`cargo__abilities_buffs`.`buff1dispel` AS `buff1dispel`,`cargo__abilities_buffs`.`buff1text` AS `buff1text`,`cargo__abilities_buffs`.`buff2` AS `buff2`,`cargo__abilities_buffs`.`buff2dispel` AS `buff2dispel`,`cargo__abilities_buffs`.`buff2text` AS `buff2text`,`cargo__abilities_buffs`.`buff3` AS `buff3`,`cargo__abilities_buffs`.`buff3dispel` AS `buff3dispel`,`cargo__abilities_buffs`.`buff3text` AS `buff3text`,`cargo__abilities_buffs`.`buff4` AS `buff4`,`cargo__abilities_buffs`.`buff4dispel` AS `buff4dispel`,`cargo__abilities_buffs`.`buff4text` AS `buff4text`,`cargo__abilities_buffs`.`debuff1` AS `debuff1`,`cargo__abilities_buffs`.`debuff1dispel` AS `debuff1dispel`,`cargo__abilities_buffs`.`debuff1text` AS `debuff1text`,`cargo__abilities_buffs`.`debuff2` AS `debuff2`,`cargo__abilities_buffs`.`debuff2dispel` AS `debuff2dispel`,`cargo__abilities_buffs`.`debuff2text` AS `debuff2text`,`cargo__abilities_buffs`.`debuff3` AS `debuff3`,`cargo__abilities_buffs`.`debuff3dispel` AS `debuff3dispel`,`cargo__abilities_buffs`.`debuff3text` AS `debuff3text`,`cargo__abilities_buffs`.`debuff4` AS `debuff4`,`cargo__abilities_buffs`.`debuff4dispel` AS `debuff4dispel`,`cargo__abilities_buffs`.`debuff4text` AS `debuff4text` FROM `cargo__abilities` LEFT OUTER JOIN `cargo__abilities_traits` ON ((`cargo__abilities`.`uid`=`cargo__abilities_traits`.`uid`)) LEFT OUTER JOIN `cargo__abilities_aghstraits` ON ((`cargo__abilities`.`uid`=`cargo__abilities_aghstraits`.`uid`)) LEFT OUTER JOIN `cargo__abilities_buffs` ON ((`cargo__abilities`.`uid`=`cargo__abilities_buffs`.`uid`)) WHERE `cargo__abilities`.`title` = '致残' AND `cargo__abilities`.`_pageName` = '精灵狼' ORDER BY `cargo__abilities`.`title`,`cargo__abilities`.`type`,`cargo__abilities`.`source`,`cargo__abilities`.`sound`,`cargo__abilities`.`sound2` LIMIT 1 Function: CargoSQLQuery::run Error: 1267 Illegal mix of collations (utf8_unicode_ci,IMPLICIT) and (utf8_general_ci,IMPLICIT) for operation '=' (geo-db-i-master.query.consul.) 。

Lua错误:A database query error has occurred. Did you forget to run your application's database schema updater after upgrading? Query: SELECT `cargo__abilities`.`title` AS `title`,`cargo__abilities`.`type` AS `type`,`cargo__abilities`.`source` AS `source`,`cargo__abilities`.`sound` AS `sound`,`cargo__abilities`.`sound2` AS `sound2`,`cargo__abilities`.`sound3` AS `sound3`,`cargo__abilities`.`image` AS `image`,`cargo__abilities`.`description` AS `description`,`cargo__abilities`.`lore` AS `lore`,`cargo__abilities`.`target` AS `target`,`cargo__abilities`.`target2` AS `target2`,`cargo__abilities`.`affects` AS `affects`,`cargo__abilities`.`affects2` AS `affects2`,`cargo__abilities`.`damage_type` AS `damage type`,`cargo__abilities`.`damage_type2` AS `damage type2`,`cargo__abilities`.`BKB_block` AS `BKB block`,`cargo__abilities`.`BKB_text` AS `BKB text`,`cargo__abilities`.`linkens_block` AS `linkens block`,`cargo__abilities`.`linkens_text` AS `linkens text`,`cargo__abilities`.`illusionuse` AS `illusionuse`,`cargo__abilities`.`illusion_text` AS `illusion text`,`cargo__abilities`.`breakable` AS `breakable`,`cargo__abilities`.`break_text` AS `break text`,`cargo__abilities`.`disjointable` AS `disjointable`,`cargo__abilities`.`disjointtext` AS `disjointtext`,`cargo__abilities`.`rootdisables` AS `rootdisables`,`cargo__abilities`.`roottext` AS `roottext`,`cargo__abilities`.`oncastproc` AS `oncastproc`,`cargo__abilities`.`oncasttext` AS `oncasttext`,`cargo__abilities`.`default_key` AS `default key`,`cargo__abilities`.`legacy_key` AS `legacy key`,`cargo__abilities`.`mana_cost` AS `mana cost`,`cargo__abilities`.`mana_cost_aghs` AS `mana cost aghs`,`cargo__abilities`.`mana_cost_shard` AS `mana cost shard`,`cargo__abilities`.`mana_cost_tal` AS `mana cost tal`,`cargo__abilities`.`current_mana_cost` AS `current mana cost`,`cargo__abilities`.`max_mana_cost` AS `max mana cost`,`cargo__abilities`.`cooldown` AS `cooldown`,`cargo__abilities`.`cooldown_aghs` AS `cooldown aghs`,`cargo__abilities`.`cooldown_shard` AS `cooldown shard`,`cargo__abilities`.`cooldown_tal` AS `cooldown tal`,`cargo__abilities`.`cooldown_aghs_tal` AS `cooldown aghs tal`,`cargo__abilities`.`aghanims_upgrade` AS `aghanims upgrade`,`cargo__abilities`.`aghshard` AS `aghshard`,`cargo__abilities`.`cast_point` AS `cast point`,`cargo__abilities`.`cast_point_tal` AS `cast point tal`,`cargo__abilities`.`cast_point_aghs` AS `cast point aghs`,`cargo__abilities`.`cast_point_shard` AS `cast point shard`,`cargo__abilities`.`cast_point_aghs_tal` AS `cast point aghs tal`,`cargo__abilities`.`cast_backswing` AS `cast backswing`,`cargo__abilities`.`cast_backswing_tal` AS `cast backswing tal`,`cargo__abilities`.`cast_backswing_aghs` AS `cast backswing aghs`,`cargo__abilities`.`cast_backswing_shard` AS `cast backswing shard`,`cargo__abilities`.`cast_backswing_aghs_tal` AS `cast backswing aghs tal`,`cargo__abilities`.`notes` AS `notes`,`cargo__abilities`.`game` AS `game`,`cargo__abilities_traits`.`trait1` AS `trait1`,`cargo__abilities_traits`.`value1` AS `value1`,`cargo__abilities_aghstraits`.`value1_aghs` AS `value1 aghs`,`cargo__abilities_aghstraits`.`value1_shard` AS `value1 shard`,`cargo__abilities_traits`.`value1_tal` AS `value1 tal`,`cargo__abilities_aghstraits`.`value1_aghs_tal` AS `value1 aghs tal`,`cargo__abilities_traits`.`trait2` AS `trait2`,`cargo__abilities_traits`.`value2` AS `value2`,`cargo__abilities_aghstraits`.`value2_aghs` AS `value2 aghs`,`cargo__abilities_aghstraits`.`value2_shard` AS `value2 shard`,`cargo__abilities_traits`.`value2_tal` AS `value2 tal`,`cargo__abilities_aghstraits`.`value2_aghs_tal` AS `value2 aghs tal`,`cargo__abilities_traits`.`trait3` AS `trait3`,`cargo__abilities_traits`.`value3` AS `value3`,`cargo__abilities_aghstraits`.`value3_aghs` AS `value3 aghs`,`cargo__abilities_aghstraits`.`value3_shard` AS `value3 shard`,`cargo__abilities_traits`.`value3_tal` AS `value3 tal`,`cargo__abilities_aghstraits`.`value3_aghs_tal` AS `value3 aghs tal`,`cargo__abilities_traits`.`trait4` AS `trait4`,`cargo__abilities_traits`.`value4` AS `value4`,`cargo__abilities_aghstraits`.`value4_aghs` AS `value4 aghs`,`cargo__abilities_aghstraits`.`value4_shard` AS `value4 shard`,`cargo__abilities_traits`.`value4_tal` AS `value4 tal`,`cargo__abilities_aghstraits`.`value4_aghs_tal` AS `value4 aghs tal`,`cargo__abilities_traits`.`trait5` AS `trait5`,`cargo__abilities_traits`.`value5` AS `value5`,`cargo__abilities_aghstraits`.`value5_aghs` AS `value5 aghs`,`cargo__abilities_aghstraits`.`value5_shard` AS `value5 shard`,`cargo__abilities_traits`.`value5_tal` AS `value5 tal`,`cargo__abilities_aghstraits`.`value5_aghs_tal` AS `value5 aghs tal`,`cargo__abilities_traits`.`trait6` AS `trait6`,`cargo__abilities_traits`.`value6` AS `value6`,`cargo__abilities_aghstraits`.`value6_aghs` AS `value6 aghs`,`cargo__abilities_aghstraits`.`value6_shard` AS `value6 shard`,`cargo__abilities_traits`.`value6_tal` AS `value6 tal`,`cargo__abilities_aghstraits`.`value6_aghs_tal` AS `value6 aghs tal`,`cargo__abilities_traits`.`trait7` AS `trait7`,`cargo__abilities_traits`.`value7` AS `value7`,`cargo__abilities_aghstraits`.`value7_aghs` AS `value7 aghs`,`cargo__abilities_aghstraits`.`value7_shard` AS `value7 shard`,`cargo__abilities_traits`.`value7_tal` AS `value7 tal`,`cargo__abilities_aghstraits`.`value7_aghs_tal` AS `value7 aghs tal`,`cargo__abilities_traits`.`trait8` AS `trait8`,`cargo__abilities_traits`.`value8` AS `value8`,`cargo__abilities_aghstraits`.`value8_aghs` AS `value8 aghs`,`cargo__abilities_aghstraits`.`value8_shard` AS `value8 shard`,`cargo__abilities_traits`.`value8_tal` AS `value8 tal`,`cargo__abilities_aghstraits`.`value8_aghs_tal` AS `value8 aghs tal`,`cargo__abilities_traits`.`trait9` AS `trait9`,`cargo__abilities_traits`.`value9` AS `value9`,`cargo__abilities_aghstraits`.`value9_aghs` AS `value9 aghs`,`cargo__abilities_aghstraits`.`value9_shard` AS `value9 shard`,`cargo__abilities_traits`.`value9_tal` AS `value9 tal`,`cargo__abilities_aghstraits`.`value9_aghs_tal` AS `value9 aghs tal`,`cargo__abilities_traits`.`trait10` AS `trait10`,`cargo__abilities_traits`.`value10` AS `value10`,`cargo__abilities_aghstraits`.`value10_aghs` AS `value10 aghs`,`cargo__abilities_aghstraits`.`value10_shard` AS `value10 shard`,`cargo__abilities_traits`.`value10_tal` AS `value10 tal`,`cargo__abilities_aghstraits`.`value10_aghs_tal` AS `value10 aghs tal`,`cargo__abilities_traits`.`trait11` AS `trait11`,`cargo__abilities_traits`.`value11` AS `value11`,`cargo__abilities_aghstraits`.`value11_aghs` AS `value11 aghs`,`cargo__abilities_aghstraits`.`value11_shard` AS `value11 shard`,`cargo__abilities_traits`.`value11_tal` AS `value11 tal`,`cargo__abilities_aghstraits`.`value11_aghs_tal` AS `value11 aghs tal`,`cargo__abilities_traits`.`trait12` AS `trait12`,`cargo__abilities_traits`.`value12` AS `value12`,`cargo__abilities_aghstraits`.`value12_aghs` AS `value12 aghs`,`cargo__abilities_aghstraits`.`value12_shard` AS `value12 shard`,`cargo__abilities_traits`.`value12_tal` AS `value12 tal`,`cargo__abilities_aghstraits`.`value12_aghs_tal` AS `value12 aghs tal`,`cargo__abilities_traits`.`trait13` AS `trait13`,`cargo__abilities_traits`.`value13` AS `value13`,`cargo__abilities_aghstraits`.`value13_aghs` AS `value13 aghs`,`cargo__abilities_aghstraits`.`value13_shard` AS `value13 shard`,`cargo__abilities_traits`.`value13_tal` AS `value13 tal`,`cargo__abilities_aghstraits`.`value13_aghs_tal` AS `value13 aghs tal`,`cargo__abilities_traits`.`trait14` AS `trait14`,`cargo__abilities_traits`.`value14` AS `value14`,`cargo__abilities_aghstraits`.`value14_aghs` AS `value14 aghs`,`cargo__abilities_aghstraits`.`value14_shard` AS `value14 shard`,`cargo__abilities_traits`.`value14_tal` AS `value14 tal`,`cargo__abilities_aghstraits`.`value14_aghs_tal` AS `value14 aghs tal`,`cargo__abilities_traits`.`trait15` AS `trait15`,`cargo__abilities_traits`.`value15` AS `value15`,`cargo__abilities_aghstraits`.`value15_aghs` AS `value15 aghs`,`cargo__abilities_aghstraits`.`value15_shard` AS `value15 shard`,`cargo__abilities_traits`.`value15_tal` AS `value15 tal`,`cargo__abilities_aghstraits`.`value15_aghs_tal` AS `value15 aghs tal`,`cargo__abilities_buffs`.`buff1` AS `buff1`,`cargo__abilities_buffs`.`buff1dispel` AS `buff1dispel`,`cargo__abilities_buffs`.`buff1text` AS `buff1text`,`cargo__abilities_buffs`.`buff2` AS `buff2`,`cargo__abilities_buffs`.`buff2dispel` AS `buff2dispel`,`cargo__abilities_buffs`.`buff2text` AS `buff2text`,`cargo__abilities_buffs`.`buff3` AS `buff3`,`cargo__abilities_buffs`.`buff3dispel` AS `buff3dispel`,`cargo__abilities_buffs`.`buff3text` AS `buff3text`,`cargo__abilities_buffs`.`buff4` AS `buff4`,`cargo__abilities_buffs`.`buff4dispel` AS `buff4dispel`,`cargo__abilities_buffs`.`buff4text` AS `buff4text`,`cargo__abilities_buffs`.`debuff1` AS `debuff1`,`cargo__abilities_buffs`.`debuff1dispel` AS `debuff1dispel`,`cargo__abilities_buffs`.`debuff1text` AS `debuff1text`,`cargo__abilities_buffs`.`debuff2` AS `debuff2`,`cargo__abilities_buffs`.`debuff2dispel` AS `debuff2dispel`,`cargo__abilities_buffs`.`debuff2text` AS `debuff2text`,`cargo__abilities_buffs`.`debuff3` AS `debuff3`,`cargo__abilities_buffs`.`debuff3dispel` AS `debuff3dispel`,`cargo__abilities_buffs`.`debuff3text` AS `debuff3text`,`cargo__abilities_buffs`.`debuff4` AS `debuff4`,`cargo__abilities_buffs`.`debuff4dispel` AS `debuff4dispel`,`cargo__abilities_buffs`.`debuff4text` AS `debuff4text` FROM `cargo__abilities` LEFT OUTER JOIN `cargo__abilities_traits` ON ((`cargo__abilities`.`uid`=`cargo__abilities_traits`.`uid`)) LEFT OUTER JOIN `cargo__abilities_aghstraits` ON ((`cargo__abilities`.`uid`=`cargo__abilities_aghstraits`.`uid`)) LEFT OUTER JOIN `cargo__abilities_buffs` ON ((`cargo__abilities`.`uid`=`cargo__abilities_buffs`.`uid`)) WHERE `cargo__abilities`.`title` = '隐身' AND `cargo__abilities`.`_pageName` = '精灵狼' ORDER BY `cargo__abilities`.`title`,`cargo__abilities`.`type`,`cargo__abilities`.`source`,`cargo__abilities`.`sound`,`cargo__abilities`.`sound2` LIMIT 1 Function: CargoSQLQuery::run Error: 1267 Illegal mix of collations (utf8_unicode_ci,IMPLICIT) and (utf8_general_ci,IMPLICIT) for operation '=' (geo-db-i-master.query.consul.) 。
天赋
[
]
最近改动
[
]
推荐出装
[
]
出门装备:
压制之刃 helps Lycan farm, especially if he starts in the jungle.
前期装备:
动力鞋 gives you movement speed, attack speed, and some extra damage and durability while set on strength.
王者之戒 gives extra armor to your wolves, extra mana regeneration for yourself, and later builds into 弗拉迪米尔的祭品.
核心装备:
弗拉迪米尔的祭品 gives lifesteal, damage, and armor in an aura, so his wolves get more powerful as well. The mana regeneration also helps with his small mana pool.
30px 死灵书 等级3 is the default option on Lycan. The extra strength and intelligence is always nice too.
黑皇杖 is useful on many melee heroes. Lycan is no exception as more strength and temporary magic immunity let him get to his target and deal more damage when he gets there.
可选装备:
玩法
[
]
Part man and part wolf, Banehallow stands as the lone surviving heir to the noble house of Ambry. Not one to squander his curse, Banehallow Summons Wolves to scout ahead and aid him in the hunt. A blood-curdling Howl empowers his animal companions, sinking fang and claw into his prey with Feral Impulse. But these abilities pale in comparison to the true manifestation of his lycanthropy. Under the full moon, Banehallow Shapeshifts into the great wolf, and takes on supernatural haste as he sprints unhindered across the battlefield to tear the throats from his enemies.

定位:
核心 推进 打野 耐久 逃生
复杂程度:
★★☆
音频
[
]
历史
[
]
装备
[
]
花絮
[
]
Lycanthropy

引用自一个人类转变为一只狼的能力,或者获得如狼一般的特征。这个词源自于希腊语lykànthropos,翻译成英文是"wolf man"或"werewolf"。
名字贝恩霍勒衍生自魔兽争霸3的英雄单位恐惧魔王
Link▶️ "Who fears the wolf should fear the forest."台词是引用自俄罗斯的小说家

Fyodor Mikhailovich Dostoyevsky

在'

The Gambler

'中的句子 : '

Who fears the wolf should never enter the forest

'
Link▶️ "I thought you were Team Yakov!"台词是引用自(双关语)

暮光之城

系列中的狼人

Jacob Black

。粉丝们按照他们最喜欢的主角分成不同的"teams",其中一个就是"Team Jacob"
画廊
[
]