Jurassic World: Dominion Dominates Fandom Wikis - The Loop
打开音效
兽王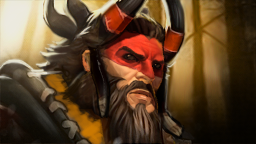 卡洛克, 兽王, 是一个通用的近战力量英雄。经常被作为劣势路英雄或者能为团队带来许多增益的ganker。他的野性之斧能让他在即使被压制的情况下依旧快速推线和打钱。他能召唤战鹰和豪猪,每个都为团队做出贡献。战鹰能提供免费的空中视野,探索敌军踪迹。而豪猪则能骚扰并减速敌人,让敌人慢得跟爬一样。野性之心光环能为团队提供不容小觑的攻击速度加成,包括他自身,他的召唤物,以及他的盟友。最后,他的终极技能,原始咆哮,是最长的单体强眩晕技能,甚至还能无视技能免疫(只有林肯法球能抵挡),为团队提供了一个击杀敌人的强力先手。依靠这些技能,他能安全并快速地推塔,配合死灵书击杀落单的敌人,控制敌方单体以及在团战中放敌人风筝。依靠精准的团战观察与分析,兽王能一一将敌人瓦解并铺平制胜的道路。
介绍
[
]
技能
[
]
战鹰
召唤单位

小兵
这个单位没有魔法值。
等级
1
持续时间
60
护甲
5
魔法抗性
0%
状态抗性
0%
移动速度

300/340/380/420

(100)
转身速率
0.6
碰撞体积
24
视野
(F)

750/800/850/900

金钱

30

/

40

/

50

/

60

经验值

77

模型缩放
1.2
技能


俯冲炸弹


Lua错误 模块:Ability_ID的第61行:无法找到"隐身"的Cargo数据



附录
不可控制
豪猪
[
]
Lua错误:A database query error has occurred. Did you forget to run your application's database schema updater after upgrading? Query: SELECT `cargo__abilities`.`title` AS `title`,`cargo__abilities`.`type` AS `type`,`cargo__abilities`.`source` AS `source`,`cargo__abilities`.`sound` AS `sound`,`cargo__abilities`.`sound2` AS `sound2`,`cargo__abilities`.`sound3` AS `sound3`,`cargo__abilities`.`image` AS `image`,`cargo__abilities`.`description` AS `description`,`cargo__abilities`.`lore` AS `lore`,`cargo__abilities`.`target` AS `target`,`cargo__abilities`.`target2` AS `target2`,`cargo__abilities`.`affects` AS `affects`,`cargo__abilities`.`affects2` AS `affects2`,`cargo__abilities`.`damage_type` AS `damage type`,`cargo__abilities`.`damage_type2` AS `damage type2`,`cargo__abilities`.`BKB_block` AS `BKB block`,`cargo__abilities`.`BKB_text` AS `BKB text`,`cargo__abilities`.`linkens_block` AS `linkens block`,`cargo__abilities`.`linkens_text` AS `linkens text`,`cargo__abilities`.`illusionuse` AS `illusionuse`,`cargo__abilities`.`illusion_text` AS `illusion text`,`cargo__abilities`.`breakable` AS `breakable`,`cargo__abilities`.`break_text` AS `break text`,`cargo__abilities`.`disjointable` AS `disjointable`,`cargo__abilities`.`disjointtext` AS `disjointtext`,`cargo__abilities`.`rootdisables` AS `rootdisables`,`cargo__abilities`.`roottext` AS `roottext`,`cargo__abilities`.`oncastproc` AS `oncastproc`,`cargo__abilities`.`oncasttext` AS `oncasttext`,`cargo__abilities`.`default_key` AS `default key`,`cargo__abilities`.`legacy_key` AS `legacy key`,`cargo__abilities`.`mana_cost` AS `mana cost`,`cargo__abilities`.`mana_cost_aghs` AS `mana cost aghs`,`cargo__abilities`.`mana_cost_shard` AS `mana cost shard`,`cargo__abilities`.`mana_cost_tal` AS `mana cost tal`,`cargo__abilities`.`current_mana_cost` AS `current mana cost`,`cargo__abilities`.`max_mana_cost` AS `max mana cost`,`cargo__abilities`.`cooldown` AS `cooldown`,`cargo__abilities`.`cooldown_aghs` AS `cooldown aghs`,`cargo__abilities`.`cooldown_shard` AS `cooldown shard`,`cargo__abilities`.`cooldown_tal` AS `cooldown tal`,`cargo__abilities`.`cooldown_aghs_tal` AS `cooldown aghs tal`,`cargo__abilities`.`aghanims_upgrade` AS `aghanims upgrade`,`cargo__abilities`.`aghshard` AS `aghshard`,`cargo__abilities`.`cast_point` AS `cast point`,`cargo__abilities`.`cast_point_tal` AS `cast point tal`,`cargo__abilities`.`cast_point_aghs` AS `cast point aghs`,`cargo__abilities`.`cast_point_shard` AS `cast point shard`,`cargo__abilities`.`cast_point_aghs_tal` AS `cast point aghs tal`,`cargo__abilities`.`cast_backswing` AS `cast backswing`,`cargo__abilities`.`cast_backswing_tal` AS `cast backswing tal`,`cargo__abilities`.`cast_backswing_aghs` AS `cast backswing aghs`,`cargo__abilities`.`cast_backswing_shard` AS `cast backswing shard`,`cargo__abilities`.`cast_backswing_aghs_tal` AS `cast backswing aghs tal`,`cargo__abilities`.`notes` AS `notes`,`cargo__abilities`.`game` AS `game`,`cargo__abilities_traits`.`trait1` AS `trait1`,`cargo__abilities_traits`.`value1` AS `value1`,`cargo__abilities_aghstraits`.`value1_aghs` AS `value1 aghs`,`cargo__abilities_aghstraits`.`value1_shard` AS `value1 shard`,`cargo__abilities_traits`.`value1_tal` AS `value1 tal`,`cargo__abilities_aghstraits`.`value1_aghs_tal` AS `value1 aghs tal`,`cargo__abilities_traits`.`trait2` AS `trait2`,`cargo__abilities_traits`.`value2` AS `value2`,`cargo__abilities_aghstraits`.`value2_aghs` AS `value2 aghs`,`cargo__abilities_aghstraits`.`value2_shard` AS `value2 shard`,`cargo__abilities_traits`.`value2_tal` AS `value2 tal`,`cargo__abilities_aghstraits`.`value2_aghs_tal` AS `value2 aghs tal`,`cargo__abilities_traits`.`trait3` AS `trait3`,`cargo__abilities_traits`.`value3` AS `value3`,`cargo__abilities_aghstraits`.`value3_aghs` AS `value3 aghs`,`cargo__abilities_aghstraits`.`value3_shard` AS `value3 shard`,`cargo__abilities_traits`.`value3_tal` AS `value3 tal`,`cargo__abilities_aghstraits`.`value3_aghs_tal` AS `value3 aghs tal`,`cargo__abilities_traits`.`trait4` AS `trait4`,`cargo__abilities_traits`.`value4` AS `value4`,`cargo__abilities_aghstraits`.`value4_aghs` AS `value4 aghs`,`cargo__abilities_aghstraits`.`value4_shard` AS `value4 shard`,`cargo__abilities_traits`.`value4_tal` AS `value4 tal`,`cargo__abilities_aghstraits`.`value4_aghs_tal` AS `value4 aghs tal`,`cargo__abilities_traits`.`trait5` AS `trait5`,`cargo__abilities_traits`.`value5` AS `value5`,`cargo__abilities_aghstraits`.`value5_aghs` AS `value5 aghs`,`cargo__abilities_aghstraits`.`value5_shard` AS `value5 shard`,`cargo__abilities_traits`.`value5_tal` AS `value5 tal`,`cargo__abilities_aghstraits`.`value5_aghs_tal` AS `value5 aghs tal`,`cargo__abilities_traits`.`trait6` AS `trait6`,`cargo__abilities_traits`.`value6` AS `value6`,`cargo__abilities_aghstraits`.`value6_aghs` AS `value6 aghs`,`cargo__abilities_aghstraits`.`value6_shard` AS `value6 shard`,`cargo__abilities_traits`.`value6_tal` AS `value6 tal`,`cargo__abilities_aghstraits`.`value6_aghs_tal` AS `value6 aghs tal`,`cargo__abilities_traits`.`trait7` AS `trait7`,`cargo__abilities_traits`.`value7` AS `value7`,`cargo__abilities_aghstraits`.`value7_aghs` AS `value7 aghs`,`cargo__abilities_aghstraits`.`value7_shard` AS `value7 shard`,`cargo__abilities_traits`.`value7_tal` AS `value7 tal`,`cargo__abilities_aghstraits`.`value7_aghs_tal` AS `value7 aghs tal`,`cargo__abilities_traits`.`trait8` AS `trait8`,`cargo__abilities_traits`.`value8` AS `value8`,`cargo__abilities_aghstraits`.`value8_aghs` AS `value8 aghs`,`cargo__abilities_aghstraits`.`value8_shard` AS `value8 shard`,`cargo__abilities_traits`.`value8_tal` AS `value8 tal`,`cargo__abilities_aghstraits`.`value8_aghs_tal` AS `value8 aghs tal`,`cargo__abilities_traits`.`trait9` AS `trait9`,`cargo__abilities_traits`.`value9` AS `value9`,`cargo__abilities_aghstraits`.`value9_aghs` AS `value9 aghs`,`cargo__abilities_aghstraits`.`value9_shard` AS `value9 shard`,`cargo__abilities_traits`.`value9_tal` AS `value9 tal`,`cargo__abilities_aghstraits`.`value9_aghs_tal` AS `value9 aghs tal`,`cargo__abilities_traits`.`trait10` AS `trait10`,`cargo__abilities_traits`.`value10` AS `value10`,`cargo__abilities_aghstraits`.`value10_aghs` AS `value10 aghs`,`cargo__abilities_aghstraits`.`value10_shard` AS `value10 shard`,`cargo__abilities_traits`.`value10_tal` AS `value10 tal`,`cargo__abilities_aghstraits`.`value10_aghs_tal` AS `value10 aghs tal`,`cargo__abilities_traits`.`trait11` AS `trait11`,`cargo__abilities_traits`.`value11` AS `value11`,`cargo__abilities_aghstraits`.`value11_aghs` AS `value11 aghs`,`cargo__abilities_aghstraits`.`value11_shard` AS `value11 shard`,`cargo__abilities_traits`.`value11_tal` AS `value11 tal`,`cargo__abilities_aghstraits`.`value11_aghs_tal` AS `value11 aghs tal`,`cargo__abilities_traits`.`trait12` AS `trait12`,`cargo__abilities_traits`.`value12` AS `value12`,`cargo__abilities_aghstraits`.`value12_aghs` AS `value12 aghs`,`cargo__abilities_aghstraits`.`value12_shard` AS `value12 shard`,`cargo__abilities_traits`.`value12_tal` AS `value12 tal`,`cargo__abilities_aghstraits`.`value12_aghs_tal` AS `value12 aghs tal`,`cargo__abilities_traits`.`trait13` AS `trait13`,`cargo__abilities_traits`.`value13` AS `value13`,`cargo__abilities_aghstraits`.`value13_aghs` AS `value13 aghs`,`cargo__abilities_aghstraits`.`value13_shard` AS `value13 shard`,`cargo__abilities_traits`.`value13_tal` AS `value13 tal`,`cargo__abilities_aghstraits`.`value13_aghs_tal` AS `value13 aghs tal`,`cargo__abilities_traits`.`trait14` AS `trait14`,`cargo__abilities_traits`.`value14` AS `value14`,`cargo__abilities_aghstraits`.`value14_aghs` AS `value14 aghs`,`cargo__abilities_aghstraits`.`value14_shard` AS `value14 shard`,`cargo__abilities_traits`.`value14_tal` AS `value14 tal`,`cargo__abilities_aghstraits`.`value14_aghs_tal` AS `value14 aghs tal`,`cargo__abilities_traits`.`trait15` AS `trait15`,`cargo__abilities_traits`.`value15` AS `value15`,`cargo__abilities_aghstraits`.`value15_aghs` AS `value15 aghs`,`cargo__abilities_aghstraits`.`value15_shard` AS `value15 shard`,`cargo__abilities_traits`.`value15_tal` AS `value15 tal`,`cargo__abilities_aghstraits`.`value15_aghs_tal` AS `value15 aghs tal`,`cargo__abilities_buffs`.`buff1` AS `buff1`,`cargo__abilities_buffs`.`buff1dispel` AS `buff1dispel`,`cargo__abilities_buffs`.`buff1text` AS `buff1text`,`cargo__abilities_buffs`.`buff2` AS `buff2`,`cargo__abilities_buffs`.`buff2dispel` AS `buff2dispel`,`cargo__abilities_buffs`.`buff2text` AS `buff2text`,`cargo__abilities_buffs`.`buff3` AS `buff3`,`cargo__abilities_buffs`.`buff3dispel` AS `buff3dispel`,`cargo__abilities_buffs`.`buff3text` AS `buff3text`,`cargo__abilities_buffs`.`buff4` AS `buff4`,`cargo__abilities_buffs`.`buff4dispel` AS `buff4dispel`,`cargo__abilities_buffs`.`buff4text` AS `buff4text`,`cargo__abilities_buffs`.`debuff1` AS `debuff1`,`cargo__abilities_buffs`.`debuff1dispel` AS `debuff1dispel`,`cargo__abilities_buffs`.`debuff1text` AS `debuff1text`,`cargo__abilities_buffs`.`debuff2` AS `debuff2`,`cargo__abilities_buffs`.`debuff2dispel` AS `debuff2dispel`,`cargo__abilities_buffs`.`debuff2text` AS `debuff2text`,`cargo__abilities_buffs`.`debuff3` AS `debuff3`,`cargo__abilities_buffs`.`debuff3dispel` AS `debuff3dispel`,`cargo__abilities_buffs`.`debuff3text` AS `debuff3text`,`cargo__abilities_buffs`.`debuff4` AS `debuff4`,`cargo__abilities_buffs`.`debuff4dispel` AS `debuff4dispel`,`cargo__abilities_buffs`.`debuff4text` AS `debuff4text` FROM `cargo__abilities` LEFT OUTER JOIN `cargo__abilities_traits` ON ((`cargo__abilities`.`uid`=`cargo__abilities_traits`.`uid`)) LEFT OUTER JOIN `cargo__abilities_aghstraits` ON ((`cargo__abilities`.`uid`=`cargo__abilities_aghstraits`.`uid`)) LEFT OUTER JOIN `cargo__abilities_buffs` ON ((`cargo__abilities`.`uid`=`cargo__abilities_buffs`.`uid`)) WHERE `cargo__abilities`.`title` = '毒性攻击' AND `cargo__abilities`.`_pageName` = '豪猪' ORDER BY `cargo__abilities`.`title`,`cargo__abilities`.`type`,`cargo__abilities`.`source`,`cargo__abilities`.`sound`,`cargo__abilities`.`sound2` LIMIT 1 Function: CargoSQLQuery::run Error: 1267 Illegal mix of collations (utf8_unicode_ci,IMPLICIT) and (utf8_general_ci,IMPLICIT) for operation '=' (geo-db-i-master.query.consul.) 。
战鹰
[
]
Lua错误:A database query error has occurred. Did you forget to run your application's database schema updater after upgrading? Query: SELECT `cargo__abilities`.`title` AS `title`,`cargo__abilities`.`type` AS `type`,`cargo__abilities`.`source` AS `source`,`cargo__abilities`.`sound` AS `sound`,`cargo__abilities`.`sound2` AS `sound2`,`cargo__abilities`.`sound3` AS `sound3`,`cargo__abilities`.`image` AS `image`,`cargo__abilities`.`description` AS `description`,`cargo__abilities`.`lore` AS `lore`,`cargo__abilities`.`target` AS `target`,`cargo__abilities`.`target2` AS `target2`,`cargo__abilities`.`affects` AS `affects`,`cargo__abilities`.`affects2` AS `affects2`,`cargo__abilities`.`damage_type` AS `damage type`,`cargo__abilities`.`damage_type2` AS `damage type2`,`cargo__abilities`.`BKB_block` AS `BKB block`,`cargo__abilities`.`BKB_text` AS `BKB text`,`cargo__abilities`.`linkens_block` AS `linkens block`,`cargo__abilities`.`linkens_text` AS `linkens text`,`cargo__abilities`.`illusionuse` AS `illusionuse`,`cargo__abilities`.`illusion_text` AS `illusion text`,`cargo__abilities`.`breakable` AS `breakable`,`cargo__abilities`.`break_text` AS `break text`,`cargo__abilities`.`disjointable` AS `disjointable`,`cargo__abilities`.`disjointtext` AS `disjointtext`,`cargo__abilities`.`rootdisables` AS `rootdisables`,`cargo__abilities`.`roottext` AS `roottext`,`cargo__abilities`.`oncastproc` AS `oncastproc`,`cargo__abilities`.`oncasttext` AS `oncasttext`,`cargo__abilities`.`default_key` AS `default key`,`cargo__abilities`.`legacy_key` AS `legacy key`,`cargo__abilities`.`mana_cost` AS `mana cost`,`cargo__abilities`.`mana_cost_aghs` AS `mana cost aghs`,`cargo__abilities`.`mana_cost_shard` AS `mana cost shard`,`cargo__abilities`.`mana_cost_tal` AS `mana cost tal`,`cargo__abilities`.`current_mana_cost` AS `current mana cost`,`cargo__abilities`.`max_mana_cost` AS `max mana cost`,`cargo__abilities`.`cooldown` AS `cooldown`,`cargo__abilities`.`cooldown_aghs` AS `cooldown aghs`,`cargo__abilities`.`cooldown_shard` AS `cooldown shard`,`cargo__abilities`.`cooldown_tal` AS `cooldown tal`,`cargo__abilities`.`cooldown_aghs_tal` AS `cooldown aghs tal`,`cargo__abilities`.`aghanims_upgrade` AS `aghanims upgrade`,`cargo__abilities`.`aghshard` AS `aghshard`,`cargo__abilities`.`cast_point` AS `cast point`,`cargo__abilities`.`cast_point_tal` AS `cast point tal`,`cargo__abilities`.`cast_point_aghs` AS `cast point aghs`,`cargo__abilities`.`cast_point_shard` AS `cast point shard`,`cargo__abilities`.`cast_point_aghs_tal` AS `cast point aghs tal`,`cargo__abilities`.`cast_backswing` AS `cast backswing`,`cargo__abilities`.`cast_backswing_tal` AS `cast backswing tal`,`cargo__abilities`.`cast_backswing_aghs` AS `cast backswing aghs`,`cargo__abilities`.`cast_backswing_shard` AS `cast backswing shard`,`cargo__abilities`.`cast_backswing_aghs_tal` AS `cast backswing aghs tal`,`cargo__abilities`.`notes` AS `notes`,`cargo__abilities`.`game` AS `game`,`cargo__abilities_traits`.`trait1` AS `trait1`,`cargo__abilities_traits`.`value1` AS `value1`,`cargo__abilities_aghstraits`.`value1_aghs` AS `value1 aghs`,`cargo__abilities_aghstraits`.`value1_shard` AS `value1 shard`,`cargo__abilities_traits`.`value1_tal` AS `value1 tal`,`cargo__abilities_aghstraits`.`value1_aghs_tal` AS `value1 aghs tal`,`cargo__abilities_traits`.`trait2` AS `trait2`,`cargo__abilities_traits`.`value2` AS `value2`,`cargo__abilities_aghstraits`.`value2_aghs` AS `value2 aghs`,`cargo__abilities_aghstraits`.`value2_shard` AS `value2 shard`,`cargo__abilities_traits`.`value2_tal` AS `value2 tal`,`cargo__abilities_aghstraits`.`value2_aghs_tal` AS `value2 aghs tal`,`cargo__abilities_traits`.`trait3` AS `trait3`,`cargo__abilities_traits`.`value3` AS `value3`,`cargo__abilities_aghstraits`.`value3_aghs` AS `value3 aghs`,`cargo__abilities_aghstraits`.`value3_shard` AS `value3 shard`,`cargo__abilities_traits`.`value3_tal` AS `value3 tal`,`cargo__abilities_aghstraits`.`value3_aghs_tal` AS `value3 aghs tal`,`cargo__abilities_traits`.`trait4` AS `trait4`,`cargo__abilities_traits`.`value4` AS `value4`,`cargo__abilities_aghstraits`.`value4_aghs` AS `value4 aghs`,`cargo__abilities_aghstraits`.`value4_shard` AS `value4 shard`,`cargo__abilities_traits`.`value4_tal` AS `value4 tal`,`cargo__abilities_aghstraits`.`value4_aghs_tal` AS `value4 aghs tal`,`cargo__abilities_traits`.`trait5` AS `trait5`,`cargo__abilities_traits`.`value5` AS `value5`,`cargo__abilities_aghstraits`.`value5_aghs` AS `value5 aghs`,`cargo__abilities_aghstraits`.`value5_shard` AS `value5 shard`,`cargo__abilities_traits`.`value5_tal` AS `value5 tal`,`cargo__abilities_aghstraits`.`value5_aghs_tal` AS `value5 aghs tal`,`cargo__abilities_traits`.`trait6` AS `trait6`,`cargo__abilities_traits`.`value6` AS `value6`,`cargo__abilities_aghstraits`.`value6_aghs` AS `value6 aghs`,`cargo__abilities_aghstraits`.`value6_shard` AS `value6 shard`,`cargo__abilities_traits`.`value6_tal` AS `value6 tal`,`cargo__abilities_aghstraits`.`value6_aghs_tal` AS `value6 aghs tal`,`cargo__abilities_traits`.`trait7` AS `trait7`,`cargo__abilities_traits`.`value7` AS `value7`,`cargo__abilities_aghstraits`.`value7_aghs` AS `value7 aghs`,`cargo__abilities_aghstraits`.`value7_shard` AS `value7 shard`,`cargo__abilities_traits`.`value7_tal` AS `value7 tal`,`cargo__abilities_aghstraits`.`value7_aghs_tal` AS `value7 aghs tal`,`cargo__abilities_traits`.`trait8` AS `trait8`,`cargo__abilities_traits`.`value8` AS `value8`,`cargo__abilities_aghstraits`.`value8_aghs` AS `value8 aghs`,`cargo__abilities_aghstraits`.`value8_shard` AS `value8 shard`,`cargo__abilities_traits`.`value8_tal` AS `value8 tal`,`cargo__abilities_aghstraits`.`value8_aghs_tal` AS `value8 aghs tal`,`cargo__abilities_traits`.`trait9` AS `trait9`,`cargo__abilities_traits`.`value9` AS `value9`,`cargo__abilities_aghstraits`.`value9_aghs` AS `value9 aghs`,`cargo__abilities_aghstraits`.`value9_shard` AS `value9 shard`,`cargo__abilities_traits`.`value9_tal` AS `value9 tal`,`cargo__abilities_aghstraits`.`value9_aghs_tal` AS `value9 aghs tal`,`cargo__abilities_traits`.`trait10` AS `trait10`,`cargo__abilities_traits`.`value10` AS `value10`,`cargo__abilities_aghstraits`.`value10_aghs` AS `value10 aghs`,`cargo__abilities_aghstraits`.`value10_shard` AS `value10 shard`,`cargo__abilities_traits`.`value10_tal` AS `value10 tal`,`cargo__abilities_aghstraits`.`value10_aghs_tal` AS `value10 aghs tal`,`cargo__abilities_traits`.`trait11` AS `trait11`,`cargo__abilities_traits`.`value11` AS `value11`,`cargo__abilities_aghstraits`.`value11_aghs` AS `value11 aghs`,`cargo__abilities_aghstraits`.`value11_shard` AS `value11 shard`,`cargo__abilities_traits`.`value11_tal` AS `value11 tal`,`cargo__abilities_aghstraits`.`value11_aghs_tal` AS `value11 aghs tal`,`cargo__abilities_traits`.`trait12` AS `trait12`,`cargo__abilities_traits`.`value12` AS `value12`,`cargo__abilities_aghstraits`.`value12_aghs` AS `value12 aghs`,`cargo__abilities_aghstraits`.`value12_shard` AS `value12 shard`,`cargo__abilities_traits`.`value12_tal` AS `value12 tal`,`cargo__abilities_aghstraits`.`value12_aghs_tal` AS `value12 aghs tal`,`cargo__abilities_traits`.`trait13` AS `trait13`,`cargo__abilities_traits`.`value13` AS `value13`,`cargo__abilities_aghstraits`.`value13_aghs` AS `value13 aghs`,`cargo__abilities_aghstraits`.`value13_shard` AS `value13 shard`,`cargo__abilities_traits`.`value13_tal` AS `value13 tal`,`cargo__abilities_aghstraits`.`value13_aghs_tal` AS `value13 aghs tal`,`cargo__abilities_traits`.`trait14` AS `trait14`,`cargo__abilities_traits`.`value14` AS `value14`,`cargo__abilities_aghstraits`.`value14_aghs` AS `value14 aghs`,`cargo__abilities_aghstraits`.`value14_shard` AS `value14 shard`,`cargo__abilities_traits`.`value14_tal` AS `value14 tal`,`cargo__abilities_aghstraits`.`value14_aghs_tal` AS `value14 aghs tal`,`cargo__abilities_traits`.`trait15` AS `trait15`,`cargo__abilities_traits`.`value15` AS `value15`,`cargo__abilities_aghstraits`.`value15_aghs` AS `value15 aghs`,`cargo__abilities_aghstraits`.`value15_shard` AS `value15 shard`,`cargo__abilities_traits`.`value15_tal` AS `value15 tal`,`cargo__abilities_aghstraits`.`value15_aghs_tal` AS `value15 aghs tal`,`cargo__abilities_buffs`.`buff1` AS `buff1`,`cargo__abilities_buffs`.`buff1dispel` AS `buff1dispel`,`cargo__abilities_buffs`.`buff1text` AS `buff1text`,`cargo__abilities_buffs`.`buff2` AS `buff2`,`cargo__abilities_buffs`.`buff2dispel` AS `buff2dispel`,`cargo__abilities_buffs`.`buff2text` AS `buff2text`,`cargo__abilities_buffs`.`buff3` AS `buff3`,`cargo__abilities_buffs`.`buff3dispel` AS `buff3dispel`,`cargo__abilities_buffs`.`buff3text` AS `buff3text`,`cargo__abilities_buffs`.`buff4` AS `buff4`,`cargo__abilities_buffs`.`buff4dispel` AS `buff4dispel`,`cargo__abilities_buffs`.`buff4text` AS `buff4text`,`cargo__abilities_buffs`.`debuff1` AS `debuff1`,`cargo__abilities_buffs`.`debuff1dispel` AS `debuff1dispel`,`cargo__abilities_buffs`.`debuff1text` AS `debuff1text`,`cargo__abilities_buffs`.`debuff2` AS `debuff2`,`cargo__abilities_buffs`.`debuff2dispel` AS `debuff2dispel`,`cargo__abilities_buffs`.`debuff2text` AS `debuff2text`,`cargo__abilities_buffs`.`debuff3` AS `debuff3`,`cargo__abilities_buffs`.`debuff3dispel` AS `debuff3dispel`,`cargo__abilities_buffs`.`debuff3text` AS `debuff3text`,`cargo__abilities_buffs`.`debuff4` AS `debuff4`,`cargo__abilities_buffs`.`debuff4dispel` AS `debuff4dispel`,`cargo__abilities_buffs`.`debuff4text` AS `debuff4text` FROM `cargo__abilities` LEFT OUTER JOIN `cargo__abilities_traits` ON ((`cargo__abilities`.`uid`=`cargo__abilities_traits`.`uid`)) LEFT OUTER JOIN `cargo__abilities_aghstraits` ON ((`cargo__abilities`.`uid`=`cargo__abilities_aghstraits`.`uid`)) LEFT OUTER JOIN `cargo__abilities_buffs` ON ((`cargo__abilities`.`uid`=`cargo__abilities_buffs`.`uid`)) WHERE `cargo__abilities`.`title` = '俯冲炸弹' AND `cargo__abilities`.`_pageName` = '战鹰' ORDER BY `cargo__abilities`.`title`,`cargo__abilities`.`type`,`cargo__abilities`.`source`,`cargo__abilities`.`sound`,`cargo__abilities`.`sound2` LIMIT 1 Function: CargoSQLQuery::run Error: 1267 Illegal mix of collations (utf8_unicode_ci,IMPLICIT) and (utf8_general_ci,IMPLICIT) for operation '=' (geo-db-i-master.query.consul.) 。
天赋
[
]
最近改动
[
]
推荐出装
[
]
兽王/攻略
玩法
[
]
Raised in the royal menagerie of Slom, Karroch learned to converse with beasts from a young age. With this unique talent, the Beastmaster is able to summon to his side a trusty Boar and a scouting Hawk. In addition to his companions, Karroch has mastered the art of throwing Wild Axes, cutting down trees and foes before returning to his hands. The Beastmaster awakens the Inner Beast of nearby allies, increasing their attack speed. Should an enemy attempt to flee, Karroch lets loose a Primal Roar, incapacitating the target and clearing the path to its demise.

定位:
先手 控制 耐久 爆发
复杂程度:
★★☆
音频
[
]
历史
[
]
装备
[
]
花絮
[
]
Beastmaster's original name was Rexxar, a character in the Warcraft universe.

Rexxar was the main playable character of the bonus campaign in Warcraft III: The Frozen Throne.

Beastmaster's item the "

刀背兽

" design seems to be based on the Shriekers from Tremors II: Aftershocks.[1]
Beastmaster's lines Link▶️ Link▶️ "Basshunter, on the hunt" are a reference to Swedish singer Basshunter, who has a song about DotA.
画廊
[
]
引用
[
]