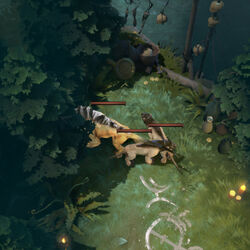 The Wolf camp is a medium camp of neutral creeps. It contains 2 Giant Wolves and 1 Alpha Wolf, and gives a total of 160 experience and 66-78 gold.
Abilities
[
]
Alpha Wolf
The cruel Alpha Wolf attacks his enemy's unprotected vitals at every opportunity, inflicting critical damage.
Notes:

Increases attack damage by an average of 20%.
The Alpha Wolf's ruthless attacks do extra damage. His commanding presence inspires nearby allies to attack ruthlessly as well.
Notes:

Only increases base damage and that given by the primary attribute of affected units. Raw bonus damage is not increased.
The aura's buff lingers for 0.5 seconds.
Fully stacks with other attack damage increasing auras.
Tips
[
]
The Alpha Wolf is one of the best creeps to have on your side in the late game due to its Packleader's Aura. However, care should be taken as to not let it too close to the enemy since it will die very fast, especially if the enemy has AoE damage or cleave.
The Alpha Wolf can also be converted to assist your carry's farm during the Mid game via Helm of the Dominator.
The Alpha Wolf is in most situations the best creep Doom can devour during the late game due to both Packleader's Aura and Critical Strike, which can drastically increase his damage output and carry capacities.
Version History
[
]
The Alpha Wolf's ruthless attacks do extra damage. His commanding presence inspires nearby allies to attack ruthlessly as well.

Radius: 500
Attack damage bonus: 30%
Aura linger duration: 0.5