Winterblight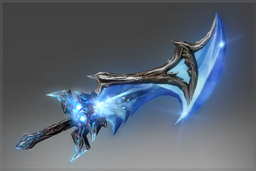 ---
Carved of stone and glacial ice, its edge is said to be cold enough to freeze the very souls of its victims.
Created By

Released
Origin
This item comes in Genuine quality.
Customizations
[
]
Customization
Type
Preview
Ambient
Effect
Attack
Effect
(Trail)
Mortal Strike/
Critical1
Effect
(Trail)
1 Customizes all critical attacks, even if Mortal Strike is not triggered.

Gallery
[
]