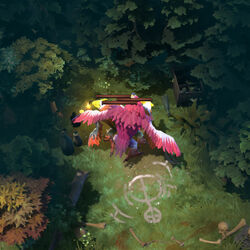 The Wildwing camp is a large camp of neutral creeps. It contains 2 Wildwings and 1 Wildwing Ripper, and gives a total of 128 experience and 78-102 gold.
Abilities
[
]
Wildwing Ripper
The Wildwing Ripper calls on the spirit of the wind, creating a sentient Tornado that he can control. The Tornado slows nearby enemies and does damage. It is invulnerable and can move anywhere.
Notes:

As a neutral unit:

The wildwing never casts this spell.
As a player controlled unit:
The Tornado is a controllable unit, which can be selected and given move, follow and patrol orders.
The Wildwing Ripper's fury numbs it to attacks and inspires nearby allies to withstand more blows.
Notes:

Fully stacks with other armor increasing effects.
The aura's buff lingers for 0.5 seconds.

Tornado
The Tornado's overpowering winds slow all nearby enemies, flinging debris at them and inflicting damage every second. Enemies closer to the center of the Tornado take more damage.
Notes:

The aura's debuff lingers for 0.5 seconds. The damage is not connected with the debuff.

The slow from multiple auras does not stack. The damage fully stacks.
Deals 11.25 close and 3.75 far damage in 0.25 second intervals, starting 0.25 seconds after cast, resulting in 159 possible instances.
Can deal up to 1811.25 damage when close, and 603.75 damage when far and standing within range for its full duration.
The Tornado's invulnerability is provided by the aura's positive Tornado Tempest buff.
Trivia
[
]
In the original DotA, the Wildwing Ripper was known as "Enraged Wildkin", and the Wildwing was known as "Wildkin".
Version History
[
]
Patch History
[
]
Renamed Wildkin Camp to Wildwing Camp.