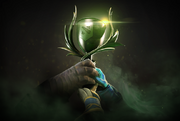 The Weekend Battle Cup is a weekly amateur tournament, run automatically in the Dota 2 client. They are available for Dota Plus subscribers, during tournament events, or through Weekend Battle Cup Tickets. Players form teams within an allotted time, and compete in an eight-team single elimination tournament. Tournament winners are given various rewards depending on the event.
Format
[
]
Eight teams, single elimination brackets.
Teams are placed against similarly skilled opponents, roughly divided into tournament tiers, which is initially determined by players' Matchmaking Ratings. Team matchmaking is determined by each team's tournament tier and geographical region.

If team members have different tiers, the Battle Cup will use the highest tier from the team.
There are a total of six skill tiers, labeled as 3 to 8.

Tier 3 Crusaders or below
Tier 4 Archons
Tier 5 Legends
Tier 6 Ancients
Tier 7 Divines
Tier 8 Immortals

Players do have the option of playing in a tier above their current skill level
The game mode for all matches is Captain's Mode.
Surrender is enabled by typing gg.
Access
[
]
Players must have at least 100 hours in unranked matchmaking.
Players must be in a team to participate.
Each team requires a Dota Plus subscription, or five Weekend Battle Cup Tickets.

Tickets may be owned by any member of the team, as long as it totals five.

Teams must sign up before the tournament starting time for each region.
Teams must queue for matches within the fifteen minute window after registration.
Regions
[
]
Tournament windows for SEA, Europe, China and Americas occur on Saturdays.
| Region | Start Time |
| --- | --- |
| Southeast Asia | 11:00 UTC |
| China | 12:00 UTC |
| Europe | 18:00 UTC |
| Americas | 01:00 UTC (+1 Day) |
Tournament Points
[
]
Points can be earned through participation and winning.
| Feat | Points |
| --- | --- |
| Joining any match | 10 |
| Advancing past the first round | 20 |
| Advance to the finals | 30 |
| Winning a tournament | 90 |
Rewards
[
]
Players who win a tournament will earn:
Variations
[
]
Different events have different rules and awards for the Weekend Battle Cup.
The International 2016 Battle Pass
[
]
Tournament winners were rewarded 15 Battle Levels for their Battle Pass.
Fall 2016 Battle Pass
[
]
Tier 8 is added.
Tournament winners will be awarded two Fall 2016 treasures, 4 Battle Pass levels, and trophies.
Players who perform well will be invited to participate in an exclusive Champions Cup at the end of the season.

Tier-8 Champions Cup winners will even be eligible to form a team with other tier-8 winners to compete in one of four Spring Major Battle Cup Qualifiers, with the winners receiving invites to play in the Spring Major Regional Qualifiers.

See the official FAQ for more information.
External links
[
]