Warlock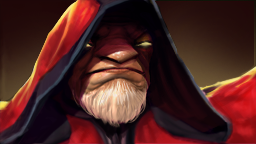 Summons powerful demons to fight at his side.
In the endless pursuit of rare texts, Demnok Lannik found it necessary to learn the magics that would help him reach the most inaccessible tomes. In short time, his obsessive study made him the most powerful Warlock in the academy. As he whispers a versatile

Shadow Word

to heal fellow adventurers, or damage hostile creatures. Binding his foes together with

Fatal Bonds

forcing them to share their agony. Demnok Lannik brings a

Chaotic Offering

to every fight. Mired in a dimensional

Upheaval

, not even an army can hold long against his dark spells, especially his

Permanently Immolated

Golems.
Roles:
Support Initiator Disabler
Complexity:
★☆☆
Bio
[
]
Abilities
[
]
Warlock Golem
[
]
Talents
[
]
Recent Changes
[
]
Recommended Items
[
]
Starting items:
Early game:
Magic Stick sustains Warlock with burst health and mana restoration so he can survive or use more abilities.
Boots of Speed grants movement speed bonus so Warlock can get into position to use Shadow Word or Fatal Bonds to secure kills or save allies in time.
Town Portal Scroll gets Warlock to the right place to gank or counter gank with his abilities to damage or save allies.
Mid game:
Magic Wand also restores health and mana in burst, as well as giving some attributes.
Arcane Boots replenishes Warlock's and allies' mana so they can stay on the map..
Glimmer Cape grants invisibility and magic resistance to Warlock or allies so they can escape; the item also works when Warlock is channeling Upheaval.
Late game:
Aghanim's Scepter allows Chaotic Offering to summon two Golems, boosting overall damage in teamfights as Permanent Immolation and Flaming Fists do not get their effectiveness reduced.
Refresher Orb allows Warlock to use Fatal Bonds and Chaotic Offering twice, increasing the damage done on enemy targets. The item also boosts Warlock regeneration so he can keep using abilities without going back to base.
Situational items:
Gameplay
[
]
Audio
[
]
History
[
]
Equipment
[
]
Trivia
[
]
In DotA, Warlock's ultimate is named Rain of Chaos and the summoned unit was called an Infernal, a hulking golem with green-colored flames. Both names were changed in the transition to Dota 2 to avoid copyright conflicts.
Warlock's response Link▶️ "Just for that, I'm unfiending you." when killed is probably a play on "Unfriending you" an action in the popular social network Facebook where a person removes another from their friend list.
The response Link▶️ "Bloodied but unbowed" when respawning is a reference to William Ernest Henley's poem "Invictus".[1]
One of Warlock's respawn lines is Link▶️ "Dark interval'", which is likely a reference to the song of the same name featured in the credits of Half-Life 2: Episode 2, another game by Valve. It is also a reference to the metaphor "interval of darkness" that the Vortigaunts of the Half-Life series use for death, which is implied to be temporary for them, hence the word "interval" to describe the period of death that comes after their reincarnation.[2]
Gallery
[
]
References
[
]