m

Line 46:
Line 46:
 

| experience = 0

 

| experience = 0

 

| model scale = 0.85/0.9/0.95

 

| model scale = 0.85/0.9/0.95

−

| abilities = Astral Pulse, Drunken Brawler, End Primal Split

+

| abilities = Astral Pulse

 
+

| abilitiesuid = Brewmaster&Drunken Brawler, Brewmaster&Primal Split Cancel

−

| notes = [[Earth#End Primal Split|End Primal Split]] is bound to {{Symbol|Aghanim}}<br>[[Void#Drunken Brawler|Drunken Brawler]] is bound to Level 25 {{Symbol|talent}}<br>[[File:Brewmaster Void minimap icon.png|24px]] [[Minimap]] icon

+

| notes = [[Earth#Primal Split Primal Split]] is bound to {{Symbol|Aghanim}}<br>[[Void#Drunken Brawler|Drunken Brawler]] is bound to Level 25 {{Symbol|talent}}<br>[[File:Brewmaster Void minimap icon.png|24px]] [[Minimap]] icon

 

}}

 

}}

 
 
Line 74:
Line 75:
 

| cooldown = 20

 

| cooldown = 20

 
 
 
+

| notes =

−

| notes = for astral pulse void. temp placeholder

 
 

}}

 

}}

 
 
Line 89:
Line 90:
 

}}

 

}}

 
 
−

{{Ability wrapper|Brewmaster|End Primal Split|

+

{{Ability wrapper|Brewmaster|Primal Split|

−

type = aghanims

+

type = aghanims

−

key = R

+

key = R

 

}}

 

}}

 
 
---
Revision as of 11:21, 22 December 2020
Void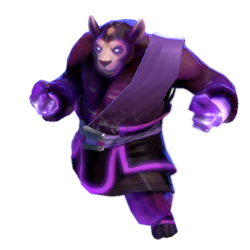 Ancient Creep-Hero
Abilities
Astral Pulse
There is no description for this ability.

Brewmaster passively gains a chance to evade physical attacks and deal critical damage when attacking. When activated, Brewmaster goes into a drunken brawler state, granting him increased chance to evade or deal critical damage. Brewmaster moves with a varying amount of movement speed, alternating between 20% slower and 40% faster. Lasts 5 seconds.
Passive Evasion:
10%/15%/20%/25%
Passive Critical Chance:
24%
Active Evasion & Crit Chance Multiplier:
3
When Mangix won his title as the Brewmaster of the Order of Oyo, he also claimed his place in the mastery of inebriation.
Notes:

Given to Earth at Level 25 right talent, at the same level as the original Brewmaster.
Notes:

Granted to all brewlings.
Brewmaster re-appears at the location of the brewling that used the sub-ability, instead of according to the order explained in Primal Split's notes.