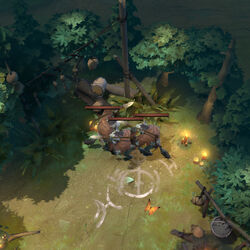 The Vhoul Assassin camp is a small camp of neutral creeps. It contains 3 Vhoul Assassins, and gives a total of 93XP and 60‒72

.
Abilities
[
]
Vhoul Assassin
The Vhoul Assassin has soaked his weapons in his own blend of painful predator venoms. Heroes recover from the poison more quickly.
Health Regen Reduction:
35%
Attempts to damage if debuff was placed before spell immunity and when not dispelled.
Notes:

The debuff from multiple Vhoul Assassins' successive attacks does not stack, only the duration gets refreshed.
The attacks first apply their damage, then the debuff.
Deals damage in 1 second intervals, starting 1 second after the debuff is placed, resutling in 10 (20 against non-hero units) instances.
Envenomed Weapon's damage is not lethal.
Trivia
[
]
In the original DotA, the Vhoul Assassin was known as "Gnoll Assassin".
Version history
[
]
Patch History
[
]
Updated spear throw attack animations.
Renamed Gnoll Assassin Camp to Vhoul Assassin Camp.