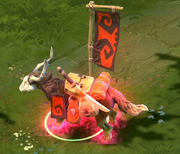 Unusual is a quality for equipment that has a special particle effect. Couriers are the only type of equipment that can be Unusual, and can only be obtained at a 1–2% chance through opening certain Treasures.
Effects
[
]
Unusual Couriers may have one of many different effects: a flurry of snow, bright beams of light, burning fire, or more. The effect is specified by which Ethereal Gem is placed inside it. An Unusual courier can be given a new effect by socketing another Ethereal Gem inside it, overwriting the old one.
Colors
[
]
Each effect can be one of many different colors, specified by a Prismatic Gem. Like Ethereal Gems, the color of an Unusual Courier can be changed by inserting a new Prismatic Gem.
Socketing
[
]
Unusuals come with two Rare sockets, one with an Ethereal Gem and one with a Prismatic Gem. Inserting a new Ethereal or Prismatic Gem will overwrite the current one. Ethereal and Prismatic gems can be extracted with a Master Artificer's Hammer and placed on a different Unusual courier. Using a Master Artificer's Hammer will destroy the original courier.
Greevils
[
]
Unusual Greevils are hatched from Greevil Eggs infused with Unusual Essence, and have their own unique effects, depending on the essences used. Greevils do not have Ethereal or Prismatic gems.