Undying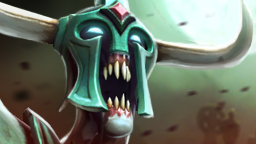 Summons hordes of zombies to attack his foes.
Consumed by the chorus of the unending, Dirge, the Undying one marches across the land, rallying the dead to rise against the living. He

Saps the Strength

from his enemies, and

Rip Souls

from close-by beings, searing enemies while infusing allies with health. Atop the battlefield he erects a terrible

Tombstone

, calling forth legions of clawing zombies to maim and incapacitate his foes. The Undying's powers grow as he ultimately transforms into a gruesome

Flesh Golem

. Monstrous and truly horrifying, Undying finds great pleasure in keeping himself alive and vital, while his adversaries suffer as he delivers death to the field.
Roles:
Support Durable Disabler Nuker
Complexity:
★☆☆
Bio
[
]
Abilities
[
]
Undying Zombie
[
]
Talents
[
]
Recent Changes
[
]
Recommended Items
[
]
Starting items:
Tango gives health regeneration to sustain in lane.
Healing Salve also restores health in lane.
Clarity restores mana to help Undying use more abilities in the early game.
Early game:
Mid game:
Magic Wand gives attributes and a way to restore health and mana.
Mekansm's attributes, health regeneration, and armor help Undying and allies survive engagements.
Late game:
Guardian Greaves give more armor and health regeneration for team, also the active ability does not cost mana.
Aghanim's Scepter provides a tremendous boost on strength steal which improves overall survivability in teamfights. It also helps Dirge remain relevant in the late game, when his Decay is no longer as effective.
Situational items:
Gameplay
[
]
Audio
[
]
History
[
]
Equipment
[
]
Trivia
[
]
In DotA, his hero name was Dirge, and his hero title was Undying.
Undying was originally an intelligence hero. He became a strength hero as he got reworked in the 6.58 gameplay patch. All his abilities, but Soul Rip got reworked. His old abilities are explained here.
Undying makes several references to the Left 4 Dead series, saying names of special infected, campaign names, and even the title itself in his dialogue.

One notable reference is Undying's line, Link▶️ "No dead are safe from Blueheart Bob."; this phrase is highly similar to the famous Left 4 Dead "Chicago Ted" graffiti line ("No zombie is safe from Chicago Ted").
Undying refers to Bounty Hunter as a Hunter due to the Hunter in Left 4 Dead being able to ambush players, just like how Bounty Hunter can.
Spirit Breaker is referred to as a Charger due to the Charger sprinting at other players and repeatedly stunning them, just like how Spirit Breaker can.
Venomancer is referred to as a Spitter for its ability to spit acid at players, similar to Venomancer himself.
Alchemist is referred to as a Jockey as the Jockey climbs on players and steers them, similar to how the Alchemist himself steers his Ogre.

Undying also references the Half Life series in a rival line towards Tinker (Link▶️ "For Lamarr."). Dr. Kleiner, who shares his voice actor with Tinker, has a pet headcrab named Lamarr. Headcrabs are small, parasitic creatures that attach themselves to the head of their victims, after which the victims turn into zombies.
Undying's taunt against Kunkka Link▶️ "Where is your ex-parrot?" is a reference to the famous Parrot Sketch from Monty Python's Flying Circus.
Undying's taunt against Invoker Link▶️ "Carl? Is that you?" is a reference to the 6.72's leaked changelog (which turned out to be a fake), where Invoker's name "Kael" was mistakenly translated into "Carl".
A dirge is a sombre song of mourning or grieving, typically performed at a funeral.
Gallery
[
]