Underlord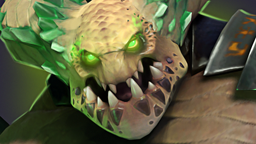 Vrogros, the Underlord, is a melee strength hero whose commanding presence is crucial to his team's success. With his long-lasting abilities, Underlord is able to control wide areas of the battlefield during teamfights and skirmishes. Raining down damage from afar with Firestorm, he clears out creeps and discourages enemies from approaching. With his ultimate, Dark Rift, he can teleport his entire team across the map, taking enemies by surprise, pushing in lanes while the other team is dead or out of position. He can also use it as an escape mechanism, bringing himself and his own team to safety in a dicey situation. Enemies' base attack damage are reduced around Underlord by his Atrophy Aura, making him and his team far more durable when dealing with physical damage. The aura also provides him with damage with the death of nearby enemy creeps and heroes, making him an excellent laner and a strong pusher after a won teamfight as well. One of the best area disables in the game, Pit of Malice presents a very large obstacle for enemies, especially melee attackers. With it, Underlord can repeatedly ensnare multiple enemies at once, making him a potent and disruptive opponent in any teamfight.
Bio
[
]
Abilities
[
]
Talents
[
]
Recent Changes
[
]
Recommended Items
[
]
Starting items:
Early game:
Mid game:
Magic Wand is a natural evolution from Magic Stick for extra burst health and mana.
Arcane Boots give Underlord and his team some much needed mana.
Mekansm helps keep Underlord's team alive with health and armor.
Late game:
Situational items:
Gameplay
[
]
| | |
| --- | --- |
| Roles: | Support Durable Nuker Disabler Escape |
| Complexity: | ★★☆ |
| Playstyle: | Through a Dark Rift comes the legions of the Abyssal Horde, marching out of their subterranean city with intent to conquer the nations above. Amidst the invaders stood Vrogros, the demonic hulk who rained apocalyptic Firestorms from the sky, engulfing towns and villages in emerald flame. Unsatisfied with ruling the lands below, the Underlord steps into the sunlight to expand his dominion over the surface world. Trapped in a Pit of Malice, the newly enslaved can only lament their dismal fate from now until the day when all is consumed by the yawning abyss. |
Audio
[
]
History
[
]
Equipment
[
]
Trivia
[
]
Underlord is named Azgalor, the Pit Lord in DotA.[1]

His title, Pit Lord, was changed to avoid possible copyright infringements with Blizzard Entertainment, since the Pit Lords are a race of demons in the Warcraft universe.[2]
His name, Azgalor, was also changed for the same reason. Azgalor was a character from the Warcraft universe as well, who served one of the main antagonists of the Warcraft universe as a well known commander.[3]
According to the Bastion Announcer, Link▶️ "Pyre Lord" was also a proposed name for Underlord.
Up until the June 23, 2016 Patch, Underlord's title was "Abyssal Underlord". While the rationale of dropping "Abyssal" is unclear, it may have been to prevent confusion with the shorthand terminology of Abyssal Blade.

Underlord had been developed since 2012; he already had a beta model, placeholder ability icons and fully finished and working abilities. He could also be spawned in lobbies with cheats enabled for a short while before it was disabled.

This suggests that his release was originally planned much earlier (as a comparison, all other heroes were released shortly after their files were added to the game), but was delayed for reasons unknown.

Before his release, Underlord was showcased at the All-Star match of The International 2016, played by N0tail. He originally picked Sand King​, but a bit after the start of the game, SirActionSlacks replaced his pick by Underlord.
The line Underlord says after killing Bane, Link▶️ "You have my permission to die.", is a reference to the famous line "When Gotham is ashes, you have my permission to die", said by the villain Bane from the movie The Dark Knight Rises.
Underlord's line when casting Dark Rift, Link▶️ "Hold on to your butts!", was spoken by Samuel L. Jackson's character Ray Arnold in the movie Jurassic Park (1993).
Underlord was the final DotA hero ported over, before Dota 2 began to feature original heroes.
Gallery
[
]
References
[
]