Tusk
Tusk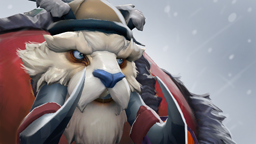 | Level | 0 | 1 | 15 | 25 | 30 |
| --- | --- | --- | --- | --- | --- |
| Health | 200 | 660 | 1740 | 2760 | 3200 |
| Health regen | 0.75 | 3.05 | 8.51 | 13.61 | 15.76 |
| Mana | 75 | 291 | 567 | 915 | 1047 |
| Mana regen | 0 | 0.9 | 2.09 | 3.54 | 4.07 |
| Armor | 1 | 4.83 | 9.73 | 15.23 | 17.32 |
| Att/sec | 0.59 | 0.72 | 0.9 | 1.09 | 1.16 |
| Damage | 27‒31 | 50‒54 | 104‒108 | 155‒159 | 177‒181 |
Ymir, the Tusk, is a melee strength hero whose array of icy disables makes him a very strong team initiator and ganker. He has a damage nuke and a disable in Ice Shards, which lets him precisely place a barrier in an enemy's path, inhibiting their movement and blocking off their escape path. Should his teammates need help closing the distance to enemies, Tusk can assist them with Snowball, which surrounds Tusk and any nearby allies in a protective shell of snow as he rolls at a target enemy, damaging and stunning everything in its path. Once in a fight, Tusk also has the ability to Tag Team, which allows all nearby allies to slow enemies they attack with physical damage. His ultimate, Walrus PUNCH!, sends a target enemy flying with a mighty uppercut, stunning and disabling them while dealing a critical strike and slowing them upon landing for a moderate amount of time. A strong initiator and powerful brawler, the Terror from the Barrier should never be bet against in a fight, as he can put his foes down for the count with his unique assortment of spells and disables.
Abilities
[
edit
]
Talents
[
edit
]
Recent Changes
[
edit
]
Recommended Items
[
edit
]
Starting items:
Early game:
Boots of Speed is important to purchase early on, as Tusk relies on good positioning in order to make the most of his spells. He can more easily chase down enemies during ganks, or escape pursuers.
Magic Wand's charge storage allows Tusk to immediately replenish his HP and mana, which can make or break fights or ganks given his powerful spells.
Urn of Shadows gives Tusk many benefits for a cheap price. As a highly mobile ganker, Tusk can easily get charges with which to heal himself and teammates or deal more damage in ganks; as well, Urn charges can instantly put enemy Blink Daggers on cooldown from a distance. The item also provides strength, giving Tusk more HP and base damage, and scaling mana regen to help him to cast spells more easily.
Mid game:
Phase Boots's bonus to attack damage increase damage done with Walrus PUNCH!. He can use the active to keep close to the enemies during Tag Team.
Drum of Endurance gives Tusk attributes that give him more health, damage, and a larger mana pool to work with. The active improves his mobility and gives his team an edge when engaging the enemy.
Late game:
Blink Dagger is powerful in many situations. As Tusk requires good positioning to use his spells, Blink Dagger can allow him to immediately get within range to cast a disable. In a pinch, it can also be used to jump on top of a beleaguered ally to protect them with Snowball, or as an escape mechanism after casting Snowball to protect himself long enough for it to come off cooldown.
Aghanim's Scepter unlocks Walrus Kick, greatly increasing Tusk's impact in fights and ganks. The item also makes Tusk tankier and improves his mana pool to sustain his spell casting.
Lotus Orb gives Tusk increased survivability when initiating against powerful enemies. Besides giving him more armor to aid survivability, Echo Shell allows Tusk to use the enemy's unit-targeted spells against them should they attempt to target him during initiations, and can otherwise give him a larger window to act while the enemy hesitates. The scaling mana regen also helps Tusk to maintain casting his spells.
Situational items:
Gameplay
[
edit
]
| | |
| --- | --- |
| Roles: | Initiator Disabler Nuker |
| Complexity: | ★☆☆ |
| Playstyle: | Amidst broken stools and shattered bottles, the bewildered barkeep issued Ymir his greatest challenge. Find a proper battle, and win it for whichever side he chose. With that, the champion brawler strode forth, bringing with him the northern elements in the form of a frozen sigil. To make sure no opponent chickens out, Ymir throws down a field of Ice Shards, cutting off all retreat. Gathering both snow and allies, Ymir rolls into battle as an unstoppable Snowball, stunning foes in its path. For a finale, the Tusk winds up his drinking arm, and launches his opponent into orbit with one good, solid Walrus PUNCH! |
History
[
edit
]
Equipment
[
edit
]
In DotA, Tusk's title is Tuskarr. The Tuskarr are a race of humanoid walruses in the Warcraft universe.
His response Link▶️ "Falcon Punch!" is a reference to Captain Falcon's signature move in the Super Smash Bros. franchise, which has also become a popular internet meme.
His response Link▶️ "Bang! Zoom! To the Mad Moon!" is likely a reference to The Honeymooners character Ralph Kramden, who would frequently say "Bang! Zoom! Straight to the moon!".
His response Link▶️ "Coulda been a contender." is likely a reference to the quote from the movie On the Waterfront.
His response Link▶️ "My fight money." is likely a reference to Balrog from Street Fighter who says the same thing whenever he loses a round.
His response to missing a Walrus Punch, Link▶️ "Well there's your problem." is likely a reference to Adam Savage from Mythbusters, who has made it a show catchphrase. Savage often jokes that the mustache of his co-host Jamie Hyneman makes him look like a walrus.
His response Link▶️ "Double Dragon Punch Punch!" is a reference to the game, "Double Dragon".
In Tusk's lore, the Bristled Bruiser is Bristleback, who was ported to Dota 2 roughly a month after Tusk; Bristleback's lore makes mention of Tusk as well, and the two heroes share rival and ally lines with regards to this relationship.
Before 6.80, where Walrus PUNCH! dealt higher crit damage to targets below 50% health, the floating text above the target would change:

When landed on an enemy creep whose health was above 50%, the caption read "Penguin Punch!" in small blue letters.
When landed on an enemy hero whose health was above 50%, the caption read "Polar Punch!" in medium blue letters.
When landed on any enemy whose health was below 50%, it read "Walrus Punch!" in large letters.
In the current version, it always displays "Walrus Punch", no matter what is targeted.

Rubick's version of Walrus Punch would throw a projectile which uses Rubick's model and spins towards the target. When used on Tusk, it would read "Sucker Punch!" in green. On other targets, it read "Stolen Punch".
Gallery
[
edit
]