TongFu
China
Created:
2012
Disbanded:

2017-01-09

Team Information
Manager(s):
Tong "CuZn" Xin
Links
Facebook:
TongFudota
Winnings
Prizemoney:
$0 USD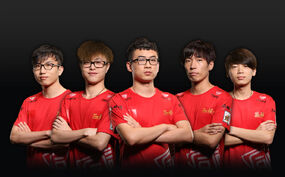 TongFu is a Chinese eSports Organization.
History
[
]
TongFu was formed in the middle of 2011 led by former TyLoo player Kabu. However, their only achievement that year was placing 3rd in Wuhan Tiandi E-sports Cup.
In 2012, after several reformations, former EHOME player LaNm ended up in TongFu; Followed by 3 core players from the already disbanded PanDarea Gaming roster. However, a controversy was sparked as LaNm insisted on transferring to EHOME afterwards as the conflict was eventually solved through a transfer fee given from EHOME. Awoke was chosen as LaNm's replacement. TongFu managed to qualify for The International 2012 through the East Qualifier.
In October 2012, Kabu departed from the team and was replaced by LongDD from Team DK. Awoke also left the team and was replaced by Chan (Veronica) from World Elite. In March 2013, Veronica and LongDD both left the team. They were replaced by Banana and Yaobai.[1]
In April 2013, KingJ replaced Yaobai.
In September 2013, Hao was traded to Invictus Gaming in exchange for Zhou.[2] Later that month, Banana left for Invictus Gaming and KingJ was traded to Rising Stars in exchange for XTT. ZSMJ also joined the team.[3][4]
In October 2013, TongFu picked up Team Adidas, an amateur team participating in the ACE Dota 2 League. This squad was named TongFu.WanZhou. Later that month, they picked up a third squad, consisting of SYDM, LongDD, Kabu, YaphetS, and zExBinGo.[5][6]
In December 2013, XTT was replaced by Kabu.[7]
In February 2014, Zhou decided to retire from professional Dota.[8][9]
After losing several players to NewBee, TongFu decided to focus on the amateur Dota scene.
Beginning with September 2014 TongFu announced the formation of the team TongFu.OB (Old Boys) which consists of retired veteran players who are now mostly playing the game for fun rather than competitive gaming. TongFu.WhanZhou is still intended to serve as the main squad.[10]
In February 2015, the team announces a North American division.[11]
In March, TongFu announced a new set of rosters.[12]
Current Roster
[
]
TongFu
[
]
Former Players
ID
Name
Position
Join Date
Leave Date
New Team
TongFu.WanZhou
[
]
| | ID | Name | Position | Join Date |
| --- | --- | --- | --- | --- |
| | XiaoLv | Lu Ming | ? | 2015-03-12 |
| | Red | Sun Youjia | ? | 2015-03-12 |
| | Mt | Fan Zhiwei | ? | 2015-03-12 |
| | DDR | Yuan Zhenghao | ? | 2015-03-12 |
| | Sayaka | Mao Mingyuan | ? | 2015-03-12 |
TongFu.NA
[
]
Former Players
ID
Name
Position
Join Date
Leave Date
New Team
Achievements
[
]
DotA
[
]
| Place | Tournament | Location | Date | Prize money |
| --- | --- | --- | --- | --- |
| 3rd | Wuhan Tiandi E-sports Cup | Wuhan, China | 2011 | - |
| 1st | World Cyber Games 2012 DotA | Kunshan, China | 29 November - 2 December 2012 | $10,000 USD |
Dota 2
[
]
TongFu
[
]
Place
Tournament
Location
Date
Prize money

7th - 8th

The International 2012
Seattle, Washington, United States
26 August - 2 September 2012
$25,000 USD

3rd

G-League 2012
Online & Shanghai, China
25 December 2012 - 9 March 2013
$1,600 USD

1st

AMD Premier League Season 1
Online
6–15 May 2013
$3,000 USD

1st

Dota 2 Super League
Shanghai, China
10 May - 6 July 2013
500,000 RMB
(~$81,103 USD)

5th - 6th

Alienware Cup 2013 Season 1
Online
16 June - 9 July 2013
$3,000 USD

4th

The International 2013
Seattle, Washington, United States
2–11 August 2013
$201,208 USD

2nd

Sina Cup
Online
9–16 September 2013
6,000 RMB
(~$980 USD)

3rd

National Electronic Sports Tournament 2013
Shanghai, China
8–10 November 2013
50,000 RMB
($8,000 USD)

3rd

Red Bull Esports Champion League 2014
Beijing, China
3–7 January 2014
10,000 RMB
(~$1,600 USD)

3rd

G-League 2013
Shanghai, China
9 December 2013 - 19 January 2014
10,000 RMB
(~$1,600 USD)
TongFu 3
[
]
References
[
]