Timbersaw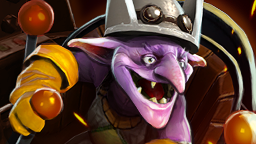 Chops through the forest to face his foes.
Timbersaw had a good cause to be paranoid. Augury Bay fell to the walking trees, its inhabitants crushed under branch and bough. But that was the past. His new

Saw-suit

changed everything. Its long

Timber Chain

shot out, grasping the nearest trunk and pulling the suit towards it. In an instant, a dozen trees fell in a circle to the oversized saw. "

Whirling Death

, I'll call it!" But that was not all. A press of the button, and the bladed

Chakram

flew into the forest, cutting down even the sturdiest of hardwoods. Delirious with success, Rizzrack sent out a

Second Chakram

spinning in all directions, cackling until all that remained was a field of naked stumps. Now, he was ready to face his fears.
Roles:
Nuker Durable Escape
Complexity:
★★☆
Bio
[
]
Abilities
[
]
Reactive Armor Calculations
[
]
Reactive Armor Calculations with Talent Bonuses
Armor Bonus Calculations
Level / Stack
1
2
3
4
5
6
7
8
9
10
11
12
13
14
15
16
17
18
19
20
21
22
23
24
25
26
27
28
29
30
Level 1
()
0.9
1.8
2.7
3.6
4.5

5.4

6.3

7.2

8.1

9

9.9

10.8

Level 2
()
1
2
3
4
5
6
7
8
9
10
11

12

13

14

15

16

17

18

Level 3
()
1.1
2.2
3.3
4.4
5.5
6.6
7.7
8.8
9.9
11
12.1
13.2
14.3
15.4
16.5
17.6
18.7

19.8

20.9

22

23.1

24.2

25.3

26.4

Level 4
()
1.2
2.4
3.6
4.8
6
7.2
8.4
9.6
10.8
12
13.2
14.4
15.6
16.8
18
19.2
20.4
21.6
22.8
24
25.2
26.4
27.6

28.8

30

31.2

32.4

33.6

34.8

36

Health Regeneration Calculations
Level / Stack
1
2
3
4
5
6
7
8
9
10
11
12
13
14
15
16
17
18
19
20
21
22
23
24
25
26
27
28
29
30
Level 1
()
0.7
1.4
2.1
2.8
3.5

4.2

4.9

5.6

6.3

7

7.7

8.4

Level 2
()
0.9
1.8
2.7
3.6
4.5
5.4
6.3
7.2
8.1
9
9.9

10.8

11.7

12.6

13.5

14.4

15.3

16.2

Level 3
()
1.1
2.2
3.3
4.4
5.5
6.6
7.7
8.8
9.9
11
12.1
13.2
14.3
15.4
16.5
17.6
18.7

19.8

20.9

22

23.1

24.2

25.3

26.4

Level 4
()
1.3
2.6
3.9
5.2
6.5
7.8
9.1
10.4
11.7
13
14.3
15.6
16.9
18.2
19.5
20.8
22.1
23.4
24.7
26
27.3
28.6
29.9

31.2

32.5

33.8

35.1

36.4

37.7

39

Talents
[
]
Recent Changes
[
]
Recommended Items
[
]
Starting items:
Tango provides ample regeneration for Timbersaw in the early game.
Healing Salve helps Timbersaw stay in lane.
Iron Branch gives a small boost to Timbersaw's attributes, and can build into a Magic Wand later in the game. Iron branches can also be planted as trees to use in combination with his abilities.
Enchanted Mango provides a source of mana in the early game.
Early game:
Soul Ring provides strength and mana for Timbersaw to survive and use abilities.
Arcane Boots are the boots of choice for Timbersaw, as they boost his overall mana pool and provide him with a periodic increase of mana for both him and his team. He can disassemble them to use the Energy Booster for Bloodstone.
Magic Wand increases Timbersaw's attributes, and gives health and mana restoration.
Mid game:
Hood of Defiance protects Timbersaw from magical damage. Along with Reactive Armor, Hood makes Timbersaw difficult to kill in the early to mid game.
Eul's Scepter of Divinity gives mana regeneration, movement speed, and a way to dispel disables such as silences.
Bloodstone provides excellent mana regeneration allowing Timbersaw to sustain his abilities. Furthermore, it provides him with a bit more health, health regeneration, and the ability to heal himself, which is always good for a hero who has to go deep in fights.
Late game:
Lotus Orb gives you good armor, dispel disables, and discourages enemy heroes from casting spells on you. It can also be applied on other allies in times of need.
Shiva's Guard makes Timbersaw considerably more durable due to the large amount of armor it provides. The large amount of intelligence it provides is also very beneficial as Timbersaw requires a lot of mana and mana regeneration to do well. The active ability also helps Timbersaw kill his foes since the slow allows him to be more precise with all of his spells and it adds another nuke on top of that. Shiva's can also make Timbersaw a decent initiator.
Aghanim's Scepter gives Timbersaw a second Chakram, allowing him to scale much better into the late game with even higher damage output. However, the mana cost of a second Chakram will deplete his mana very quickly; therefore a mana item like Bloodstone or Scythe of Vyse is mandatory before picking up this item.
Situational items:
Gameplay
[
]
Audio
[
]
History
[
]
Equipment
[
]
Trivia
[
]
In DotA, Rizzrack's hero title was Goblin Shredder. Unlike his Dota 2 counterpart, he cut trees for profit and was not afraid of them.

His alternate/fun name was "Oroku Saki", a reference to the real name of the villain in "Teenage Mutant Ninja Turtles" Shredder.

His response upon killing Treant Protector Link▶️ "If you fall in the woods, and I laugh, will anyone hear me?" is a reference to the popular philosophical question "If a tree falls in a forest and no one is around to hear it, does it make a sound?".
His response Link▶️ "I'm not a lumberjack, and no, I'm not okay. I thank you." is a reference to "Monty Python's Flying Circus" in which they sing a song called "I'm a lumberjack and I'm okay".
His response Link▶️ "Trees? Why did it have to be trees?" is a reference to the "Indiana Jones: Raiders of the Lost Ark" line "Snakes. Why did it have to be snakes?" [1]
Timbersaw's first and secondary Chakram colors may be a reference to the colors of portals of the games Portal and Portal 2, another series from Valve.
Timbersaw's ultimate, Chakram, is most likely a reference to the mythological disc-weapon of the Hindu deity Viṣṇu. The weapon's full name is "Sudarśana Cakra" (the transliterated "c" makes a "ch" sound) and it is considered one of the most powerful weapons in Hindu mythology.
Timbersaw's line when bottling a rune, Link▶️ "This is my scheming face." may be a reference to the character Myron Reducto from "Harvey Birdman: Attorney at Law".
Timbersaw is probably modeled after a type of goblin named kallikantzaroi who, according to folklore, stay underground sawing the world tree, so that it will collapse, along with the Earth. However, when they are about to saw the final part, Christmas dawns and they are able to come to the surface. They forget the tree and come to bring trouble to mortals. This very well explains Timbersaw's hatred towards trees.
Gallery
[
]
References
[
]