Tidehunter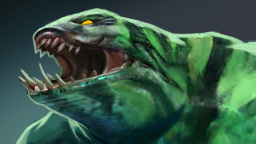 Leviathan, the Tidehunter, is a melee strength hero who is formidable due to his uncommonly tough hide and his ocean spells that sweep enemies upward. He can be played as a support or as an offlane hero whose greatest strengths lie in being able to take heavy amounts of damage in the early game and the disabling powers of his spells.
Though he does not deal especially high damage at any point in the game, his spells can have a devastating effect on the enemy without expending much mana. He is able to send forth a spray of water to slow down the enemy retreat and his outrageous ultimate, Ravage, throttles enemies in a massive area around him. The durability of his Kraken Shell allows him to shrug off damage for absurd survivability against low damage attacks. Tidehunter's ability to shrug off damage and his enormous strength gain makes him very durable.
Bio
[
]

Leviathan, the Tidehunter
The Tidehunter known as Leviathan was once the champion of the Sunken Isles, but his motives are as mysterious as those of his people. We all know the importance of the Drylanders' shipping lanes, how empires may rise and fall according to who controls the open water. Far less is known of the submarine lanes, and how the warring tribes of the Meranthic Diaspora have carved out habitations through endless undersea skirmishes. In the fragile treaties between the Mer and Men, we can glimpse the extent of the drowned empires, but their politics appear complex and opaque. It would seem that Leviathan tired of such petty strife, and set off on his own, loyal only to his abyssal god, Maelrawn the Tentacular. He stalks the shallows now in search of men or meranths who stray into his path, and with a particular loathing for Admiral
Kunkka
, who has long been his nemesis for reasons lost in the deepest trenches of the sea.
Abilities
[
]

Ability
Target Unit
(

Target Point
)
Affects
Enemies
Summons a gush of water to damage an enemy unit, reducing their movement speed and armor. Lasts 4 seconds.
Gush becomes a ground targeted wave ability that affects enemy units in a line. Decreases cooldown.
Slow and armor reduction persist if debuff was placed before spell immunity and when not dispelled.
During his championship of the Sunken Isles, Leviathan gained mastery over the open sea.
Notes:

Gush's projectile travels at a speed of 2500.
Gush first applies the debuff, then the damage.
With Aghanim's Scepter, Gush additionally gains ground-targeting functionality. Releases a

260

radius wave, instead of a single target projectile. The wave always travels its full distance.

When unit-targeted, the wave is released towards its direction on cast. However, it does not home in on the target.
The wave travels at a speed of

1500

, taking

1.47

seconds to travel the full distance.
With the travel distance and radius, the wave can hit units up to

2460

range away.
The wave fully hits invisible and enemies inside the Fog of War.
Provides

200

radius ground vision around each hit enemy for 2 seconds. However, the wave itself does not provide any vision.
The second sound is used by the wave.

Thickens Tidehunter's hide to passively block a portion of any incoming physical attack damage. The hide also removes negative status effects if the damage taken crosses a threshold. Does not stack with items that provide Damage Block.
Damage Block Proc Chance:
100%

Damage Block works for illusions. The dispel effect does not work.
Claddish navymen tell tales of a mighty sea-faring beast that suffered spear and sword but continued to lay waste to the fleet.
Notes:

Upon reaching the damage threshold, it applies a strong dispel on Tidehunter.

The dispel proc is indicated by a sound effect and water particles on Tidehunter's skin.
When Kraken Shell is procced by an ability that first deals its damage and then applies its debuff (e.g. Storm Hammer), Tidehunter is dispelled before the ability's debuff is applied.
Kraken Shell has an ensured damage block. Therefore, damage block with a lower value (e.g. Damage Block (Melee) innate ability) will not proc, since the higher damage block value takes priority.

The damage block is always active and is not connected to the damage threshold for the dispel proc.
Does not work against damage from wards sources (e.g. Death Ward etc.).
Does not reduce physical damage from abilities, except from Moon Glaives.
Only damage from player-controlled sources (after reductions) is counted towards the debuff removal.
The damage threshold counter for proccing the dispel resets when Tidehunter does not take player based damage for 7 seconds.
Tidehunter swings his mighty anchor to attack and deal bonus damage to nearby enemies and reduce their attack damage.
Increases Anchor Smash damage by 90 and causes it to affect buildings. Reduces cooldown by 1 second.

The passive proc chance from the talent works for illusions, however, they cannot make use of the attack damage bonus on procs.
Stolen from one of Admiral Kunkka's flagships, Leviathan's heavy anchor proves useful as a melee weapon.
Notes:

Anchor Smash first applies the debuff, then the instant attack.
With the level 25 talent, Anchor Smash gains a

50%

chance to passively proc on regular attacks.

These procs are independent from the cooldown, they do not trigger the cooldown and work while on cooldown.
They do not cost mana or proc on-cast effects either.
The affected target(s) effectively takes 2 attacks' worth of damage, plus the attack damage bonus, since Anchor Smash deals damage based on Tidehunter's attack damage.
Adds an average of

50%

current attack damage +

20

/

42.5

/

65

/

87.5

(

65

/

87.5

/

110

/

132.5

) damage to every attack.
The passive procs use pseudo-random distribution.


150
Attempts to damage if already hit enemies turn spell immune before landing.
Calling to the abyssal god Maelrawn has resulted in entire armadas being lost at sea.
Notes:

The tentacles travel at a speed of 725.
While in the air, other units may pass below the airborne units.
The damage is applied upon landing, not upon getting hit.
Ravage's effect is caused by a 250 units wide ring, which expands around the cast location at the given speed.

This means units within 250 radius upon cast are hit instantly.
The ring takes exactly 1.38 seconds to cover the remaining distance.
It can be avoided by teleporting towards Tidehunter over the ring shortly after cast.
Talents
[
]
Recent Changes
[
]
Increased Anchor Smash mana cost from 30/40/50/60 to 40/50/60/70.
Recommended Items
[
]
Starting items:
Early game:
Magic Stick is useful for giving Tidehunter a measure of burst regen in emergency situations. A full-charge Magic Stick can give enough mana to cast one more spell in the early game.
Boots of Speed are critical for purchasing on Tidehunter whether in the safe- or off-lane. In the off-lane, more movement speed may be required to evade gank attempts, and in the safe-lane it may be needed to quickly position yourself to cast Gush during a gank.
Mid game:
Late game:
Situational items:
Gameplay
[
]
| | |
| --- | --- |
| Roles: | Initiator Durable Disabler Nuker Carry |
| Complexity: | ★☆☆ |
| Playstyle: | Tired of undersea politics, Leviathan rises from the waves to stalk the shallows for victims. Travelers who cross him are blasted with a Gush of foamy brine, impairing their movement as the Tidehunter lumbers after them on land. Wielding a souvenir stolen from a hated rival, Leviathan pulverizes armor and flesh alike with a hefty Anchor Smash. Spears and arrows bend against his Kraken Shell, allowing no chance for interruption as the Tidehunter summons his abyssal god to Ravage enemies in a sea of flailing tentacles. |
Audio
[
]
History
[
]
Equipment
[
]
Trivia
[
]
The name Leviathan is derived from a sea monster in the Bible. It is also used to refer to any large sea monster or creature.
Previous designs of Tidehunter had him use a large hook as a weapon. This was later replaced by an anchor based on community feedback for several reasons:

To match the theme of Anchor Smash.
To add a reference to the model Tidehunter uses in Warcraft 3 DotA (which also uses a giant anchor as weapon).
To add another connection between Tidehunter and Kunkka (the anchor is supposedly stolen from one of Kunkka's flagship, as written in the lore of Anchor Smash).

Tidehunter's line Link▶️ "Ha ha ha! Women and children and Kunkka first." is a reference to the Birkenhead Drill, a historical protocol where women and children's lives would be saved first in the case of a life threatening situation, typically the sinking of a ship.
Gallery
[
]