The International 2016
Seattle
Start Date:
2 August 2016
End Date:
13 August 2016
Tier:
The International
Teams:
16
Version:
6.88b
Prize Pool:
$20,770,460 USD
Website:
Link
Access
The International 2016 was the sixth iteration of Dota 2's flagship annual championship. Hosted by Valve Corporation, it took place at the KeyArena Center in Seattle, Washington. The tournament began on 21 June 2016 with the Open Qualifiers and closed on 13 August 2016 with the Grand Final, where Wings Gaming became the third Chinese team to be crowned champions after defeating Digital Chaos. The 2016 edition of The International featured sixteen Dota 2 professional teams from all over the world.
With a prize pool of over US$20 million, The International 2016 is the largest tournament to ever take place in eSports, breaking the record held by its previous iteration, The International 2015, which accumulated over U$18 million. The majority of this sum is collected through several in-game items released by Valve, including The International Compendium 2016, a digital book tied to the event that came with many activities and cosmetic items. 2016 marks the third consecutive year that The International's prize pool outgrows its previous-year record.
The International 2016 became the second not to feature all previous champions, as Invictus Gaming was unable to qualify for the event. 2011 and 2014 winners Natus Vincere and Newbee were the only ones directly invited; 2013 winners Alliance secured their spot through the European qualifiers, whereas the defending champions Evil Geniuses were forced to play through the open qualifiers due to a last-minute roster change. Valve's roster stability rules also affected other teams, which resulted in only 6 direct invites being issued, the lowest ever for the tournament.
Access and Promotions
[
]
Schedule and Format
[
]
Date
Event
Notes
June 21 – 24
Open Qualifiers

Open to all teams.
Single elimination.
Winner from each region advances to regional qualifiers.

June 25 – 29
Main Qualifiers

4 Regions: Americas, Europe, China, and Southeast Asia.
Europe, China, and Southeast Asia have 10 teams.
Winner from each region advances to main event.
Runner-up from each region advances to wild card series.

August 2
Wild Card Series

4 runner-up teams from the regional qualifiers.
Double elimination, best of three matches.
Top 2 teams advance to join the group stage.

August 3 – 5
Group Stage

2 groups of 8 teams, round robin.
Best of two matches.
Top 4 teams from each group advance to upper bracket of the main event.
Bottom 4 teams from each group advance to lower bracket of the main event.

August 8 – 13
Main Event

16 teams, double elimination.
8 teams begin in the upper bracket, 8 in the lower bracket.
First lower bracket game is best of one, others are best of three.
Grand finals are best of five.
Teams
[
]
Invited Teams
[
]
Qualified Teams
[
]
Vici Gaming Reborn 2

1  Zyf
2  Nono
3  

Mikasa

4  Fy
5  DDC

Fnatic

1  Mushi
2  MidOne
3  Ohaiyo
4  DJ
5  

Net









Wild Card Teams
[
]
Escape Gaming

1  

Era

2  qojqva
3  KheZu
4  YapzOr
5  syndereN

Execration

1  

Nando

2  Abed
3  

RR

4  Tims
5  

Kim0









2 Yang was unable to secure a visa and was replaced by

Mikasa

.
Coverage
[
]
The International 2016 can be viewed live for free on DotaTV in-game.
Please help add streams and entries to this table.
English

Russian

Chinese

Spanish

Portuguese BR

Others

Cameras
Results
[
]
All-Star Match
[
]
In the All-Star match of 2016, two teams, Team Kaci and Team Slacks, faced each other in a best of one, playing a 10 vs 10 match (All Pick). Kaci and SirActionSlacks picked 5 random people from the audience in turn. After that, each of the 10 randomly picked persons then picked random pro players to join their teams.
Just like in the previous years, there was no secrecy between the teams, mainly making fun picks. This is also the match in which Underlord got revealed in Dota 2. The match was not played in the booths, but was instead on the center of the main starge, on 2 rows of tables facing each other, meaning both teams could hear each other, the casters and the crowd.
Wild Card Series
[
]
Group Stage
[
]
Group A
[
]
Group B
[
]
Main Event
[
]
Prize Allocation
[
]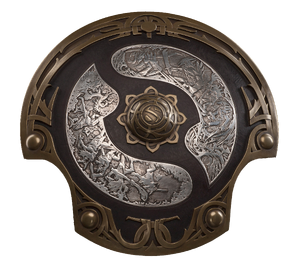 Final Prize Pool:

$20,770,460 USD

Place
Team
Winnings
Percent

1st

  Wings Gaming

$9,139,002
44%

2nd

  Digital Chaos

$3,427,126
16.5%

3rd

  Evil Geniuses

$2,180,898
10.5%

4th

  Fnatic

$1,453,932
7%

5th

  MVP Phoenix

$934,671
4.5%

6th

  EHOME

$934,671
4.5%

7th

  Team Liquid

$519,262
2.5%

8th

  TnC Gaming

$519,262
2.5%

9th

  Newbee

$311,557
1.5%

10th

  Alliance

$311,557
1.5%

11th

  PSG.LGD

$311,557
1.5%

12th

  OG

$311,557
1.5%

13th

  Natus Vincere

$103,852
0.5%

14th

  Escape Gaming

$103,852
0.5%

15th

  Team Secret

$103,852
0.5%

16th

  Vici Gaming Reborn

$103,852
0.5%

Crowdfunding
Gallery
[
]
Cosplay
[
]
Grand Finals
[
]
References
[
]
External links
[
]
2016 Tournaments

Major tournaments
Premier tournaments

Minor tournaments
The International 2016 Items
Access

Points

Rewards

Promotional

River Vials

Treasures