Terrorblade
Terrorblade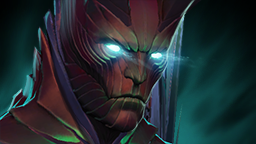 Terrorblade, the Demon Marauder, is a melee agility hero who grows to a devastating carry in the later stages of the game. Terrorblade has the highest starting armor in the game, but is squishy due to his low health, meaning he needs strength items to be tanky enough to sustain damage to himself and his illusions. As with all illusion-based heroes, he needs attribute-based items in order to make his illusions powerful. He uses Reflection, which creates invulnerable illusions of all nearby enemy heroes for a few seconds. Conjure Image creates an illusion of Terrorblade that deals considerable damage at max level. Terrorblade can create up to two illusions, which together deal more damage than Terrorblade himself, effectively multiplying Terrorblade's base damage (but not his bonus damage). Metamorphosis transforms Terrorblade into a powerful ranged demon capable of wreaking havoc on his enemies with its bonus range and damage. Metamorphosis also makes illusions of Terrorblade transform into his demonic form, but they revert back once they wander too far away from Terrorblade. Finally his ultimate, Sunder, swaps his health with a targeted hero, ally or enemy alike. This ability makes ganks on him incredibly risky since he can sunder a hero before finishing them off with a few attacks. With his two illusion-based abilities, the 'semi-ultimate' Metamorphosis and his ultimate, Sunder, Terrorblade's skill set makes him a strong foe in the early game and absolutely terrifying at the later stages of the game. He is usually played as a hard carry.
Abilities
[
edit
]
Talents
[
edit
]
Recent Changes
[
edit
]
Recommended Items
[
edit
]
Starting items:
Early game:
Boots of Speed provide a movement speed boost.
Magic Wand gives attributes and charges to restore Terrorblade's HP and mana.
Mid game:
Power Treads provide attack speed and attributes, benefitting his illusions.
Dragon Lance greatly increases attack range in Metamorphosis, helping Terrorblade and his illusions to hit towers from a safer distance. He can either upgrade the item into Hurricane Pike, or dismantle it to build Black King Bar and Yasha.
Manta Style allows you to have even more illusions. Terrorblade can get stronger illusions and a shorter cooldown if he uses the item while in melee form, and then cast Metamorphosis to convert all to ranged illusions.
Late game:
Eye of Skadi gives a large amount of attributes which help bulk up his illusions, and its attack and movement speed slow works nicely with Metamorphosis, bringing enemy heroes to a halt.
Black King Bar prevents Terrorblade from being stunned or silenced when his health is low enough to warrant using Sunder.
Butterfly provides agility for damage and evasion for defense, which all benefit illusions.
Situational items:
Gameplay
[
edit
]
| | |
| --- | --- |
| Roles: | Carry Pusher Nuker |
| Complexity: | ★★☆ |
| Playstyle: | The fractal walls of Foulfell not only failed to contain Terrorblade, they granted him newfound control over its twisted Reflections. The Demon Marauder Conjures Images of himself, confounding enemies and multiplying his damage. Feeding on his own rage, Terrorblade transforms into an even more imposing form; an unholy Metamorphosis that allows him to hurl demonic energies at range. Experienced foes know that an injured demon is far from defeated. At the brink of death, Terrorblade tips the scales with Sunder, eliminating any need for retreat as he exchanges his depleted health with that of his opponent's. |
History
[
edit
]
Equipment
[
edit
]
In DotA, Terrorblade and Anti-Mage were brothers. This was to be kept in Dota 2 based on certain responses Anti-Mage made in Terrorblade's presence, but upon Terrorblade's release, these relations were severed and thus the lines went unused.
Terrorblade's title in DotA was Soul Keeper. Unlike other name changes, this one does not appear to be related to copyright issues with Blizzard. A possible reason could be that the title "Soul Keeper" doesn't fit him anymore, since only one ability could be associated with souls.
In-game, Terrorblade constantly leaves flaming footprints wherever he goes, similar to his DotA hero model, Illidan Stormrage (a prominent Warcraft character). These can be seen by enemies, but stop being rendered once he's out of their vision, meaning that one cannot track down an enemy Terrorblade that goes invisible or enters the Fog of War on the basis of his footprints.
Terrorblades response when dying Link▶️ "I go where angels fear to tread." is a reference to the line "Fools rush in where angels fear to tread" from Alexander Pope's poem An Essay on Criticism. Zeus also has a response that references this poem.
Gallery
[
edit
]
References
[
edit
]