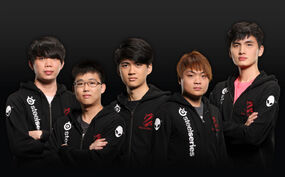 Team Zenith is an esport organization based in Singapore.
History
Team Zenith holds a legacy in the competitive scene. The original Team Zenith was originally under the clan mVp (most valuable player) in the last quarter of 2005. In August 2006, they were christened Team Zenith, sponsored by HP and AMD. They won the CAPL and ESWC 2008 in Paris, and celebrated a lot.
After clinching 3rd place in The International 2011, members of Scythe.SG decided to reform a team under the name "Team Zenith". They had been looking for a 5th player for months before The International 2 when they revealed Loda.
Following a 5th place finish at The International 2012, Zenith went through a restructuring, during which hyhy retired and Loda left. LuX and alanter were chosen to take their places after intense trial and interview sessions helmed by AntShark.
In January 2013, YamateH and Ice from Neolution Orange joined the team, replacing LuX and alanter.
In August 2013, YamateH, Ice, xFreedom and xy- left the team.[1][2]
In September 2013, iceiceice left for Team DK, signifying the official end of the team.[3][4]
Achievements
Dota 2
| Place | Tournament | Location | Date | Prize money |
| --- | --- | --- | --- | --- |
| 1st | JoinDOTA Masters IV | Online | 28–29 March 2012 | $500 USD |
| 1st | The Evolution Singapore Grand Final | Singapore | 12–13 May 2012 | $2,000 SGD |
| 2nd | Gigabyte Dota Masters | Online | 30 April - 23 June 2012 | $1,250 USD |
| 1st | It's Gosu Monthly Madness Asia | Online | 7–29 July 2012 | $1,000 USD |
| 5th - 6th | The International 2012 | Seattle, Washington, United States | 26 August - 2 September 2012 | $35,000 USD |
| 3rd | Alienware Battlegrounds Malaysia-Singapore | Online | 19–25 September 2012 | $500 USD |
| 1st | GosuCup Asia III | Online | 8–9 December 2012 | $500 USD |
| 1st | GosuCup Asia IV | Online | 19–20 January 2013 | $500 USD |
| 2nd | Southeast Asia League | Online | 4–8 February 2013 | $500 USD |
| 1st | SteelSeries DotaTalk League | Online | 14–15 March 2013 | 5x SteelSeries Siberia |
| 2nd | PRIDE Challenge 2013 | Online | 4–5 May 2013 | $450 USD for Steam |
| 2nd | AMD Premier League Season 1 | Online | 6–15 May 2013 | $1,500 USD |
| 1st | Neolution GosuCup - June 2013 | Online | 22–23 June 2013 | $500 USD |
| 1st | E2Max L33T Championship | Singapore | 7 July 2013 | $10,000 SGD (~$7,915 USD) + $250 for Steam |
| 7th - 8th | Alienware Cup 2013 Season 1 | Online | 16 June - 9 July 2013 | $1,500 USD |
| 7th - 8th | Rapture Gaming Network League 2013 - 2014 | Online | 18 May - 8 December 2013 | $500 SGD |
References