A Team is an in-game function to form designated groups. Unlike parties, teams have a fixed identity and do not disappear when its members log off.
Features
[
]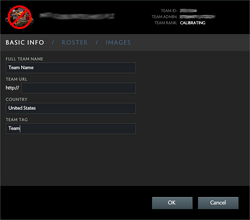 Dota 2 offers support and features for making teams.
Team logo (used on in-game banners and base emblem)
Team tag/abbreviation
Country flag
Team URL
Sponsors logos
Matchmaking
[
]
Teams can only participate in Ranked matchmaking
Teams use a separate Matchmaking Rating
Teams with players in low priority will be unable to queue for matchmaking
Teams will only be matched against other ranked parties of five

The system will prioritize matching against other parties using a team identity
If no parties with a team identity is found, it will match against parties of five without team identities
Disbanding
[
]
Disbanding a team is permanent and cannot be reversed.
A disbanded team cannot be recreated with the same name.
A team's roster must be empty for it to be disbanded.
See also
[
]