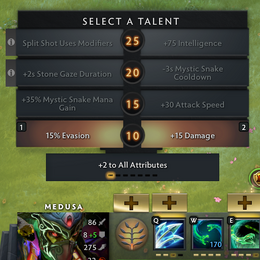 Talents
are traits unique to each hero which can enhance the hero's attributes, stats, and abilities. Each hero has a set of 8 talents, from which they can choose 4 over the course of a match, and eventually unlock them all on the latest levels.
The talents are divided into 4 tiers, with 2 talents being available on each tier. The tiers are unlocked upon reaching level 10/15/20/25 respectively, with level 10 unlocking the first tier, and level 25 the last tier. A special sound
▶️ is played upon unlocking a tier. Once unlocked, the player can choose one of the 2 talents within that tier. Upon choosing, the talent's effects are immediately applied, while the other remaining talent gets locked up again for the time being and can be acquired later. Upon reaching level 27/28/29/30, the tiers get unlocked again, in the same order as before, allowing the player to choose the remaining talent.
Talents are leveled up using the same ability points as the hero's abilities and the Attribute Bonus, meaning the player must decide whether to spend the ability point on an ability, a talent, or on the Attribute Bonus. It is not required for the talent to be chosen within the same level as its tier got unlocked. Higher tiered talents also do not require a talent from the previous tier to be chosen, meaning if the player decides to skip the talents within a lower tier completely, they still are able to choose a talent from any of the higher tiers once unlocking them.
Illusions and clones of the hero copy the choices made by the hero at the point which the illusion was created, and do not update if the hero makes further choices.
A table of heroes sorted by bonus gained can be viewed here.
List of Talents
[
]
Recent Changes
[
]
Reaching level 30 no longer unlocks the talents the player did not choose. [

?

]
Reaching level 27/28/29/30 now allows the player to choose the remaining level 10/15/20/25 talent. [

?

]
Removed and replaced all generic cast range talents. [

?

]
All talents are now about 20% weaker. [

?

]