Spectre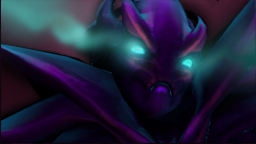 Mercurial, the Spectre, is a melee agility hero, adept at dealing pure damage to lone targets, and is powerful both offensively and defensively. Spectral Dagger provides a significant amount of mobility, allowing Spectre to go through objects, units and terrain while slowing foes that come in contact with the shadowy path left by her Spectral Dagger. Desolate allows her to inflict high pure damage to enemy heroes when she catches them alone. Dispersion reduces and reflects all damage, whether by attacks or spells, to an area around her. Dispersion gives her great durability, especially when equipped with items that provide health, armor, and damage block. Finally, her Haunt creates a malevolent spectral illusion to all enemy heroes in the map. Haunt lets Spectre wreak havoc in clashes and ganks, while her allies take advantage of the confusion. Spectre can use Reality during the Haunt, instantly teleporting her to her illusion to take its form. This lets her hound her victim anywhere on the map. Mercurial is a dangerous supernatural being, relentless as she can chase and stalk down her victim to a global range, unhindered by boundaries. Her kit allows her to play the role of the team's hard carry by applying an immense amount of pressure in late game team fights. More specifically, the damage reflection from Dispersion makes it disadvantageous for teams to focus her. Her abilities have a complex nature, and newer players should generally not play Spectre as she is extremely farm and level dependent. It is best to face Spectre with allied help and strength, as encountering her alone is not always the best option.
Bio
[
]
Abilities
[
]
Talents
[
]
Recent Changes
[
]
Recommended Items
[
]
Starting items:
Tango regenerates health to keep Spectre in lane as long as possible.
Healing Salve also restores health which can save Spectre at the last moment.
Enchanted Mango gives passive health regeneration and burst mana for one more usage of Spectral Dagger.
Early game:
Quelling Blade helps with getting last hits to farm for later items.
Boots of Speed help her escape gankers and chase down weakened enemies.
Mid game:
Power Treads benefit Spectre's illusions with attributes. Against weakened targets that cannot deal with the illusions, the extra attacks with Desolate may produce a kill.
Radiance speeds up Spectre's farm and deals burn damage to all enemies during Haunt, complementing her tanky and AoE fighting style.
Manta Style lets Spectre farm fast by sending illusions either into lane or into other jungle camps that, with Radiance, lets them take out the camps, and combines with desolate to deal a ton of damage to unwary foes.
Late game:
Heart of Tarrasque gives a huge amount of health and health regeneration, coupling with Dispersion's damage reduction to make Spectre tough to kill and reflecting that damage back on her enemies.
Butterfly grants agility and evasion to increase Spectre's and her illusions' damage output and survivability.
Situational items:
Gameplay
[
]
| | |
| --- | --- |
| Roles: | Carry Durable Escape |
| Complexity: | ★★☆ |
| Playstyle: | An eternal being of violent energies, Mercurial, the Spectre is irresistibly drawn to conflict. She throws out a Spectral Dagger, creating a shadowy trail to her foes in which she may travel unobstructed. Harm done to Mercurial is partially deflected onto nearby foes, a Dispersion of damage that prolongs her endurance. Even in the most Desolate wilderness, travelers are Haunted by visions of Spectre, seeming to prey on their solitude. But these are no mere illusions. It is said that for one in every five haunted, the apparition becomes Reality, and alongside these unfortunate victims the Spectre appears, bringing with her the destruction that she eternally craves. |
Audio
[
]
History
[
]
Equipment
[
]
Trivia
[
]
The name Mercurial most likely comes from the DeviantART account of Kenneth Tan, the person who made the 6.28-6.32 loadscreen.[1][2] 6.28 is also the version in which Spectre got released in DotA.
"Mercurial" means "swift, shrewd, and deceitful", which is attributed to the Roman god of thieves, Mercury, as Spectre is an agile and quick Hero. It can also refer to the planet Mercury, since Spectre is an otherworldly entity. Mercurial can also hint towards the element Mercury, often called "quicksilver," which is another reference to Spectre's speed and mobility. When used as an personal adjective, mercurial can mean a personality quick to change and dangerous to both the person receiving and transmitting. Someone quick to forgive and quick to anger would be mercurial, but not someone who holds grudges or holds none. See Mercutio (obviously named) from Romeo and Juliet.
Spectre's alternate/fun name "Qwerty-" was given to her for remembering a legendary Dota player Zaven "Qwerty" Terminasov, who died on December 5, 2010.
Spectre's voice responses are overlayed with the same track playing backwards, bearing a huge similarity to the Spirit of Vengeance's voice in Warcraft III: Frozen Throne, which is also the voice of Spectre in DotA.
Spectre has fewer model animations than any other hero in the game.
Gallery
[
]
References
[
]