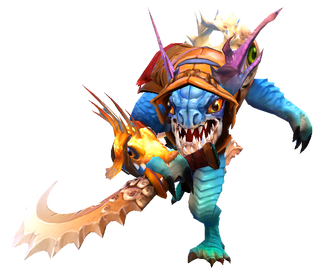 Gameplay
Playstyle
Slark is an extremely slipperly melee carry. Jumping over obstacles, he Pounces on enemies and jumps away to safety, shrouding himself from damage with Shadow Dance. When unseen, Slark's natural regeneration replenishes his health, allowing him to return to the fight time and time again. Slark is susceptible to area disables and magical nukes, and his damage is mostly effective against single targets.
Pros
Cons

Numerous escape mechanisms.
Effective mid-game ganker.
Steals enemy attributes.
Large night vision.
Strong pick-off and snowball potential.
Excels in long, drawn-out fights.

Fragile in the early game.
Low attribute growth.
Primarily single target focused.
Has no stuns.
Exceptionally weak to mana burn.
Carry
Against a melee opponent, consider getting Essence Shift at level 1 in order to strengthen harassment.
Against an opponent with a damage over time ability, consider leveling Dark Pact earlier.
At level 3, each basic ability should have a point to maximize early kill potential.
Dark Pact is maxed out first, as the AoE damage and lowered mana cost is vital for quickly farming waves and neutral creeps.
Pounce is usually maxed out second to leash the enemies longer, allowing Slark to keep attacking them, and the reduced cooldown enables him to use it as both initiation and escape in the same fight.
Essence Shift is usually maxed out last, as the only thing that scales up for that ability is the duration of the stolen attributes, which does little to affect early game fights.
Ability Builds
Generic Slark
1
2
3
4
5
6
7
8
9
10
11
12
13
14
15
16
17
18
20
25
Trading Heavy Lane Slark
1
2
3
4
5
6
7
8
9
10
11
12
13
14
15
16
17
18
20
25
Talents
Notes:
The lifesteal talent stacks additively with other sources of lifesteal.
Tips & Tactics
Items
Starting items:
Early game:
Mid game:
Late game:
Situational items: