Shadow Shaman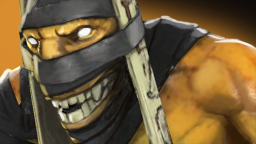 Rhasta, the Shadow Shaman, is a ranged intelligence hero mostly played as a pusher and disabler, wielding abilities that make pushing lanes more efficient. When his abilities are used in intelligent combos, he has one of the longest disables in game. He is also capable of disabling multiple enemy heroes, allowing him to initiate encounters as well. Though very supportive in nature, until the late game Rhasta is capable of killing lone enemy heroes with the use of his entire skill set; meaning he is more difficult to gank than most other supports. Playing Rhasta well requires good knowledge of target priority and timing; and some minor micromanagement. His peak is mid-game, but he can continue to wreak havoc on enemies all throughout the match.
Bio
[
]
Rhasta, the Shadow Shaman
Born in the Bleeding Hills, Rhasta was just a starving youngling when picked up by a travelling con-man. For two pins of copper, the old con-man would tell your fortune. For three, he'd castrate your pig, for five, he'd circumcise your sons. For a good meal, he'd don his shaman garb, read from his ancient books, and lay a curse upon your enemies. His strange new youngling, part hill troll, part…something else, worked as assistant and lent an air of the exotic to the con-man's trade.

Always one step ahead of cheated customers, one town ahead of a pursuing patronage, the two trekked across the blighted lands until one day the con-man realized that the little youngling could actually do what he only pretended at. His ward had a gift—a gift that customers valued. And so the youngling Rhasta was thrust before the crowds, and the trade-name Shadow Shaman was born. The two continued from town to town, conjuring for money as Shadow Shaman's reputation grew. Eventually, the pair's duplicitous past caught up with them, and they were ambushed by a mob of swindled ex-clients. The con-man was slain, and for the first time, Rhasta used his powers for darkness, massacring the attackers. He buried his beloved master, and now uses his powers to destroy any who would seek to do him harm.
Abilities
[
]

Creates a cone of ethereal energy that strikes multiple enemy units.
Number of Targets:
1/3/5/7
Blocked fully only when primary target.
Originally used to open shows with the travelling con-man, Rhasta's lightning display shocks adversaries in more ways than one.
Notes:

With the starting radius, max distance and end radius, Ether Shock can hit units up to 1000 range away.
The complete area is shaped like a cone in front of Shadow Shaman.

The area starts in front of Shadow Shaman, and not at the primary target's position.
Targets within the cone area are not chosen randomly. It chooses the closest valid targets to the primary target within the cone.
All strikes together can deal up to 140/600/1300/2240 (

520

/

1740

/

3200

/

4900

) damage (before reductions).
The purpose of the

modifier

is unknown.
Transforms an enemy unit into a harmless creature, disabling their attacks and abilities.
Duration:
1.25/2/2.75/3.5
Effects persist if debuff was placed before spell immunity.
Rhasta often ended performances by turning himself into a chicken - now, the humiliation is shared.
Notes:

Applies a hex on the target, setting its base movement speed to 100, silencing, muting, and disarming it.

However the target's movement speed is still affected by movement speed bonuses from items and abilities.
Since Hex sets the base movement speed of the target unit and does not actually apply a slow, all speed effects are calculated using the 100 base speed.
Shadow Shaman's Hex transforms the target into a chicken.

Magically binds an enemy unit so that it cannot move or attack, while dealing damage over time.
Shackles creates Serpent Wards attacking the target. Increases Shackles cast range by 125. Lasts 7 seconds.
Effect does not persist and immediately ends if debuff was placed before spell immunity.
A self-defense incantation, Rhasta developed shackles after his master was slain in the Bleeding Hills.
Notes:

Provides True Sight over the target, but only when the target was not invisible or within a fade time upon cast.
Unlike other targeted abilities, the caster vision of Shackles lasts for the entire channel duration (even if it gets canceled), instead of just 2 seconds.
With Aghanim's Shard, Shackles places a total of

4

Serpent Wards based on its current level, 100 range towards the target's north, east, south, and west.

The wards' facing angle is set equal to Shadow Shaman's facing angle upon cast.
The wards are ordered to attack the target upon creation, but they can be controlled by the player normally.
The Aghanim's Scepter upgrade notes fully apply as well.
If Mass Serpent Ward is not learnt, no wards are summoned.
Damage
Physical
(

Instant Attack
)
Summons 10 Serpent Wards to attack enemy units and structures. The Wards are immune to magic.
Number of Serpent Wards:
10
Causes Serpent Wards to have split shot, attacking two units for full damage. Increases attack range of Serpent Wards.
Snake charming was a big part of the Shadow Shaman's act; now Rhasta can empower the Snakes to do his bidding.
Notes:

Places a Serpent Ward on every 36°th of a 150 radius circle, resulting in 10 wards forming a ring.

The wards form a perfect barrier, enemies inside cannot move out unless they have phased movement.
Destroying one ward is enough to allow units to walk in and out of the ring.
The wards' facing angle is set equal to Shadow Shaman's facing angle upon cast.
Serpent Wards automatically attack enemies within their attack range, using ◉

Standard

auto-attack rules.

With Unified Orders with Ctrl, Ctrl+ Right Click an enemy in range commands all wards to attack the target.
It is also possible to stop the wards from attacking with S (only works when the auto-attack option is ◎

Never

).
With Aghanim's Scepter, the wards perform instant attacks on

1

enemy target whenever they launch an attack projectile.

An extra projectile is released at the same time together with the primary attack.
Therefore, it does not matter whether the primary attack misses or not, the extra projectile is still released.
The extra projectile travels at the same speed as the primary projectile, and can be disjointed like regular attacks.
These instant attacks do not proc any attack modifiers and on-hit effects normally. They do not have True Strike.
However, they are affected by armor type and evasion.
The extra attack does not target wards, invisible units, attack immune units, or units inside the Fog of War. They do target buildings.
The extra attack has no target priorities. It simply chooses a random valid target within its attack range.
Talents
[
]
Recent Changes
[
]
Level 15 right talent: +100 Serpent Wards attack range increased to +120.
Level 25 right talent: +370 Ether Shock attack damage increased to +380.
Increased health regeneration from 0 to 0.25.
Mass Serpent Ward

Reduced mana cost from 200/350/600 to 200/350/550.
Rescaled cooldown from 120 on each level to 130/120/110.

Talents:
Increased turn rate from 0.5 to 0.6.
Talents:
Recommended Items
[
]
Starting items:
Early game:
Magic Stick ensures that Shadow Shaman has burst regen available when needed. 150 mana is enough to cast Hex if it is level 2 or lower, same for Shackles.
Boots of Speed are important in allowing Shadow Shaman to close the gap with a target and disable them. Acquiring Boots before your opponents can often make the difference between getting a kill.
Mid game:
Magic Wand has all the benefits of Magic Stick, as well as more stats and a higher amount of burst regen. It is important no matter whether Shadow Shaman is played as a core or support.
Arcane Boots increases the size of Shadow Shaman's mana pool and gives him some burst mana regen; Shadow Shaman often casts his spells as a combo, so he tends to run out very quickly if not furnished with a means of mana regen.
Late game:
Blink Dagger should be considered a core item on Shadow Shaman, no matter what role he is played in. Blink Dagger allows Shadow Shaman to instantly jump on top of a gank target and disable them with Hex, preventing them from reacting during ganks. It should be rushed as quickly as possible as a core, and given priority to obtain as a support.
Aghanim's Scepter should generally be considered a core item on a farming Shadow Shaman, but luxury for a support Shadow Shaman. The upgrade it grants Mass Serpent Ward greatly increases the amount of damage they can do, allowing Shadow Shaman to make short work of heroes that have been boxed in or obliterate towers alarmingly quickly.
Refresher Orb allows for two instances of Mass Serpent Wards, which is hugely useful for siege damage and encounters.
Situational items:
Gameplay
[
]
| | |
| --- | --- |
| Roles: | Support Pusher Disabler Nuker Initiator |
| Complexity: | ★☆☆ |
| Playstyle: | Much to the surprise of the travelling con-man, his newly adopted assistant could actually perform his tricks with real magic. Rhasta, the young half-troll, dazzled audiences with the lights of Ether Shock, among other things. But their duplicitous deeds soon caught up with them. An angry mob descended on the pair, killing the old master. Rhasta had no choice but to adapt his show tricks for darker purposes. He Hexes one foe, transforming him into a chicken, while locking down another with magical Shackles—but not before conjuring up a Mass Serpent Ward. Spitting fire in every direction, the Shadow Shaman's charmed snakes make short work of his disabled enemies. |
Audio
[
]
History
[
]
Equipment
[
]
Trivia
[
]
The name Rhasta is based on the Rastafarians, a follower of a religious movement in Jamaica known as Rastafari. In DotA, his hero model and dialogue had a strong Jamaican influence and style. But in Dota 2, his theme and style have undertaken a more Native American influence, mostly evident in his attire and accent.
Rhasta is also a Persian name and word that means "truth" or "path".
Rhasta's Immortal Head item, Lash of the Lizard Kin, may be a reference to Pollywog Priest, who is Heroes of Newerth's direct port of Shadow Shaman. The Pollywog Priest is a frog-themed hero who, just like Shadow Shaman with the immortal, uses its tongue for its equivalent ability of Shackles (named Tongue Tied), instead of a magical net.
Some of Rhasta's voice lines may suggest he is well versed in the art of augury, an ancient form of divining the future. In some cultures, it is believed that reading the entrails of ritual sacrifice victims could predict the future.
Gallery
[
]