Shadow Fiend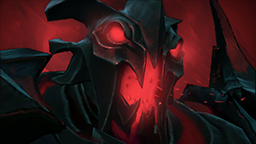 Unleashes the souls of fallen enemies for damage.

Capturing Souls

from every kill he makes, Shadow Fiend is always gathering his power. Armor fails within the

Presence of the Dark Lord

, leaving foes no choice but to scramble. Every assault, each carefully aimed

Shadowrazes

kills an enemy, brings him closer to his acme of potency. The Shadow Fiend pauses to charge his demonic energies, then, with a flourish of his lightless wings, unleashes his gathered souls in all directions to obliterate enemies in a howling

Requiem of Souls

.
Roles:
Carry Nuker
Complexity:
★★☆
Bio
[
]
Nevermore, the Shadow Fiend
It is said that Nevermore the Shadow Fiend has the soul of a poet, and in fact he has thousands of them. Over the ages he has claimed the souls of poets, priests, emperors, beggars, slaves, philosophers, criminals and (naturally) heroes; no sort of soul escapes him. What he does with them is unknown. No one has ever peered into the Abysm whence Nevermore reaches out like an eel from among astral rocks. Does he devour them one after another? Does he mount them along the halls of an eldritch temple, or pickle the souls in necromantic brine? Is he merely a puppet, pushed through the dimensional rift by a demonic puppeteer? Such is his evil, so intense his aura of darkness, that no rational mind may penetrate it. Of course, if you really want to know where the stolen souls go, there's one sure way to find out: Add your soul to his collection. Or just wait for Nevermore.
Abilities
[
]


10
Nevermore's trademark for harvesting souls.
Notes:

Leveling one of any three Shadowraze abilities levels the others as well.
Shadowraze (Near) blasts a 250 radius area 200 range in front of Nevermore upon cast.

This means that it can hit units up to 50 range behind Shadow Fiend, and up to 450 range in front of him.
Places one

hidden debuff

on the enemy. This debuff counts how many Shadowrazes hit the target within its duration.

Shadowraze first sets its damage based on current stacks, then applies the debuff or increases the stack count, and then deals the damage.
This means the stack added by the raze does not affect the ability's damage.
A number on the icon shows how many times the debuff was refreshed, including the first cast.
The debuff has no stack limit and can be increased infinitely.
Hitting all 3 razes consecutively can deal up to 420/660/900/1140 damage to a single unit (before reductions).

With the

stack damage increasing

talent, it can deal up to

495

/

735

/

975

/

1215

damage.
The

hidden debuff

is placed on heroes is used to count successive Shadowraze hits. It lasts for 3 seconds.

Although only the Demon Eater cosmetic item makes use of it, the counter is always placed.


10
Shadowraze (Medium) is a stand-alone ability that comes with 3
charges
.
Nevermore's trademark for harvesting souls.
Notes:

Shadowraze (Medium) blasts a 250 radius area 450 range in front of Nevermore upon cast.

This means that it can hit units from 200 to 700 range in front of Shadow Fiend.


10
Nevermore's trademark for harvesting souls.
Notes:

Shadowraze (Far) blasts a 250 radius area 700 range in front of Nevermore upon cast.

This means that it can hit units from 450 to 950 range in front of Shadow Fiend.

Ability
Passive
(

Target Unit
/
Autocast
)
Shadow Fiend steals the soul from units he kills, gaining bonus damage. On death, he releases half of them from bondage.
Stacks Lost on Death:
40%
Shadow Fiend gains an extra soul per kill. Shadow Fiend can consume a soul per attack to deal critical damage and fear the target. CD: 3.

Disables from gaining new stacks.
Existing stacks still provide attack damage bonus.

Stack count starts from 0 upon illusion creation, and can gather stacks.
Does not benefit from the flat attack damage bonus.
Harvested souls swirl in and out of the Abysm, empowering the Shadow Fiend to increase the size of his collection.
Notes:

If Shadow Fiend has an odd number of souls upon death, the number of lost souls is rounded down.

This means that he never can lose all his souls. He still keeps 1 soul, even when dying while only having 1 soul.
No souls are lost with Reincarnation sources.
Despite the visual effects, Shadow Fiend instantly gains the soul and thus the damage of killed units.
The more souls Shadow Fiend has, the more red particles fly around his chest area.
Grants a total of 11/28/51/80 (

44

/

70

/

102

/

140

) regular flat bonus attack damage with maximum amount of souls.
With Aghanim's Scepter, Necromastery grants a total of

25

/

50

/

75

/

100

(

100

/

125

/

150

/

175

) attack damage with maximum amount of souls.

These extra souls affect the number of lines created by Requiem of Souls.
When losing Aghanim's Scepter, Shadow Fiend keeps his souls even when having more than the default allowed amount.
Requiem of Souls still releases more lines even when not having Aghanim's Scepter in this case.
However, the bonus attack damage adapts immediately and does not account for the extra souls when losing Aghanim's Scepter.
The cast range is based on the attack range of the caster.

The cast range can be further increased by other attack range bonuses. However, it is not affected by cast range bonuses.
Both

Autocast

and manually casting it uses Shadow Fiend's current attack range.
Consumes a soul and goes on cooldown upon projectile launch, so missing the attack wastes the soul and cooldown.
Casting Necromastery ensures a critical strike, crits with a lower value have no effect if they proc, since the higher crit value takes priority.
Replaces the projectile particle of Shadow Fiend with a thicker red projectile indicating that it uses up a soul.

Casting ability without souls does nothing and does not put ability into cooldown.
Shadow Fiend's presence reduces the armor of nearby enemies.
Aura Linger Duration:
0.5

Even being near Nevermore eats away at one's soul.
Notes:

The armor reduction is provided by an aura. Its debuff lingers for 0.5 seconds.
Shadow Fiend gathers his captured souls to release them as lines of demonic energy. Units near Shadow Fiend when the souls are released can be damaged by several lines of energy. Any unit damaged by Requiem of Souls will be feared and have its movement speed reduced for 0.8 seconds for each line hit up to a maximum of 2.4. Lines of energy are created for every soul captured through Necromastery.

Requiem of Souls is automatically cast whenever Shadow Fiend dies, regardless of its cooldown.
Cast Animation:
1.67
+
0.77
Damage Lines Travel Distance:
1000
Damage Lines Starting Width:
125
Damage Lines End Width:
350
Necromastery Souls Required per Line:
1
Damage per Line on Release:
80/120/160
Move Speed Slow:
20%/25%/30%
Magic Resistance Reduction:
5%/10%/15%
Causes Requiem of Souls to return back to Shadow Fiend. The wave back to Shadow Fiend deals less damage, but heals Shadow Fiend for all the damage it dealt.

Does not disable the passive cast on death.

Necromastery
must be drafted as well for Requiem of Souls to work.
The captured souls of those past slain are released to ravage their former allies.
Talents
[
]
Recent Changes
[
]
Level 15 left talent: +80 Shadowraze base damage increased to +100.
Level 20 left talent: +0.3s/+0.9s Requiem of Souls debuff duration per line/max debuff duration increased to +0.4s/+1.2s.
Level 25 left talent: -40s Requiem of Souls cooldown increased to -50s.
Recommended Items
[
]
Starting items:
Early game:
Magic Stick will help supplement mana for casting Shadowraze.
Bottle is crucial for surviving in lane, and capturing runes.
Infused Raindrops will provide you with the mana regen to sustain Shadowrazes throughout the jungle, as well as provide a little bit of tankiness with the magic damage absorption.
Mid game:
Late game:
Black King Bar provides good health and damage, but more importantly, can be used to ensure Requiem of Souls is not interrupted.
Hurricane Pike is a natural upgrade from Dragon Lance that can push enemies away while providing infinite range for up to 4 attacks.
Butterfly increases your DPS and makes you much more survivable against enemy carries who are reliant on their physical attacks.
Situational items:
Gameplay
[
]
Audio
[
]
History
[
]
Equipment
[
]
Trivia
[
]
Shadow Fiend's alternate/fun name in DotA was "YaphetS", a tribute to a professional DotA player who skillfully used Nevermore.
The name "Nevermore" likely refers to the poem The Raven by Edgar Allen Poe. This is also referenced in his bio.
The voice response Link▶️ "Never say Nevermore..." is in reference to the James Bond movie "Never say never again".
Apart for popular demand by fans, Shadow Fiend's model rework may have also been done to adhere to certain countries' censorship laws, namely the Chinese client.
Gallery
[
]