Scythe of Vyse is an item purchasable at the Base Shop, under Magical. However, it is assembled entirely with items from the Secret Shop.
The most guarded relic among the cult of Vyse, it is the most coveted weapon among magi.
Magical

Cost
5675

Sell Value

2837.5
Active
Hex

Bonus

?

+10 Strength
+10 Agility
+35 Intelligence
+9 Mana Regeneration

Shareable
Disassemble
Usage Alert

?

Recipe
Additional Information
[
]
The item's attributes grants the following bonuses:
Ability
[
]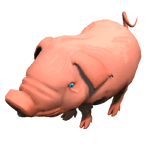 Turns a target unit into a harmless critter for 3.5 seconds. The target has a base movement speed of 140 and will be silenced, muted, and disarmed.
Instantly destroys illusions.

20

250

modifier_sheepstick_debuff
Notes:

Applies a hex on the target, setting its base movement speed to 140, silencing, muting and disarming it.

However, the target's movement speed can still be affected by movement speed bonuses from items and abilities.
Since Hex sets the base movement speed of the target unit and does not actually apply a slow, all speed effects are calculated using the 140 base speed.
Scythe of Vyse's hex transforms the target into a pig.
Recommended Heroes
[
]
Heroes whose default item build includes Scythe of Vyse as a core item:
Others
[
]
Heroes whose default item build includes Scythe of Vyse as a situational item:
Strength Heroes:
Agility Heroes:
Intelligence Heroes:
Tips
[
]
Combine it with a blink or invisibility to surprise your target and approach and hit him while he is hexed. You can also use those items to catch an enemy that is running away.
Useful against enemies that have items to dispel debuffs like Eul's Scepter of Divinity, Manta Style, Guardian Greaves to use a Bloodthorn in combination.
Extremely powerful against heroes with high DPS, escape abilities, disablers, debuffs and carrying initiation or escape items like Black King Bar, Blade Mail, Blink Dagger, Shadow Blade, Town Portal Scroll.

Alternatively a Heaven's Halberd and Ethereal Blade can put an enemy carry out of a fight, unable to attack, it is useful against heroes hard to reach with high attack range.

As a support it can be worth to use hex on an enemy carry using Lotus Orb.
Trivia
[
]
In the original DotA, this item was known as Guinsoo's Scythe of Vyse, as a tribute to one of the developers of DotA: Allstars, who went on to co-create League of Legends.
This item is known by many players (and referred to by several in-game Heroes) as "Sheepstick" due to turning targeted heroes into sheep in DotA. However, in Dota 2, targeted units turn into a pig.

The shop's search bar also accepts sheepstick or just sheep as a search term for Scythe of Vyse.

The item's name may be a reference to the Sega RPG Skies of Arcadia. The main character, Vyse, has been depicted wielding a scythe in early concept art.
Gallery
[
]
Recent Changes
[
]
Increased Mystic Staff cost from

2700

to

2800

(total cost increases

▲

from

5575

to

5675

).
Reduced Ultimate Orb cost from

2150

to

2050

(total cost decreases

▼

from

5675

to

5575

).
Items
Basics

Consumables
Attributes
Equipment
Miscellaneous
Secret Shop

Upgrades

Accessories
Support
Magical
Armor
Weapons
Artifacts

Neutral

Tier 1
Tier 2
Tier 3
Tier 4
Tier 5
Retired

Tier 1
Tier 2
Tier 3
Tier 4
Tier 5

Others