Scan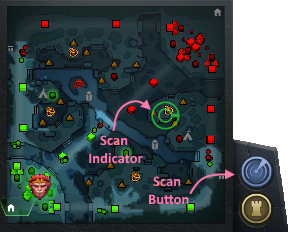 Players can use the Scan ability on the right of the minimap UI to detect any enemy heroes in an area.
Abilities
[
edit
]

Scans a targeted 900 AoE for 8 seconds. Indicates whether there are enemy heroes in that area during the 8 seconds.
Notes:

When a hero is detected, the green (blue in color blind mode) minimap indicator turns red.
Checks for enemy presence in 1 second intervals, starting immediately on use, resulting in 9 checks.
Does not show how many heroes there are, just if there are any enemy heroes.
Does not give vision or reveal anything other than the presence of enemy heroes.
Enemies do not know when your team casts it.
Has a global team-wide cooldown of 3.5 minutes.
Starts on cooldown (not available at the beginning of the match).
The button is located at the bottom right corner of the minimap border, above the Glyph of Fortification button.
Version history
[
edit
]
See also
[
edit
]
Mechanics
Stats
Attack
Abilities
Status effects
World
Gameplay
Units