Riki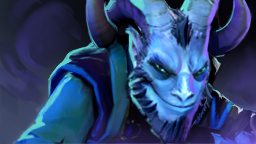 Bio
[
]
Riki, the Stealth Assassin
Lore:
Melee hero. He is very, very sneaky, sir. Can learn Permanent Invisibility, Critical Strike, Blink and Death Ward.
Abilities
[
]
Hero becomes permanently invisible when not attacking.
Notes:

Can only be leveled on level 5/10/15.
Riki does not auto attack enemies while invisible.
Silence disables Permanent Invisibility. Once the silence fades, Riki has to go through the fade delay again.
Beginning to cast spells or using items, or beginning an attack immediately breaks the invisibility.

Short distance teleportation that allows one to move in and out of combat.
Notes:

This ability got replaced by Blink Strike in the 6.00 gameplay patch.
Does not blink for the full distance when targeting closer than the max distance.
When targeting beyond the max blink distance, Riki blinks for the max distance towards the targeted point.
Gives a chance to do more damage on an attack.
Critical Damage:
150%/200%/250%/300%
Notes:

This ability got replaced by Backstab in the 6.00 gameplay patch.

Summons a deadly trap to attack enemy heroes.
Notes:

Despite being an ultimate, this ability had 4 levels. Its level requirements were 6/11/16/21.
The Death Ward automatically attacks the closest enemy hero within its attack range.
It is possible to manually give the ward an attack target by just right-clicking an enemy hero in range.
At level 3 and 4, the ward can attack 2 enemies at the same time.
Version history
[
]