Replays can be downloaded and watched in Spectator mode. Unlike spectator mode, however, replays can be watched at increased or decreased speeds, or just the highlights. After playing a match, it may take a moment for the replay to become available.
Replays include:
Audio streams of casters
Casters' camera perspectives
Players' camera perspectives
Replays with audio streams are considerably larger in file size.

Takeover Mode
[
]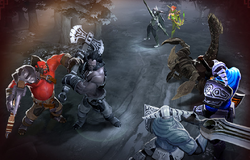 This mode allows players to take control of heroes during a replay.
Requires 10 players.
Will open a lobby window for each player to select the hero they wish to take over.
Takeovers are considered a new match and have separate replays, which are recorded from the moment you assume control.
Only available on replays created after the January 29, 2014 Patch.
See also
[
]