Razor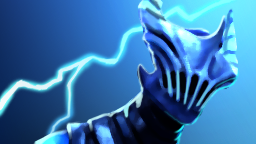 Razor, the Lightning Revenant, is a ranged agility hero who works as a position-based tank/carry that employs his abilities to deal massive damage in a relatively short amount of time, chase down the fleeing injured with his speed, and inflict debuffs on more powerful foes. Razor prefers to keep his position or kite his enemies allowing his spells to unleash its full potential. Known for being a speedy and a great anti-carry hero, Razor specializes in using his opponent's own powers against them, draining them of their damage and using it to smite them, as well as damaging and slowing targets that focus their abilities on him. His ultimate, Eye of the Storm, further enhances his carry-killing powers by inflicting constant, armor-shattering, lightning strikes on the foe with the lowest health within a radius. For those who rely on their pure brute force alone to fight, there is truly no escape from the Underscape.
Bio
Razor, the Lightning Revenant
▶️
"I bring my lightning whip not to punish souls, but only to hasten them toward the inevitable exit."
Among the emblematic powers that populate the Underscape, Razor the Lightning Revenant is one of the most feared. With his whip of lightning, he patrols the Narrow Maze, that treacherous webwork of passages by which the souls of the dead are sorted according to their own innate intelligence, cunning and persistence. Drifting above the Maze, Razor looks down on the baffled souls below, and delivers jolts of scalding electricity that both punish and quicken the souls as they decide their own fates, hurrying on toward luminous exits or endlessly dark pits. Razor is the eternal embodiment of a dominating power, abstract and almost clinical in his application of power. Yet he has a lordly air that suggests he takes a sardonic satisfaction in his work.
Abilities
Talents
Recent Changes
Increased base movement speed from 285 to 290.
Increased base health regeneration from 0 to 1.
Increased Plasma Field minimum damage from 15/25/35/45 to 35/40/45/50.
Added Aghanim's Shard upgrade for Razor:

Grants Storm Surge a 18% chance to release forked lightning when getting attacked, hitting the target and up to 2 other enemies with 120 damage, and slowing their movement speed by 50% for 1.5 seconds. Forked lightning always triggers when getting targeted by a spell.
Recommended Items
Starting items:
Early game:
Mid game:
Late game:
Situational items:
Gameplay
| | |
| --- | --- |
| Roles: | Carry Durable Nuker Pusher |
| Complexity: | ★☆☆ |
| Playstyle: | The whip that ushers the dead through the Narrow Maze brings just as much pain on the battlefield. The Lightning Revenant radiates a Plasma Field that shocks nearby foes, once upon expansion, and again upon contraction. He connects to enemy heroes with a Static Link, transferring their power to his own reserves. Charged by a Storm Surge, Razor hovers effortlessly off the ground, and sends jolts of electricity to those who dare come too close. In the Eye of the Storm, one finds Razor, watching and delighting in his work as bolts of lightning reduce his foes to charred remains. |
Audio
History
Equipment
Trivia
Razor's alternate/fun name was Gillette, which is also the name of a reputable brand of shaving razors.
Razor's attack response Link▶️ "Ride the Lightning!" is also the name of a Metallica's album and song (which references execution via electric chair).
Razor's response upon picking the Aegis of the Immortal Link▶️ "There is a lightning that never goes out." is a reference to a song "There is a light that never goes out" by The Smiths.
Razor's response Link▶️ "Conduct me where you will." is also a line said by Scrooge in A Christmas Carol.
Gallery