Pudge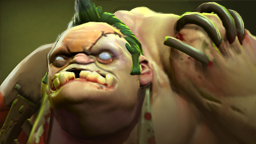 Hooks and pulls enemies towards him.
Each carefully aimed throw of Pudge's signature

Meat Hook

strikes fear into his foes. Disoriented, his foe stumbles, gagging on a sudden stench of

Rot

. As it looks up at the fleshy hulk, hoping for an answer, only to watch as the Butcher

Dismembers

and carves them with his cleavers, adding a layer to his compost

Heap

. With every kill he gains additional health and damage, and soon becomes an unstoppable behemoth of rotting flesh.
Roles:
Disabler Initiator Durable Nuker
Complexity:
★★☆
Bio
[
]

Pudge, the Butcher
In the Fields of Endless Carnage, far to the south of Quoidge, a corpulent figure works tirelessly through the night--dismembering, disembowelling, piling up the limbs and viscera of the fallen that the battlefield might be clear by dawn. In this cursed realm, nothing can decay or decompose; no corpse may ever return to the earth from which it sprang, no matter how deep you dig the grave. Flocked by carrion birds who need him to cut their meals into beak-sized chunks, Pudge the Butcher hones his skills with blades that grow sharper the longer he uses them. Swish, swish, thunk. Flesh falls from the bone; tendons and ligaments part like wet paper. And while he always had a taste for the butchery, over the ages, Pudge has developed a taste for its byproduct as well. Starting with a gobbet of muscle here, a sip of blood there...before long he was thrusting his jaws deep into the toughest of torsos, like a dog gnawing at rags. Even those who are beyond fearing the Reaper, fear the Butcher.
Abilities
[
]

Affects
Enemies / Allies
(
Runes
)
Launches a bloody hook toward a unit or location. The hook will snag the first unit it encounters, dragging the unit back to Pudge, killing it if it's a non-ancient creep and dealing damage if it is an enemy otherwise.
Max Travel Distance:
1300

110
Fully affects spell immune allies and enemies.
Does not disable spell immune enemies.
The Butcher's hook is a symbolic nightmare, its curved blade a frightening reminder of his slaughterous intent.
Notes:

The Meat Hook travels at a speed of 1450, taking 0.9 seconds to reach maximum distance.
Pudge receives the

hidden modifier

upon cast, which disables Pudge.

The duration of this modifier equals the time it takes for the hook to reach 66% of its max travel distance.
This means with the default max distance of 1300, the self-disabling modifier lasts 0.59 seconds.
The duration is based on the max distance (including cast range bonuses). It does not matter for how far the hook actually travels.
This means when latching on a unit directly in front of Pudge, the self-disable still lasts its full duration.
With the max travel distance and search radius, Meat Hook can hit units up to 1400 range away.

The search radius is centered around the hook's tip. Getting close to other parts of the hook has no effect.
Can only affect units while extending, not while retracting. Fully affects invisible units.
Hooked enemies are fully disabled for the entire pull duration.

Allies are not disabled. They can act freely while being pulled by the hook.
When the hook hits a unit, it provides 500 radius flying vision at the unit's location upon hit for 4 seconds.
If the hook collides with an enemy unit which is not a hero, ancient creep, or creep-hero, it instantly kills it.

The creep is killed by getting its health dealt as damage to it, in the form of HP Removal.
Runes can be hooked as well. Doing so refunds the mana spent on the hook.

Aura Linger Duration:
0.5

0

0
Increases Rot radius and damage, and causes it to reduce enemy health regen.
Ability effects persist and attempt to damage if debuff was placed before spell immunity.
A foul odor precedes a toxic, choking gas, emanating from the Butcher's putrid, ever-swelling mass.
Notes:

The self-inflicted damage is never lethal, so it cannot be used to deny oneself.
The area damage and self-damage are independent from each other, so when the self-damage is blocked, the area damage is still applied.
Leveling up Rot while already toggled on immediately updates the damage.

The slow on already debuffed enemies is not updated.
However, new enemies entering its area get slowed based on its current level.

Gives Pudge a guaranteed damage block against all types of attack. Passively grants bonus strength that increases each time Pudge kills an enemy Hero or it dies in his vicinity. Flesh Heap is retroactive, meaning it can gain charges before it is skilled, which then become active.

Stack count is based on current stacks upon illusion creation.
Stack count does not increase whenever Pudge gains a stack.
The Butcher gives new meaning to the words 'meat shield'.
Notes:

Flesh Heap does not interrupt Pudge's channeling abilities upon cast.
Multiple instances of the shield do not stack. Re-casting it refreshes the duration and resets the shield capacity.
Upon gaining a stack, a

+1

appears above Pudge's head, indicating that he gained a stack.

Does not gain a stack if the dying hero has Reincarnation, is an illusion, from the Tempest Double, or if Pudge is dead as the kill happens.
To gain a stack from outside the kill radius, Pudge has to make the killing blow himself. His summons or illusions do not count.
Denied enemy heroes grant a stack as well, as long as it happens within 450 range of Pudge.
Grants one stack for Meepo Clones, regardless of how many Clones were nearby.
The number of stacks and amount of strength gained can be seen on the status buff icon.
Upon leveling Flesh Heap, all stacks adapt to its new values.

Ejects the swallowed allied hero inside of you.

0

0
Replaces
Dismember
while the ally is swallowed, instead of being in a separate slot.
Allies emerge forever changed.
Notes:

Appears in the fourth ability slot when Dismember is cast on an allied hero.
Interrupts Pudge's channeling abilities upon cast.
If Pudge dies, the ally is automatically ejected.

Pudge chows down on an enemy unit, disabling it and dealing damage over time. Pudge gets healed for the same amount he damages. Lasts longer on creeps.
Aghanim's Shard Upgrade:
Grants the
Eject
ability.
Decreases cooldown, and allows targeting an ally with bonus cast range to swallow them and heal them for a percentage of their max health per second.

'When I'm through with these vermin, they'll be fit for a pie!'
Notes:

Pulls the target closer to Pudge at a speed of 75. The pull debuff disappears when the target gets within 125 range of Pudge.
Treats creep-heroes partly as heroes, and partly as creeps.

Uses the hero duration for creep-heroes, but uses the non-hero amount of ticks for them.
However, the damage per instance is calculated to match the total damage a hero would take, and not a creep.
Dismember deals a fixed amount of intervals spread evenly over its full duration, with the first tick happening immediately upon cast.
The damage and heal work independently from each other, meaning it always heals for the full amount per interval, regardless of how much damage the target takes.
Pudge's Dismember responses are global and audible to everyone, even through the Fog of War.
With Aghanim's Shard, Dismember can be cast on allied heroes, including clones and illusions, excluding creep-heroes.

Disjoints projectiles and applies a strong dispel on the target upon cast.
The allied hero is invulnerable, hidden and spell immune while swallowed.
The hero can simply get out of Pudge themself, by issuing any order

3

seconds after being swallowed.
Swallowing an ally grants Pudge the Eject sub-ability, allowing him to eject the ally at any time. This ignores the order lock duration.
Only one hero may be swallowed at a time. Swallowing a second hero automatically ejects the previous ally.
During Dismember, the allied hero is periodically moved to Pudge's current position. This means their auras are effectively bestowed around Pudge until ejected.
The periodic movement gets interrupted by teleport effects, without the ally getting ejected. They stay swallowed at the location they got teleported to.
Can fully regenerate the swallowed ally's health within

20

seconds.
Pudge receives the

hidden modifier

upon cast, which creates the visual effect above him, visible to allies only.
Dismember Calculations
[
]
Duration (s)
Intervals
Damage/Interval
Level 20 Talent
Level 25 Talent
Both Talents
Instances
Σ Damage
Against Heroes
3 (

3.8

)
0.6s (

0.54s

)
40/50/60 + 15%/30%/45%

38

/

47.5

/

57

+

14%

/

29%

/

43%

72

/

90

/

108

+

27%

/

54%

/

81%

68.4

/

85.5

/

102.6

+

26%

/

51%

/

77%

6 (

8

)
(Σ) 240/300/360 + 90%/180%/270%
(Σ)

304

/

380

/

456

+

114%

/

228%

/

342%

(Σ)

432

/

540

/

648

+

162%

/

324%

/

486%

(Σ)

547.2

/

684

/

820.8

+

205%

/

410%

/

616%

Against Non-Heroes
6 (

6.8

)
0.75s (

0.68s

)
53.33/66.67/80 + 20%/40%/60%

49.45

/

61.82

/

74.18

+

19%

/

37%

/

56%

96

/

120

/

144

+

36%

/

72%

/

108%

89.02

/

111.27

/

133.53

+

33%

/

67%

/

100%

9 (

11

)
(Σ) 480/600/720 + 180%/360%/540%
(Σ)

544

/

680

/

816

+

204%

/

408%

/

612%

(Σ)

864

/

1080

/

1296

+

324%

/

648%

/

972%

(Σ)

979.2

/

1224

/

1468.8

+

367%

/

734%

/

1102%

Against Creep-Heroes
6 (

6.8

)
0.75s (

0.68s

)
26.67/33.33/40 + 10%/20%/30%

27.64

/

34.55

/

41.45

+

10%

/

21%

/

31%

48

/

60

/

72

+

18%

/

36%

/

54%

49.75

/

62.18

/

74.62

+

19%

/

37%

/

56%

9 (

11

)
(Σ) 240/300/360 + 90%/180%/270%
(Σ)

304

/

380

/

456

+

114%

/

228%

/

342%

(Σ)

432

/

540

/

648

+

162%

/

324%

/

486%

(Σ)

547.2

/

684

/

820.8

+

205%

/

410%

/

616%
Talents
[
]
Notes:
The spell lifesteal talent stacks additively with other sources of spell lifesteal.
Recent Changes
[
]
Flesh Heap

No longer can be dispelled.
Reduced duration fom 7 on each level to 5/6/7/8.
Reduced mana cost from 50 on each level to 35/40/45/50.
Reduced cooldown from 30/25/20/15 to 20/18/16/14.
Level 25 left talent changed: +1.5 Flesh Heap strength per stack ➜ 1.6x Flesh Heap strength per stack and damage block bonuses.
Reduced base armor from 0 to -1.
Increased intelligence gain from 1.5 to 1.8
Flesh Heap

No longer grants magic resistance.
Reduced strength bonus per death from 1.5/2/2.5/3 to 1.1/1.4/1.7/2.
Added an active component to ability.
Can now be cast to grant damage block against all 3 damage types. Can be cast while channeling.

Active damage block: 5/10/15/20
Active duration: 7
Cooldown: 30/25/20/15
Mana cost: 50
Recommended Items
[
]
Starting items:
Early game:
Mid game:
Late game:
Spirit Vessel, upgraded from Urn of Shadows, grants Pudge more health and movement speed. The active ability damages and counters enemy healing, taking down targets easily in ganks.
Aghanim's Shard reduces the cooldown of Dismember and also allows him to target allies, healing them for 4% of their max health, which could help an ally survive or let them get back into a fight. The extra attributes, health, and mana are also useful for Pudge.
Situational items:
Gameplay
[
]
Audio
[
]
History
[
]
Equipment
[
]
Trivia
[
]
During The International 2015, Dendi wore a Pudge costume while playing in the All-Star Match.
Pudge's line upon landing a hook on an enemy Link▶️ Link▶️ Link▶️ "Get over here!" is a reference to the character Scorpion from the Mortal Kombat franchise, who uses the same line upon hitting his enemy with a similar hook ability.
Pudge's line Link▶️ "Keep calm and carrion!" is a play on the World War 2 British Propaganda phrase "Keep calm and carry on".
The reason Pudge's voice lines are done in a Cockney accent might be the popular rhyming slang term that stands for "look"; "butcher's hook", incidentally representing Pudge's signature move.
Gallery
[
]
References
[
]