Pudge
Pudge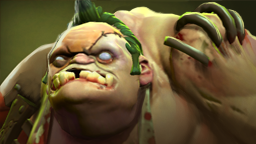 Pudge, the Butcher, is a melee strength hero feared for his incredible ganking prowess and risky, yet potentially rewarding playstyle.
Pudge is potentially one of the strongest gankers and disablers in the entire game, with his combo of three active abilities proving more than sufficient to kill fragile enemy heroes in the early and mid-game. His signature ability, Meat Hook, is a grapple that is thrown out in a straight line; if it snags a target, it will drag them back to Pudge, dealing enormous damage to it if it was an enemy. Although it can be difficult to land and often requires a good read on the enemy's movements, it is a very powerful ganking and initiation spell due to its ability to displace enemies, and also has the utility of being able to save an endangered ally. He can then follow up with his ultimate, Dismember, a channeled disable that deals further damage to the target over a few seconds and increases in lethality the more strength Pudge has, while also healing Pudge for its duration. During this period, he can activate Rot to deal even more damage while he is consuming his foe, and use it to slow and finish them off if they survive the initial assault. Rot is also a very potent ability even from the start of the game, as it can slow an enemy to a crawl and be used indefinitely as long as Pudge keeps pace with the enemy, making Pudge a strong roamer. To supplement his killing power is Flesh Heap. The scariest aspect of Flesh Heap though, is that it provides him with a permanent strength bonus with every kill that he participates in, making him harder to kill and increasing the damage of Dismember as the game goes on. A skilled Pudge player is feared by many, as he can quickly snowball out of control, cripple the enemy team, and become an unstoppable behemoth of rotting flesh.
Abilities
[
edit
]
Talents
[
edit
]
Recent Changes
[
edit
]
Recommended Items
[
edit
]
Starting items:
Early game:
Mid game:
Late game:
Spirit Vessel, upgraded from Urn of Shadows, grants Pudge more health and movement speed. The active ability damages and counters enemy healing, taking down targets easily in ganks.
Aghanim's Shard reduces the cooldown of Dismember and also allows him to target allies, healing them for 4% of their max health, which could help an ally survive or let them get back into a fight. The extra attributes, health, and mana are also useful for Pudge.
Situational items:
Gameplay
[
edit
]
| | |
| --- | --- |
| Roles: | Disabler Initiator Durable Nuker |
| Complexity: | ★★☆ |
| Playstyle: | The Butcher loomed over the field, strewn with dead and dying, his body swaying with heaped flesh. Swish, thunk. Pudge hacks tendon from joint, flesh from bone, and gobbles down his grisly harvest. But carcasses were no substitute for fresh meat. So the Butcher lies in wait, peering through foliage with beady eyes. Was it food or foe? Pudge rarely made the distinction. His Meat Hook sails through the air, dragging the prey across the river with a savage yank. Disoriented, the meat stumbles, gagging on a sudden stench of Rot. It looks up at the fleshy hulk, hoping for an answer, only to watch the cleaver fall as the Butcher Dismembers his next meal in a bloody slaughter. |
History
[
edit
]
Equipment
[
edit
]
During The International 2015, Dendi wore a Pudge costume while playing in the All-Star Match.
Pudge's line upon landing a hook on an enemy Link▶️ Link▶️ Link▶️ "Get over here!" is a reference to the character Scorpion from the Mortal Kombat franchise, who uses the same line upon hitting his enemy with a similar hook ability.
Pudge's line Link▶️ "Keep calm and carrion!" is a play on the World War 2 British Propaganda phrase "Keep calm and carry on".
The reason Pudge's voice lines are done in a Cockney accent might be the popular rhyming slang term that stands for "look"; "butcher's hook", incidentally representing Pudge's signature move.
Gallery
[
edit
]
References
[
edit
]