Primal Beast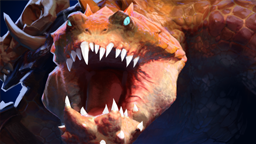 Stomps over everything and smashes enemies into messy bits.
An ancient beast awakened from a long slumber, he uses a wide array of savagely cunning abilities which can impede the enemy groups.

Rushing

savagely through enemies and allies alike, Primal Beast

Tramples

into battle as one born to raise a ruckus. An unavoidable threat amidst any fray, the

Uproared

Beast can punish attackers. It relishes grabbing prey and

Pulverizing

them against the ground until nothing but mush remains. A fearsome beast, the Primal Beast shows no mercy to his helpless prey as the epitome of a true apex predator.
Roles:
Initiator Durable Disabler
Complexity:
★☆☆
Bio
[
]
Abilities
[
]
Uproar Calculations
[
]
Uproar Bonus Attack Damage at nth Stack
Level
1
2
3
4
5
Level 1
20
30
40
50
60
Level 2
35
55
75
95
115
Level 3
50
80
110
140
170
Level 4
65
105
145
185
225
Uproar Bonus Armor at nth Stack
Level 1
1
(

4

)
2
(

8

)
3
(

12

)
4
(

16

)
5
(

20

)
Level 2
2
(

5

)
4
(

10

)
6
(

15

)
8
(

20

)
10
(

25

)
Level 3
3
(

6

)
6
(

12

)
9
(

18

)
12
(

24

)
15
(

30

)
Level 4
4
(

7

)
8
(

14

)
12
(

21

)
16
(

28

)
20
(

35

)
Uproar Movement Speed Slow at nth Stack
All Levels
8%
16%
24%
32%
40%
Talents
[
]
Recent Changes
[
]
Recommended Items
[
]
Starting items:
Early game:
Mid game:
Black King Bar is important against heroes who can disrupt Primal Beast from casting his spells for maximum damage. It's also very handy if you find yourself in over your head, as a simple bkb tp might save you due to your high health.
Vanguard or Hood of Defiance can be terrifying for your opponent and you will usually want one of these.
Kaya and Sange is a very good option because it can be disassembled into two very good items on Primal Beast, Ethereal Blade and Heaven's Halberd.
Late game:
Heart of Tarrasque grants Primal Beast a significant amount of health, damage and regeneration. In addition to this, as with all strength, damage, and movement speed increases, this item will synergise well with Trample.
Ethereal Blade can be upgrade from Kaya and provides a way to both prevent right clicks and slow enemies while amplifying your spells' damage. It can also be used in a pinch to save allies if need be.
Situational items:
Gameplay
[
]
Audio
[
]
History
[
]
Equipment
[
]
Trivia
[
]
The Primal Beast first debuted in Aghanim's Labyrinth: The Continuum Conundrum as the event's final boss, appearing several months before he was released as a playable hero.
The Primal Beast wears three skulls on the "barding" that he wears as a sign of his previous imprisonment, possibly as trophies.

Connected to one of his back-plates is the skull of what appears to be a Slithereen, Slardar's race.
Shackled to his left leg is the skull of what appears to be a rhino's resembling that of Frull's, the Shopkeeper's trusty beast of burden. Often mistaken for Magnus' skull, the longer skull and the hole in its horn where her ring is supposed to be is proof that this is indeed Frull's skull, two features that Magnus lacks.
On his right shoulder is a another rhinolike skull. This one may or may not be a Magnoceroi skull.
Gallery
[
]
References
[
]