Pig Pole

A makeshift charm misplaced by a peace-loving, addlebrained enchanter.
Cost
N/A
Neutral Drop Only
The Pig Pole is a Tier 1 neutral item dropped by neutral creeps.
Additional Information
[
]
Ability
[
]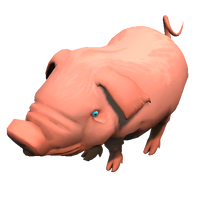 Notes:

Interrupts the user's channeling abilities upon cast.
Pig, Out! transforms the user into a pig.

However, the model is affected by the user's cosmetic items that change Hex models.
Trivia
[
]
This item's internal name is "Unstable Wand".
Gallery
[
]
Recent Changes
[
]
Items
Basics

Consumables
Attributes
Equipment
Miscellaneous
Secret Shop

Upgrades

Accessories
Support
Magical
Armor
Weapons
Artifacts

Neutral

Tier 1
Tier 2
Tier 3
Tier 4
Tier 5
Removed

Tier 1
Tier 2
Tier 3
Tier 4
Tier 5

Others

Roshan Drop
Hidden Items
Unreleased Items
Removed (Dota 2)
Removed (DotA)