Phoenix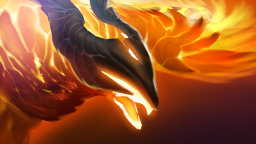 Heals and damages at the sacrifice of its own health.
With stellar flame emanating from its terrestrial form, the

Icarus Dives

the battlefield in an arc, setting ablaze all who pass beneath its wings. Within its ever-collapsing core sprang short-lived

Fire Spirits

, paroxysms of conscious light that burned with debilitating flame. From afar the firebird beams its

Solar Flames

, scorching foes, yet nurturing allies. By its own celestial timing, the son of suns ends its current life in a

Supernova

, radiating intense heat until the mass explodes, restoring Phoenix to its form through the glory of rebirth.
Roles:
Support Nuker Initiator Escape Disabler
Complexity:
★★☆
Bio
[
]
Abilities
[
]
Talents
[
]
Recent Changes
[
]
Recommended Items
[
]
Starting items:
Early game:
Tranquil Boots gives health regeneration to offset the health costs of Phoenix's abilities, especially when firing Sun Ray. The high movement speed bonus allows Phoenix to travel to the right lanes or teamfights as quickly as possible.
Magic Stick provides burst health and mana so Phoenix can stay alive and use abilities.
Urn of Shadows restores health followed hero deaths, or perhaps adds more DPS to help with ganks. The mana regeneration also sustains abilities.
Mid game:
Late game:
Shiva's Guard has attack speed slow aura that aids in the Phoenix Sun's survivability. Use Arctic Blast right before Supernova to slow enemy movement speed, keeping them in range of the Sun. Since Arctic Blast takes more than 2 seconds to build up to maximum radius, activate it a little while before Icarus Dive to cover as much area as possible during the dive.
Lotus Orb increases Phoenix's survivability by giving it armor and regeneration. Its active ability dispels silences and other debuffs, and may deter enemy heroes from placing targeted abilities on Phoenix for fear of reflection.
Situational items:
Gameplay
[
]
Audio
[
]
History
[
]
Equipment
[
]
Trivia
[
]
Phoenix's name in DotA was Icarus. It was removed during its port to Dota 2 for unspecified reasons. However, Icarus Dive still makes use of it.
Gallery
[
]