Phoenix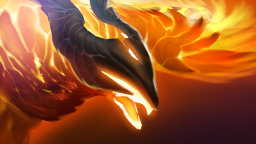 Phoenix is a flexible and unique ranged strength hero with a plethora of powerful abilities that inflict heavy damage over time on its opponents at the cost of its own health. It can be played as either a support, initiator, or semi-carry. Icarus Dive can serve as either a harassment tool, an initiating maneuver, or an escape mechanism, all the while slowing and damaging opponents in its path, while its Fire Spirits burn and cripple the opponent's attack speed, making it a potent anti-carry. Sun Ray projects a powerful beam in front of Phoenix that burns enemies for a percentage of their maximum health while sacrificing some of its own health; and, if it ever sees fit, it can end its current life to turn into a searing Supernova. Surviving this stage of its life cycle allows Phoenix to reemerge in full strength, stunning all nearby opponents and with all non-ultimate and non-item cooldowns refreshed, ready to inflict havoc on its foes once again.
Bio
[
]
Abilities
[
]
Talents
[
]
Recent Changes
[
]
Recommended Items
[
]
Starting items:
Early game:
Tranquil Boots gives health regeneration to offset the health costs of Phoenix's abilities, especially when firing Sun Ray. The high movement speed bonus allows Phoenix to travel to the right lanes or teamfights as quickly as possible.
Magic Stick provides burst health and mana so Phoenix can stay alive and use abilities.
Urn of Shadows restores health followed hero deaths, or perhaps adds more DPS to help with ganks. The mana regeneration also sustains abilities.
Mid game:
Late game:
Shiva's Guard has attack speed slow aura that aids in the Phoenix Sun's survivability. Use Arctic Blast right before Supernova to slow enemy movement speed, keeping them in range of the Sun. Since Arctic Blast takes more than 2 seconds to build up to maximum radius, activate it a little while before Icarus Dive to cover as much area as possible during the dive.
Lotus Orb increases Phoenix's survivability by giving it armor and regeneration. Its active ability dispels silences and other debuffs, and may deter enemy heroes from placing targeted abilities on Phoenix for fear of reflection.
Situational items:
Gameplay
[
]
| | |
| --- | --- |
| Roles: | Support Nuker Initiator Escape Disabler |
| Complexity: | ★★☆ |
| Playstyle: | Out of the deep void burst forth infinite stars, among them the cosmic progeny known to mortals as Phoenix. With stellar flame emanating from its terrestrial form, the Phoenix dives the battlefield in an arc, setting ablaze all who pass beneath its wings. Within its ever-collapsing core sprang short-lived Fire Spirits, paroxysms of conscious light that burned with debilitating flame. From afar the firebird beams its Sun Ray, scorching foes, yet nurturing allies. By its own celestial timing, the son of suns ends its current life in a Supernova, radiating intense heat until the mass explodes, restoring Phoenix to its form through the glory of rebirth. |
Audio
[
]
History
[
]
Equipment
[
]
Trivia
[
]
Phoenix's name in DotA was Icarus. It was removed during its port to Dota 2 for unspecified reasons. However, Icarus Dive still makes use of it.
An easter egg boss fight versus Phoenix was added to the 6.69 DotA map to hint at its upcoming release in 6.70.
Gallery
[
]