Pangolier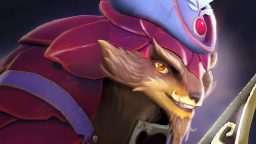 Donté Panlin, the Pangolier, is a melee agility hero. Due to his aggressive and brawling-oriented nature, he is best played in a position where he can quickly get an item advantage over the enemy. Perhaps his most iconic skill is the vector-targeted Swashbuckle, a trickster's tool for swordplay and mobility. Other tools in his kit include Shield Crash, which deals an area nuke and provides him with incoming damage reduction for each enemy hero hit, Lucky Shot, giving his attacks a chance to disarm, and Rolling Thunder, during which he curls into an unstoppable rolling ball which stuns and knocks back anything it hits, at the cost of a decreased turn rate.
Pangolier does not need to be facing towards a unit in order to move, attack, use abilities, or items.
Bio
[
]
Abilities
[
]
Talents
[
]
Recent Changes
[
]
Recommended Items
[
]
Starting items:
Early game:
Quelling Blade helps Pangolier lasthit by granting bonus damage against creeps.
Boots of Speed grant movement speed to chase enemies.
Magic Wand increases Pangolier's sustainability with attributes, as well as providing burst health and mana.
Mid game:
Late game:
Monkey King Bar, built from Javelin, provides Pangolier with accuracy in addition to the bonus damage from Pierce.
Abyssal Blade helps lock enemies down with stun; it can also proc Bash from a distance by using Swashbuckle.
Boots of Travel allow Pangolier to get around the map quickly, aiding his team in fights with low-cooldown abilities.
Situational items:
Gameplay
[
]
| | |
| --- | --- |
| Roles: | Carry Nuker Disabler Durable Escape Initiator |
| Complexity: | ★★☆ |
| Playstyle: | Fond of wine, women, and danger, the gallant Donté Panlin goes wherever adventure calls. Dropping into the fight with a Shield Crash, the Pangolier Swashbuckles his way to glory as he fends off attacks with his scaly plates. His rapier's pointed tip finds the weakness in any defense, delivering Lucky Shots cripple and maim. Curling up into an impenetrable ball, the rascally rogue's Rolling Thunder plows through the battlefield, slamming foes aside and clearing the path to victory. |
Audio
[
]
History
[
]
Equipment
[
]
Trivia
[
]
Pangolier is sometimes labeled in the game files as Armadillo, and other times as Pangolin.
Pangolier speaks some French phrases, and has a French accent.
A swashbuckler is an heroic archetype in European adventure literature that is typified by the use of a sword and chivalric ideals.
Pangolier's character was likely partially inspired by The Three Musketeers' D'Artagnan (for his mannerism, hot-hotheadedness, and French phrases) and Zorro.
Some of Pangoliers abilities have different names in the game files:
Rolling Thunder was the name of an American bombing campaign during the Vietnam War.
Pangolier's response to killing Kunkka Link▶️ "What to do with a drunken sailor? Simple. Stab him in the heart." refers to the famous folk song/sea shanty Drunken Sailor (Also known as What Shall We Do with a/the Drunken Sailor?).
Pangolier's response to meeting Death Prophet as ally Link▶️ "Try to look on the bright side of life." is a reference to Eric Idle's famous song Always Look On The Bright Side Of Life, featured in the classic Monty Python movie Life of Brian IMDB.
Pangolier's response to meeting ally Lion Link▶️ "Which level of hell is your favorite, Lion? I prefer the second. Or perhaps the seventh." alludes to Dante Alighieri's famous work: Divine Comedy. There are Nine Circles of Hell in Dante's work: the second is Lust, and the seventh is Violence, indicative of Pangolier's personality. Pangolier's name Donté Panlin also bears resemblance to Dante Alighieri.
Pangolier's rivalry response towards Witch Doctor Link▶️ "In my professional opinion? You're dead." is a direct quote from the Medic from Team Fortress 2.[1]
Gallery
[
]
External links
[
]
References
[
]