Pangolier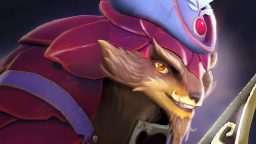 Dashes and rolls in to disrupt enemy movements.
Fond of wine, women, and eager to dash into danger at a moment's notice, the Pangolier can

Swashbuckle

and hold his own. He thrives on disrupting enemy movements and placing himself in the midst of chaos. Artfully guiding his rapier between cracks in armor as he fends off attacks with his

Protective Scales

, this graceful swordsman is always ready to

Roll

into the battlefield,

Slamming Foes

aside and clearing the path to victory.
Roles:
Carry Nuker Disabler Durable Escape Initiator
Complexity:
★★☆
Bio
[
]
Abilities
[
]
Talents
[
]
Recent Changes
[
]
Recommended Items
[
]
Starting items:
Early game:
Quelling Blade helps Pangolier lasthit by granting bonus damage against creeps.
Boots of Speed grant movement speed to chase enemies.
Magic Wand increases Pangolier's sustainability with attributes, as well as providing burst health and mana.
Mid game:
Late game:
Monkey King Bar, built from Javelin, provides Pangolier with accuracy in addition to the bonus damage from Pierce.
Abyssal Blade helps lock enemies down with stun; it can also proc Bash from a distance by using Swashbuckle.
Boots of Travel allow Pangolier to get around the map quickly, aiding his team in fights with low-cooldown abilities.
Situational items:
Gameplay
[
]
Audio
[
]
History
[
]
Equipment
[
]
Trivia
[
]
Pangolier is sometimes labeled in the game files as Armadillo, and other times as Pangolin.
Pangolier speaks some French phrases, and has a French accent.
A swashbuckler is an heroic archetype in European adventure literature that is typified by the use of a sword and chivalric ideals.
Pangolier's character was likely partially inspired by The Three Musketeers' D'Artagnan (for his mannerism, hot-hotheadedness, and French phrases) and Zorro.
Some of Pangoliers abilities have different names in the game files:
Rolling Thunder was the name of an American bombing campaign during the Vietnam War.
The name of Rolling Thunder references a scene in the anime Haikyu!! -- During a practice session, Nishinoya, who has a quirky habit of spontaneously coming up with ridiculous names for the moves he executes while practicing receives, enthusiastically yells "Rolling Thunder" while rolling on the floor and receiving a ball at the same time, shocking his teammates into silence. The other characters laughs at his receive and asks where the "thunder" is as it's only a normal rolling recieve.
Pangolier's response to killing Kunkka Link▶️ "What to do with a drunken sailor? Simple. Stab him in the heart." refers to the famous folk song/sea shanty Drunken Sailor (Also known as What Shall We Do with a/the Drunken Sailor?).
Pangolier's response to meeting Death Prophet as ally Link▶️ "Try to look on the bright side of life." is a reference to Eric Idle's famous song Always Look On The Bright Side Of Life, featured in the classic Monty Python movie Life of Brian IMDB.
Pangolier's response to meeting ally Lion Link▶️ "Which level of hell is your favorite, Lion? I prefer the second. Or perhaps the seventh." alludes to Dante Alighieri's famous work: Divine Comedy. There are Nine Circles of Hell in Dante's work: the second is Lust, and the seventh is Violence, indicative of Pangolier's personality. Pangolier's name Donté Panlin also bears resemblance to Dante Alighieri.
Pangolier's rivalry response towards Witch Doctor Link▶️ "In my professional opinion? You're dead." is a direct quote from the Medic from Team Fortress 2.[1]
Gallery
[
]
External links
[
]
References
[
]