Omniknight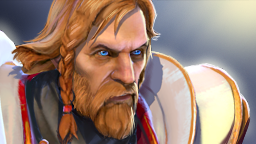 Tanky frontliner who protects and heals his allies.
A guardian at the front lines of battle, Omniknight is always eager to join his team in battle. Whether healing an ally with the light of

Purification

that also harms nearby foes, protecting his allies with the All Seeing One's

Heavenly Grace

, or battering an enemy with his

Mighty Hammer

. In decisive moments of battle, he calls forth the

Guardian Angel

, granting himself and nearby allies near invulnerability, nullifying the enemies' damage output for a short time.
Roles:
Support Durable Nuker
Complexity:
★☆☆
Bio
[
]

Purist Thunderwrath, the Omniknight
Purist Thunderwrath was a hard-fighting, road-worn, deeply committed knight, sworn to the order in which he had grown up as squire to elder knights of great reputation. He had spent his entire life in the service of the Omniscience, the All Seeing One. Theirs was a holy struggle, and so embedded was he in his duty that he never questioned it so long as he had the strength to fight and the impetuous valor that comes with youth. But over the long years of the crusade, as his elders passed away and were buried in sorry graves at the side of muddy tracks, as his bond-brothers fell in battle to uncouth creatures that refused to bow to the Omniscience, as his own squires were chewed away by ambush and plague and bad water, he began to question the meaning of his vows--the meaning of the whole crusade.

After deep meditation, he parted ways with his army and commenced a long trek back to the cave-riddled cliffs of Emauracus, and there he set a challenge to the priests of the Omniscience. No knight had ever questioned them before, and they tried to throw him into the pit of sacrifice, but Purist would not be moved. For as he faced them down, he began to glow with a holy light, and they saw that the Omniscience had chosen to reveal Itself to him. The Elder Hierophant led him on a journey of weeks down into the deepest chamber, the holy of holies, where waited not some abstract concept of wisdom and insight, not some carved relic requiring an injection of imagination to believe in, but the old one itself. It had not merely dwelt in those rocks for billions of aeons; no, It had created them.

The Omniscience had formed the immense mineral shell of the planet around itself, as a defense against the numerous terrors of space. Thus the All Seeing One claimed to have created the world, and given the other truths revealed to Purist on that day, the knight had no reason to refute the story. Perhaps the Omniscience is a liar, deep in its prison of stone, and not the world's creator at all, but Omniknight never again questioned his faith. His campaign had meaning at last. And there can be no question that the glorious powers that imbue him, and give his companions such strength in battle, are real beyond any doubt.
Abilities
[
]

Instantly heals a friendly unit and damages all nearby enemy units.
Can be cast on spell immune allies.
Does not affect spell immune enemies.
Priests of the Omniscience are adept at removing impurities from fellow warriors.
Notes:

The targeting reticule must be centered over an allied unit.
Despite the visual effects, the damage is applied instantly to all enemy units within range of the target.

Applies a strong dispel on an ally and grants both them and Omniknight bonus Strength and HP Regen based on the amount of Debuffs dispelled.
Base Strength Bonus:
8/18/28/38
Base Health Regen Bonus:
8/12/16/20

modifier_omniknight_martyr
The All Seeing One casts down his protection over those that Purist calls friends.
Notes:

When cast on an ally, Omniknight receives the buff as well, but not the dispel.
Heavenly Grace first applies the buff, and then the strong dispel on the target.
Heavenly Grace effectively grants the following bonuses per dispelled debuff:
Can regenerate up to 88/138/188/238 + 33/44/55/66 (

77

/

88

/

99

/

110

) per dispelled debuff health over its full duration.

With the

duration increasing

talent, it can regenerate up to 123.2/193.2/263.2/333.2 + 46.2/61.6/77/92.4 (

107.8

/

123.2

/

138.6

/

154

) per dispelled debuff health over its full duration.
Multiple instances of Heavenly Grace do not stack, only its duration gets refreshed and bonuses updated.
The

strength

talent immediately updates all currently active buffs.
Omniknight fires his hammer to a target to deal pure damage based on a percentage of his base damage and slows the target
Base Damage:
50/75/100/125
Move Speed Slow:
14%/22%/30%/38%


modifier_projectile_vision
modifier_omniknight_hammer_of_purity_bomb
Notes:

The projectile travels at a speed of 1200.
The damage is based on Omniknight's main attack damage. Other attack damage bonuses are ignored.

This means the

base attack damage granting

talent affects Hammer of Purity's damage as well.
Considers the minimum and maximum damage values of Omniknight, so the damage varies like how regular attacks do.
Hammer of Purity first applies the debuff, then the damage.

Greatly degenerates the movement capabilities of enemy units that stray too near.

modifier_omniknight_degen_aura
modifier_omniknight_degen_aura_effect
The holy embodiment of Purist Thunderwrath is enough to weaken those of lesser faith.
Notes:

The aura's debuff lingers for 1 second.

Omniknight calls upon a Guardian Angel that grants allies immunity from physical damage.
Increases duration, provides Status Resist, radius becomes global and affects buildings.
Aghanim's Shard Upgrade:

modifier_omninight_guardian_angel
The All Seeing One casts down his protection over those that Purist calls friend.
Talents
[
]
Notes:
This attack damage talent is added as base attack damage.

It benefits illusions, and is affected by every percentage-based damage increasing or reducing effects.
Recent Changes
[
]
Increased Heavenly Grace mana cost from 80/90/100/110 to 95/105/115/125.
Degen Aura is no longer a basic ability.
Reworked Hammer of Purity, and moved it to the 3rd ability slot. This is now a basic ability.
Increased base armor from 1 to 2.
Increased Degen Aura movement speed slow from 10%/19%/28%/37% to 14%/22%/30%/38%.
Recommended Items
[
]
Starting items:
Early game:
Boots of Speed are important on Omniknight as he can use them to take advantage of Degen Aura to slow enemies down, whether while pursuing during a gank or body-blocking chasing enemies attempting to kill your carry. As all of Omniknight's spells are very position-dependent, increasing his movement speed should be a major priority.
Magic Stick is very useful on Omniknight due to his small mana pool. Having the ability to give yourself 150 mana can easily be the difference between being able to cast your spells or not.
Urn of Shadows is a powerful support item that enhances Omniknight's ability to heal teammates and inflict magic damage. The item grants more strength, increasing Omniknight's HP and base damage, and some mana regen to help him manage his mana pool more efficiently. The active allows Omniknight to utilize yet another heal, or deal more magic damage in fights on top of Purification.
Mid game:
Late game:
Guardian Greaves are a strong item to purchase on Omniknight in the late game, as he often builds a Mekansm and Arcane Boots already. Combining the two items into one inventory slot frees up space for more items in the late game, eliminates Mekansm's mana cost and strengthens its aura even further. As well, the self-dispel can allow Omniknight to instantly remove debuffs from himself that may be preventing him from contributing effectively in teamfights.
Aghanim's Scepter upgrades Guardian Angel into a global ability, giving it much greater utility as Omniknight doesn't need to be with his teammates for them to benefit from it, as well as bestowing physical immunity to all allied buildings. It also grants him additional attributes, health and mana.
Lotus Orb allows Omniknight to greatly hinder enemies' attempts to focus down him or a teammate. The item's bonuses give Omniknight more armor and mana regen, increasing his durability and letting him cast his spells more frequently. Using Echo Shell on himself or a teammate in a fight allows him to use his enemies' disables and magical nukes against themselves, slowing the pace of a battle down and giving him more time to use his defensive spells.
Situational items:
Gameplay
[
]
Audio
[
]
History
[
]
Equipment
[
]
Trivia
[
]
Some parts of Omniknight's bio are a reference to the bible story of Daniel in the Lion's Pit. Daniel was thrown into the lion's den for praying to God and challenging Darius' command not to do so, but God prevented the lions from harming Daniel, saving his life. Similarly, Omniknight was to be thrown to the pit of sacrifice for challenging his priests but the Omniscience revealed itself, saving Purist.
His response "Link▶️ I have gazed into the omniscience, and it has gazed into me." is a reference to German philosopher Nietzsche's quote "If you gaze long into an abyss, the abyss will gaze back into you".
His kill response "Link▶️ You chose poorly." and item purchase response "Link▶️ I chose wisely." are references to Indiana Jones and the Last Crusade.
Many of Omniknight's responses refer to the Bible or Christianity in general: e.g. confessing sins, having demons as nemeses, chastising Dazzle for using dark powers to heal, disliking Necronomicon (as its powers are demonic), using "omniscient" and "light" to describe his God, his death animation (with arms forming a cross, as a reference to the Crucifixion of Christ), etc. "Link▶️ A narrow path." refers to Matthew 7:14.
Omniknight's nickname is "Chuck Norris", due to the similarities in appearance and the power of his abilities. As well, when he was first added to Dota 2 there was a bug that caused him to always say the voice line Link▶️ "Fear nothing!"
Omniknight originally held and swung his hammer with one hand. This was changed after community feedback.
Omniknight's battle begin line Link▶️ "The Omniscience may spare them, but I will not." is a reference to General Patton's quote "May God have mercy upon my enemies, because I won't."
Heavenly Grace's internal name in the game files is "Martyr".
Gallery
[
]