Ogre Magi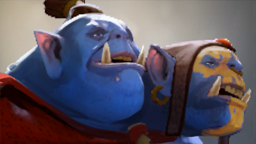 Uses a touch of luck to amplify his skills.
Ogres were not known for their intelligence. Thankfully, a two-headed ogre is born once every generation, a blessed individual whose combined brainpower puts him on par with the dullest of single-headed creatures. What he lacks in wits, he makes up for with luck. The Ogre Magi possesses an innate chance to

Multicast

each ability they cast,

Ignite

enemies to cinder, quashing enemies by doubling, tripling, even quadrupling the damage from an

Unrefined

and simple

Fireblast

, boosting the power of his allies in a frenzied

Bloodlust

or protecting them in

Orbs of Fire

. Of course, luck can be difficult to rely upon...
Roles:
Support Nuker Disabler Durable Initiator
Complexity:
★☆☆
Bio
[
]
Abilities
[
]
Talents
[
]
Recent Changes
[
]
Recommended Items
[
]
Starting items:
Early game:
Boots of Speed increases movement speed so Ogre Magi can catch up to enemies.
Magic Stick helps to supplement your low mana pool for more spell casts; it can also be turned into Magic Wand later on.
Mid game:
Magic Wand offers more burst health and mana than Magic Stick, a direct upgrade.
Arcane Boots give you plenty of mana for all of your spells, and also help more mana-hungry teammates.
Force Staff gives Ogre much needed mobility to keep with foes or escape from fights, as well as slightly increasing your mana pool.
Late game:
Aghanim's Scepter not only gives you a good attribute increase, but also increases your nuking and disabling power in the form of Unrefined Fireblast.
Aether Lens increase the casting range of all of your abilities and items, meaning you can stay in the back of fights and cast spells, and gives you even more mana.
Ghost Scepter protects Ogre Magi from physical attacks later in the game, and also gives bonus attributes.
Situational items:
Gameplay
[
]
Audio
[
]
History
[
]
Equipment
[
]
Gallery
[
]