Nyx Assassin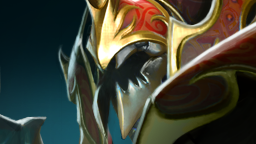 Reflects enemy damage and stuns.
Within the colony of zealot scarabs, the queen goddess Nyx selected a single grub to answer her highest calling. And so, through designed metamorphosis, the Nyx Assassin came into being. The telepathic scarab

Devours and Burns

his prey's minds, while sending out rows of subterranean spikes to

Impale

them from below. Armored with a

Reflecting Carapace

, he stuns attackers and reverses any counterattack. But the goddess' servant is deadliest when unseen. A distracted target has no chance to react as the Nyx Assassin pierces its body with massive mandibles, thereby fulfilling an unspoken

Vendetta

in the name of his queen.
Roles:
Disabler Nuker Initiator Escape
Complexity:
★★☆
Bio
[
]
Abilities
[
]
Talents
[
]
Recent Changes
[
]
Recommended Items
[
]
Starting items:
Early game:
Boots of Speed allows Nyx Assassin to chase or flee enemies more easily, and is important for getting within range to cast Impale on a gank target.
Urn of Shadows is important to get early on Nyx Assassin, as he can easily get charges from successful ganks. It provides some cheap stats and armor, as well as mana regen for sustaining his mana pool. The charges can be used to restore any HP lost during a gank, or can be used to add more damage to a future gank to increase the odds of success.
Magic Stick and Magic Wand gives burst health and mana, useful for Nyx Assassin to cast spells continually.
Mid game:
Arcane Boots are crucial to obtain in order to allow Nyx Assassin to roam for ganks. It increases the size of Nyx Assassin's mana pool, allowing him to more easily cast his full combo of spells, and boosts his movement speed slightly to provide extra mobility. Most importantly, the active allows Nyx Assassin to replenish his own mana pool in order to ensure that he is able to continue roaming without needing to return to base as often.
Ghost Scepter is a useful item should Nyx be focused by auto attacks, being usable in tandem with Spiked Carapace for additional survivability, as well as building into Ethereal Blade.
Blink Dagger greatly increases Nyx Assassin's mobility, allowing him to jump on top of enemies and initiate without relying on Vendetta. In particular, being able to quickly re-position to cast Impale can allow Nyx Assassin to stun multiple enemy heroes at the start of a fight, and in a pinch Spiked Carapace can be used to prevent enemy initiating nukes from putting it on cooldown.
Meteor Hammer is useful on Nyx for two reasons: to speed up farming for other items, and to pair with Impale for extended stun duration and massive bonus damage dealt to your target of choice. The extra building damage also helps whenever your team needs to push.
Late game:
Aghanim's Scepter unlocks Burrow, which can give Nyx Assassin a strong tactical advantage against certain enemies. It also improves his overall attributes, aiding in his survivability and buffing up his mana pool.
Situational items:
Gameplay
[
]
Audio
[
]
History
[
]
Equipment
[
]
Trivia
[
]
Nyx Assassin's original name was Anub'arak, and he was titled "Nerubian Assassin". Both were changed in the transition to Dota 2 due to copyright reasons.

Anub'arak is a character of Blizzard's franchise "Warcraft", who first appeared in the campaign of Warcraft III: The Frozen Throne. He was the king of the Nerubians, a race of malevolent arachnids who were slain and raised as undead.

Nyx Assassin's fun name in DotA was Anoob'arak.
Gallery
[
]