Naga Siren
Naga Siren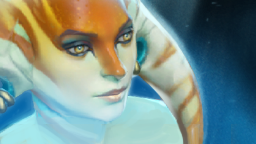 Slithice, the Naga Siren, is a melee agility hero who can be played both as a late-game carry and an early/mid-game support. Slithice is an item dependent hero yet with the right style and inventory choices she can overpower many other heroes that deal strong physical damage while casting her active abilities to handle her enemies altogether and turn the tides. Mirror Image creates three illusions to wreak havoc upon her enemies. Ensnare is a very useful spell with several unique features. It not only holds an enemy in place, but also prevents them from blinking and going invisible. Rip Tide calls the forces of the seas, allowing the Siren and her illusions to unleash a wave of magical water to wash away foes and degrade their armor. The Song of the Siren is the ultimate ability for team battles; Naga Siren performs a mystical song to put her enemies to sleep in an area around her. Song of the Siren is her tool for initiation, as while her enemies are under her slumber her allies can come forth and prepare to unleash their attacks after the song wears off. Time is Naga's best friend, for as the game wears on, Slithice will gradually consume more and more of the map and engulf enemy towers and heroes like the rising tide itself.
Abilities
[
edit
]
Talents
[
edit
]
Recent Changes
[
edit
]
Recommended Items
[
edit
]
Starting items:
Tango provides needed health regeneration during the laning phase.
Healing Salve also restores health early on.
Early game:
Bottle helps with sustain and rune control when farming the mid lane.
Boots of Speed provides movement speed so Naga Siren can walk to her farm.
Mid game:
Power Treads give agility and attack speed, benefiting illusions as well, to proc Rip Tide.
Diffusal Blade gives her more damage, armor and attack speed, as well as Manabreak on attacks which greatly boosts damage output of her and her illusions.
Manta Style gives her good attribute bonuses as well as the ability to summon more illusions.
Late game:
Octarine Core reduces the cooldowns of Naga Siren's abilities, greatly improving her pushing power and making her much harder to gank. The Spell Lifesteal has little effect on her own abilities, but can be combined with Radiance to let her illusions shrug off damage from creeps.
Situational items:
Gameplay
[
edit
]
| | |
| --- | --- |
| Roles: | Carry Support Pusher Disabler Initiator Escape |
| Complexity: | ★★☆ |
| Playstyle: | Once a highly regarded commander of the Slithereen Guard, Slithice fell from honor following a seemingly trivial oversight. She was to find the one stolen chalice, or remain banished forever. Slithice splits into three Mirror Images, sending them to scout ahead and mislead foes. She Ensnares targets in a luminous net, then lashes out with Rip Tide to soften their armor. The enemy halts in mid-swing, lowering their weapons at the sound of a haunting aria. There they will stand, mesmerized, unresponsive to Slithice's encircling allies as they listen to the Siren Song that has lulled them to their deaths. |
History
[
edit
]
Equipment
[
edit
]
The DotA Naga Siren from Warcraft universe sports the same weapons as Slithice, the only difference being that the DotA version had one weapon, and four arms, while the Dota 2 has two weapons and two arms.
Gallery
[
edit
]
References
[
edit
]