This article is about Tiny, The Mountain Giant; a removed Hero from DotA Allstars. For the Dota 2 Hero, see
Tiny
.

Mountain Giant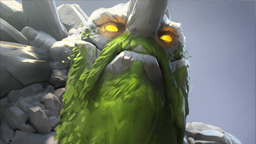 Tiny, Mountain Giant was a hero which was removed in the Version 4.1beta01 gameplay patch.
Bio
[
]
Tiny, the Mountain Giant
Lore:
Massive hero, adept at tanking. Can learn Troll's Regeneration, Rock Throw, Thunder Clap, and Mammoth.
Abilities
[
]
Notes:

The projectile travels at a speed of 1000.

Move Speed Slow:
25%/35%/45%/55%
Attack Speed Slow:
25/35/45/55
Hero/Creep Slow Duration:
4/8

10

Modifiers
Notes:

The clap first applies the debuff, then the damage.

Tiny's skin grows tough, like a troll's. Increases his hit point regeneration rate.

Tiny gains craggy mass, increasing his attack damage, and armor, while slowing his attack speed.
Notes:

Each level changes Tiny's appearance, making him bigger.
The attack damage bonus is directly added to the main attack damage value, and therefore does not count as a raw attack damage bonus.

This means it fully benefits from percentage-based attack damage bonuses.
This also means that Tiny's illusion benefit from it as well.
Replaced abilities
[
]

Armor made from the hides of dragons.
Notes:

Causes the user's model size to increase by 30% for its duration. This has no impact on its collision size.
For more details, including a list of spells which are not blocked, see Spell immunity.

When killed this hero will come back to life.
Notes:

Reincarnation cannot be prevented in any way.
Provides

1800

/

800

ground vision at the death location during its delay.
This Ability initially just had 2 levels (240/150 cooldown)
Notes:

Pre 0.96b, Mountain Giant had 2 ultimates, one being this, the other being Reincarnation, Giant Strength was removed in the Version 0.96b leaving Tiny, The Mountain Giant with only 3 abilities.
Only increases base damage and that given by the primary attribute of Tiny. Raw bonus damage is not increased.
Version history
[
]