Mortal Team Work
Germany
Created:
1998
Disbanded:

2013-01-27

Team Information
Sponsor(s):
Sennheiser, XMG, OCZ Technology, Kaspersky, EIZO, SPEEDLINK
Links
Website:
http://www.mymtw.com
Winnings
Prizemoney:
$0 USD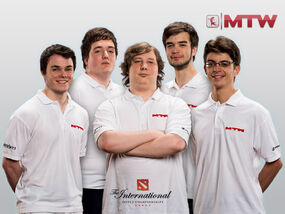 Mortal Team Work (mTw) was a German based e-sport organization.
History
[
]
In 2011, Wild Honey Badgers, who won the Dreamhack Winter 2011 Corsair Vengeance Cup was picked up by Mortal Team Work as their Dota 2 team.
In 2012, the Western Wolves lineup was added to mTw, with only syndereN left from the original mTw lineup. After the roster change, mTw managed to come back from the loser's bracket in The International 2012 Western Qualifier. Shortly after, the team participated in the Dreamhack Summer 2012 Corsair Vengeance Cup where they managed to outclass most of their opponents, eventually turning around a 0-1 deficit against Natus Vincere in the finals to take home the crown.
In September 2012, the team disbanded, with only syndereN remaining.
The new roster was confirmed on October 31, 2012 and saw the return of former mTw players Matrim and Tulex, along with Warlog and Dutch_Freak.
In January 2013, Mortal Team Work announced its intention to dissolve.[1] The team decided to continue to play together under the name Re-defining Madness.
Achievements
[
]
Dota 2
[
]
References
[
]