Morphling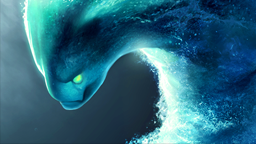 Morphling is a ranged agility hero that has many flexible abilities, item builds and is leveled as a very strong hard carry. He relies strongly on his attributes, and is an effective ganker. Unlike other agility carries that rely on physical attacks, he relies on his powerful abilities to initiate and shift into a state from which he can make a kill. Waveform lets him surge directly forward to a location, damaging enemies on his path, working both as a nuke or an escape. Adaptive Strike is a scaling two-part ability that blasts enemies with a jet of water, either stunning and knocking back or dealing damage. Its power is based on either agility or strength. Attribute Shift allows him to edit his physical being, switching it from Agility or Strength, transforming him into a strong damage dealer or a tank. His ultimate, Morph, transforms him into a copy of an enemy using their stats and basic abilities.
Bio
[
]
Abilities
[
]
Talents
[
]
Recent Changes
[
]
Recommended Items
[
]
Starting items:
Early game:
Wraith Band gives attributes and attack speed for a decent price.
Boots of Speed are necessary on Morphling to improve his slow base movement speed.
Magic Wand provides burst health and mana for sustain.
Mid game:
Power Treads provide an affordable source of attributes. The cost of his abilities can be mitigated by casting on intelligence, and they can also provide agility or strength for more offensive or defensive power without needing to use Attribute Shift.
Linken's Sphere provides a modest amount of attributes and regeneration, as well as giving protection against single-target abilities, making it even harder for him to be ganked.
Ethereal Blade scales up Adaptive Strike (Agility) with bonus agility while reducing enemy magic resistance, bursting most heroes in the mid game. Furthermore, Morphling can disassemble it to make Butterfly for late game.
Late game:
Black King Bar is a vital item for late-game teamfights, providing Morphling with time to deal his damage without being disabled.
Eye of Skadi is the largest source of total attributes available in one item, providing a large amount of HP even when fully shifted to agility.
Situational items:
Gameplay
[
]
| | |
| --- | --- |
| Roles: | Carry Escape Durable Nuker Disabler |
| Complexity: | ★★★ |
| Playstyle: | After eons of travel in the darkness of space, the icy comet plunged to earth, and from there rose an elemental being of sentient liquid. Unbound by any permanent shape, the Morphling alters his attributes to match his needs, Shifting between potent attacker, and resilient survivor. He blasts enemies with Adaptive Strikes, violent bursts of water that sting or stun, depending on his composition. When needed, Morphling surges forward in Waveform, battering foes while passing through obstacles. The power to Morph into an exact replica of any hero is his greatest asset, confounding enemies before destroying them with their ally's abilities. |
Audio
[
]
History
[
]
Equipment
[
]
Trivia
[
]
In DotA, Morphling was the only hero without a hero name, being named "Morphling the Morphling".
The attack response Link▶️ "Wave of mutilation!" is a direct reference to a Pixies song of the same name.
Gallery
[
]