Morphling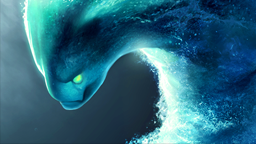 Rides the waves to flank enemies.
After eons of travel in the darkness of space, the icy comet plunged to earth, and from there rose an elemental being of sentient liquid. Unbound by any permanent shape, the Morphling

Alter Attributes

to match his needs. Shifting between potent attacker, and resilient survivor, Morphling can be as elusive as he is deadly. Whether riding a

Wave

to flank an enemy, or boosting his health before escaping into his deceptive

Replication

. Confounding enemies before destroying them with their ally's abilities, and with his

Adaptive Strikes

of water that sting or stun depending on his composition, few can hope to corner him.
Roles:
Carry Escape Durable Nuker Disabler
Complexity:
★★★
Bio
[
]
Abilities
[
]
Talents
[
]
Recent Changes
[
]
Recommended Items
[
]
Starting items:
Tango gives sustain in lane with health regeneration.
Iron Branch gives cost efficient attributes, and can builds into Magic Wand or combines with Tango for more health regeneration.
Enchanted Mango provides mana so Morphling can keep using Adaptive Strike (Agility) to get last hits.
Early game:
Wraith Band gives attributes and attack speed for a decent price.
Boots of Speed are necessary on Morphling to improve his slow base movement speed.
Magic Wand provides burst health and mana for sustain.
Mid game:
Power Treads provide an affordable source of attributes. The cost of his abilities can be mitigated by casting on intelligence, and they can also provide agility or strength for more offensive or defensive power without needing to use Attribute Shift.
Linken's Sphere provides a modest amount of attributes and regeneration, as well as giving protection against single-target abilities, making it even harder for him to be ganked.
Late game:
Black King Bar is a vital item for late-game teamfights, providing Morphling with time to deal his damage without being disabled.
Eye of Skadi is the largest source of total attributes available in one item, providing a large amount of HP even when fully shifted to agility.
Situational items:
Morbid Mask provides lifesteal to sustain Morphling while he farm up better items. It can build into Satanic later on.
Dragon Lance is a cheap source of attributes, and gives valuable attack range to improve Morphling's early fights. Later, it may be upgraded to Hurricane Pike for additional mobility, mana, and health regeneration, or it can be disassembled to make Black King Bar and/or Yasha.
Butterfly gives a very large amount of attack damage and evasion, and so is most effective for a build focused on attacks instead of Adaptive Strike.
Satanic allows Morphling to use his high DPS to rapidly heal himself full, via the active. However, if you get stunned while trying to lifesteal, you can still be very easily killed, so it should be paired with Black King Bar or used against teams with little lockdown potential.
Manta Style gives ability to dispel silences and debuffs, and synergies well with his escape mechanisms.
Diffusal Blade provides modest attributes, and allows his attacks to burn mana. Сan be effective if facing mana-related heroes (Medusa, Storm Spirit etc).
Gameplay
[
]
Audio
[
]
History
[
]
Equipment
[
]
Trivia
[
]
In DotA, Morphling was the only hero without a hero name, being named "Morphling the Morphling".
The attack response Link▶️ "Wave of mutilation!" is a direct reference to a Pixies song of the same name.
Gallery
[
]