Monstrosity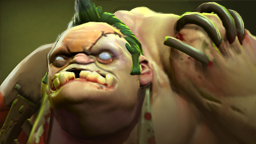 Fatty, The Monstrosity was a hero which was removed in the Version 3.0b gameplay patch.
Bio
[
]
Fatty, The Monstrosity
Lore:
Melee Hero. Can learn Cripple, Vampirism, Giant Growth and Haste.
Abilities
[
]

Significantly reduces enemies attack speed, damage and movement.
Attack Damage Reduction:
85/75/65%
Move Speed Slow:
75/65/55%
Attack Speed Slow:
75/65/55
Cripple Duration:
15/17/20

30

90

Modifiers

increases attack speed and movement speed.

Grants increased hit points, armor, damage, and spell immunity
Notes:

Interrupts The Monstrosity's channeling spells upon cast.
When using Manta Style while Giant Growth is active, Giant Growth ends prematurely.
Increases The Monstrosity's size by 25% for its duration.
Version history
[
]