Monkey King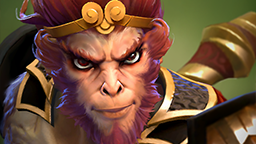 Springs from the cover of the tree tops.
Always in search of a good fight, Monkey King

Dances

and travels atop of trees aiming to

Spring

from leafy cover and surprise his enemies. A tuft of hair—plucked from his head—scatters into the wind, calling and commanding upon an army of

Monkey Soldiers

to overwhelm opponents, this agile

Trickster

revels in the chaos of battle, ready to slam his legendary

Boundless Staff

down on any hopes of escape.
Roles:
Carry Escape Disabler Initiator
Complexity:
★★☆
Bio
[
]
Abilities
[
]
Item Interactions
[
]
Items
On each cast, the soldiers' inventory gets updated and adapted to that of Monkey King.
Since the soldiers are unselectable and uncontrollable, they cannot pick up, drop or use any items.
The items' toggle status are not copied and are toggled On by default.
Does not copy any muted items which Monkey King has in its inventory (allied and enemy items alike).
Most attack modifiers and auras from items are fully copied upon cast, although some have a slightly altered effect.

Sets the item's toggled status to match Monkey King's.

Echo Strike does not apply movement speed slow. While they receive the attack speed bonus, their fixed attack interval prevents them from utilizing the increased attack speed.
These items are not copied.


Soldiers do not apply Bash at all.


Soldiers do not set these items to whichever attribute Monkey King had selected when summoned.
Neutral Items
Fully copies the neutral item as the original Monkey King carries.

Soldiers are unable to use these items' passive abilities.

Soldiers are unable to use the item's passive ability.
However, the flat magical bonus attack damage is functional.
Mischief Transformations
[
]
Casting Mischief transforms Monkey King based on nearby entities, from trees to items, runes, and non-hero units.
Mischief Transformations Priority
Priority
Disguise Target
Notes
1
Roshan and Kill Rewards

Within the pit and while Roshan is dead, Mischief disguises Monkey King as Roshan.

After his first respawn, it disguises him as the Aegis of the Immortal when cast inside the pit.
After his second respawn, it may also disguise him into Cheese, despite Roshan not dropping a Cheese on his second death.
After his third respawn, it may also disguise him into Refresher Shard.
Does not disguise Monkey King into Aghanim's Shard or Aghanim's Blessing.

With Aghanim's Shard, set Monkey King's minimum movement speed to

270

if he transforms to Roshan.

2
Runes

Disguises Monkey King into a rune within 300 range of a rune spot.

At the dedicated Bounty Rune spots, it always disguises into a Bounty Rune.
At the river rune spots, it always disguises as a random Power-Up Rune regardless if there is a rune at that rune spot.
Although the river spawns Bounty and Water Runes on the first spawns, Mischief still disguises Monkey King into a random Power-Up Rune.

3
Non-Hero Units

Disguises Monkey King into a non-hero unit within 200 range of a non-hero unit.
With Aghanim's Shard, set Monkey King's minimum movement speed to the unit's movement speed if the value is higher than 200.

4
Trees

Disguises Monkey King into a tree within 350 range of a tree.

If multiple trees models are within range, a random one of them is chosen.
Can transform into planted trees as well.

5
Courier
?
Random Entities

When cast without any valid aforementioned entities within the search radius, it randomly disguises Monkey King into one of the following:
Talents
[
]
Recent Changes
[
]
Recommended Items
[
]
Starting items:

Early game:

Mid game:

Late game:
Black King Bar helps Monkey King build up his Jingu Mastery charges without being interrupted, as well as increasing his survivability to keep up Wukong's Command.
Butterfly boosts damage output and evasion for a deadlier and longer Wukong's Command.
Desolator gives bonus damage and reduces armor of targets, which greatly boosts Monkey King's damage output against enemy units and buildings, and synergizes well with critical hit of Boundless Strike.

Situational items:
Gameplay
[
]
Audio
[
]
History
[
]
Equipment
[
]
Trivia
[
]
Monkey King's name, lore and abilities are based on Sun Wukong, the legendary hero from the Chinese classic Journey to the West.

In the novel, the Monkey King wields the Ruyi Jingu Bang, a flexible magical staff that can change size and length.
The name for Mischief in Dota 2's Chinese client is "Seventy-two Transformations" (七十二变, Qī shí èr biàn), a reference from the novel to Sun Wukong's ability to change into numerous forms. This is referenced by his voice line, "Lycan's got one transformation, I've got seventy-two."
Wukong's Command is based on one of the Monkey King's magical powers from the novel. He creates clones of himself from his hair, which he pulls from the back of his head, and blows into the wind.
In the novel he can fly on a cloud, called the Cloud Somersault technique. This is referenced by the names of his 6.80 beta abilities(Nimble Nimbus, Cloud Dance), the cloud riding effect added by Great Sage's Reckoning, and his voice line: "Where's my cloud?"

Monkey King is the first original hero made for Dota 2. All previous heroes were ported from DotA.
Monkey King is based on early concepts developed during the DotA era.
Phantom Lancer was based off of Monkey King's 6.80 beta version, his original model was approximately the same as the present Phantom Lancer, as well as his abilities. However, this version was not released and instead was released with some changes as Phantom Lancer.

Monkey King's rivalry line against Phantom Lancer, Link▶️ "Honestly, I don't see the resemblance.", acknowledges this.
His beta abilities included much the same mechanics as Phantom Lancer's current ones: a ranged spell to create an illusion to attack an enemy hero("Echo Sweep"), temporary invulnerability with illusions created on return("Cloud Dance"), a dash towards a point("Flicker"), and a passive to create illusions upon attacking an enemy hero("Nimble Nimbus").
See Monkey King/Old Abilities.

Several early ability concepts were considered for Monkey King's Dota 2 release, including a "pickpocket" ability.
The Banana item, which only appeared in private lobbies, may have been an early hint to Monkey King's release. The item was removed on the same patch as Monkey King was released.
Monkey King's default weapon is based on the in-game item, Monkey King Bar.
Mischief's lore line Watch out for that tree is a reference to George of the Jungle, a classic comedy film.
The Monkey King concept has been widely used throughout the ARTS/MOBA genre, with other Monkey King heroes appearing in League of Legends, Heroes of Newerth, Vainglory, Strife, SMITE, and Paragon.
The emblem on a ground made by Primal Spring is called a bagua, which is a Daoist symbol that represents the fundamental principles of reality.
Monkey King's was voiced in his teaser trailer by Matthew Mercer, who also voiced the Monkey King hero from Heroes of Newerth. However, his voice actor was later changed to Bill Millsap.
Monkey King's Chinese voice actor is Shihong Li, who also voiced Monkey King in the famous 1986 TV show, Journey to the West.
The sound effect played during Wukong's Command (Link▶️) comes from a Balinese music and dance called kecak. Accompanied by male chorus, this ritual song depicts a battle where a group of monkeys (Vanara) helped Prince Rama to fight the evil King Ravana.
One of Monkey King's lines directed at Storm Spirit, "I've seen Xin and Kaolin. Where's your other brother?" implies the existence of a fourth spirit, presumably Void Spirit, who was revealed two years later at The International 2019.
Gallery
[
]
External links
[
]
References
[
]