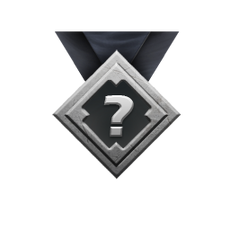 Seasonal Rankings represent the level of skill a player achieves in a single season, as determined by their matchmaking rating (MMR) and other hidden factors. It is only available for ranked matches. Medals are reset at the end of each season. The previous season's medal is displayed next to the new medal for the next season.
Calculation (Read this first!)
The exact calculation for earning medals is kept secret by Valve and may change over time.
This page reflects rough estimates based on community observations.

MMR will not always match their estimated medal. It is normal to be off by a few hundred points from the estimates below.
MMR is not the only factor in determining medal rank.

Some players may have medals far above their MMR because:

The player may have multiple Steam accounts.
The system remembers player performance based on peak skill level, not current skill level. This is a common mechanism in competitive games to combat smurfs and intentional derankers.

Medals displayed during matchmaking may differ based on the role a player picks, and their proficiency with that role.
Medals
Last revised on October 11, 2019.
Leaderboard medals
Players who make it onto the regional Leaderboards will earn Immortal medals, with their rank displayed beneath the medal.
All Immortal medals have a sparkling particle effect in-game.
Emoticons
The following emoticons are unlocked at each ranked tier.
| Tier | Chat Code | Emoticon |
| --- | --- | --- |
| Uncalibrated | :uncalibrated: | |
| Herald | :herald: | |
| Guardian | :guardian: | |
| Crusader | :crusader: | |
| Archon | :archon: | |
| Legend | :legend: | |
| Ancient | :ancient: | |
| Divine | :divine: | |
| Immortal/Top 1000 | :immortal: | |
| Immortal/Top 100 | :top100: | |
| Immortal/Top 1 | :top1: | |
Seasons
| Season | Start | End | Duration |
| --- | --- | --- | --- |
| Season 5 | 2020/10/15 | ?? | Ongoing |
| Season 4 | 2019/09/19 | 2020/10/14 | 12 months, 25 days (390 days) |
| Season 3 | 2019/01/29 | 2019/09/16 | 7 months, 19 days (231 days) |
| Season 2 | 2018/06/06 | 2019/01/28 | 7 months, 23 days (237 days) |
| Season 1 | 2017/11/22 | 2018/06/05 | 6 months, 15 days (196 days) |
Trivia
Each medal design is inspired by different items:
Update history
See also
External links