Mars
Mars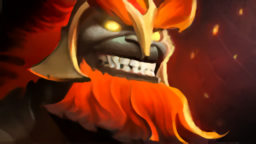 Mars, the First Son of Heaven, is an aggressive melee strength hero who controls the battlefield with numerous knockbacks and impassable terrain. Equipped with a large shield, his Bulwark passively blocks attacks from the front and sides, making him a very durable fighter in most situations. The same shield allows him to smash enemies and knock them back, dealing critical damage that ignores all evasion. The Spear of Mars can be thrown at long range, piercing enemies to push them back, and stunning them upon contact with trees or terrain. Mars' most potent ability creates an Arena Of Blood, a circular zone where no enemy can exit or enter, as well as blocking enemy attacks from the outside. Used correctly, the Arena Of Blood can decisively split and cut off enemies from support during teamfights, making Mars a valuable asset to his team, as well as a highly dangerous opponent.
Abilities
[
edit
]
Talents
[
edit
]
Recent Changes
[
edit
]
Recommended Items
[
edit
]
Starting items:
Early game:
Mid game:
Late game:
Black King Bar grants spell immunity which may be required if the other team has a lot of stuns and can stop you from being effective and disruptive.
Heaven's Halberd allows Mars to stop a hero from attacking who may have some form of break or spell immunity (if he can use it before them).
Situational items:
Pipe of Insight's magic resistance allows Mars to stay alive against magical nukes.
Vanguard will make Mars a hard target to kill from physical attacks when the enemies are not attacking Mars from the front.
Crimson Guard is very strong againts multiple physical damage dealers and can help your team push.
Gameplay
[
edit
]
| | |
| --- | --- |
| Roles: | Carry Initiator Disabler Durable |
| Complexity: | ★☆☆ |
| Playstyle: | Seeking purpose and satisfaction through war, the god Mars now sets his sights on new conquests against his heavenly kin. In one arm he hoists a heavy shield, an impenetrable Bulwark that guards against all assault. Using divine strength, he pierces foes with his legendary Spear, and smashes attackers back with his shield, sending them flying across the battlefield. The undead warriors of the Ash Legion rise at Mars' beckoning to form a circle, ensuring that none may interfere with the glorious combat inside the Arena Of Blood. |
History
[
edit
]
Equipment
[
edit
]
Despite being Zeus' son, Mars is named after the Roman god of war, instead of the Greek equivalent, Ares, who is the son of the Greek god Zeus.

However, lines from Mars (Link▶️ "I don't answer to that name anymore, you old fool.") and Zeus themselves (Link▶️ "Change your name all you want, you can't fool me.") hint that Mars has changed his name, possibly to avoid association with his father.
Mars' Immortal Off-hand item, God's Mercy, references elements from the Greek Myth as well, namely Perseus and Medusa. Perseus (who is another one of the Greek god Zeus' sons) uses a polished shield to act as a mirror to approach and behead the sleeping Medusa without looking directly at her eyes, thereby avoiding her infamous stone gaze. Perseus also used Medusa's head as a weapon to turn King Atlas into stone.

Mars carries a Greek-style Boeotian shield, but its decorative thunderbolts are more common on Roman shields.
Link▶️ Arena Of Blood's sound comes from the Mars movement of Gustav Holst's musical suite, The Planets. Mars also Link▶️ hums the music when ordered to move or after killing an enemy in the Arena of Blood.
Mars' response on pinning an enemy against the walls of Arena of Blood (Link▶️ "Are you not entertained?!") is a reference to a scene from the film Gladiator.
Mars' death response (Link▶️ "What is this madness?!") and Dota Plus chat wheel line (Link▶️ "THIS IS DOOOOTAAAAA!") are references to the famous "THIS IS SPARTA!" scene from the film 300
Mars' rare Arena of Blood cast response (Link▶️ "WITNESS MEEEE!") is a reference to a War Boy's suicide attack using grenade-tipped spears from the film Mad Max: Fury Road.
Files related to Mars were leaked on January 03, 2018, but were deleted later that day. The leaked abilities were called Spear Wall/Spear and Phalanx/Phalanx Cancel.
Gallery
[
edit
]
External links
[
edit
]