Manta Style is an item purchasable at the Main Shop, under Armor. However, it requires an item from the Secret Shop to be completed.

An axe made of reflective materials that causes confusion amongst enemy ranks.
Additional Information
[
]
The item's attributes grants the following bonuses:
Ability
[
]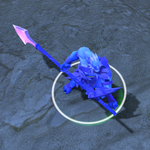 Creates 2 images of your hero that last 20 seconds.

Melee images deal 33% damage, while Ranged images deal 28%. Illusions take 300% damage.
Notes:

Resets all current attack and ability targeting orders from other units on the owner.
After the split time, the caster reappears with their illusions.

The reappear locations are based on the caster's position upon cast, with one appearing at the cast location, and the others north, east, south or west from that point.
The distance in between each is 108 range if the hero has a collision size of 24, and 72 if the collision size is 8.
Though the formation is always the same, the caster and their illusions take a random position in the formation and have all the same facing angle.
Orders the user to stop after the split time, canceling all queued orders, and orders given during the split time.
Recasting this replaces the illusions from the previous cast which are currently under the owner's control.
Recommended Heroes
[
]
Tips
[
]
The Manta Style is less effective on ranged heroes except with heroes with attack modifiers that works on illusions like Luna Moon Glaives bounce, Drow Ranger's high agility and Morphling which mostly buy stats items that benefits illusions.
Doesn't work with Lone Druid's Spirit Bear.
The illusions can be used to scout to secure your farming, prepare a gank, or before attacking Roshan. They are useful to deward and destroy Techies' mines but they don't get True Sight from Gem.
The active of the Manta Style applies a basic dispel, so it can replace a Linken's Sphere against a Bloodthorn or Rod of Atos.
The illusions are good against a hero carrying a Skull Basher, they will have 2/3 chances to bash your illusion.
Gallery
[
]
Recent Changes
[
]
Mirror Image

Reduced illusion damage taken from

350%

/

400%

to 300%.
Reduced cooldown from

30

/

45

to 30.
Reduced Ultimate Orb cost from

2150

to

2050

(total cost decreases from

4700

to

4600

).
Changed movement speed bonus from a flat 20 to 8%.
Items
Basics

Consumables
Attributes
Equipment
Miscellaneous
Secret Shop

Upgrades

Accessories
Support
Magical
Armor
Weapons
Artifacts

Neutral

Tier 1
Tier 2
Tier 3
Tier 4
Tier 5
Retired

Tier 1
Tier 2
Tier 3
Tier 4
Tier 5

Others