Magnus
Magnus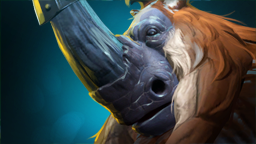 Magnus, the Magnoceros, is a monstrous melee strength hero who is usually played as a ganker, initiator, or semi-carry. His ability to battle multiple heroes at once gives him an excellent presence in team fights. In addition to his teamfight presence, he can buff allies or himself with bonus damage and cleave, capitalizing on his ability to group up multiple enemies. As a hero who possesses multiple area-of-effect abilities with a manageable mana cost, and a very powerful ultimate that serves as a great team fight initiation ability, Magnus is truly a force to be reckoned with.
Abilities
[
edit
]
Talents
[
edit
]
Recent Changes
[
edit
]
Recommended Items
[
edit
]
Starting items:
Tango provides health sustain during laning stage.
Early game:
Bottle can save Magnus trips to the fountain, since its mana rejuvenation works well with his low-mana cost abilities. It is crucial if soloing the middle lane, allowing for rune control.
Magic Wand will not only provide him bonus attributes, but also more sustain.
Boots of Speed provide movement speed bonus early on, helping Magnus collect runes and perhaps kills.
Mid game:
Late game:
Black King Bar makes it easier for Magnus to use his ultimate, as he can place himself in the middle of heroes without being interrupted. It can also be used so that he can live longer against too many disablers.
Refresher Orb gives Magnus more regeneration and the ability to cast his ultimate in a shorter period of time.
Situational items:
Gameplay
[
edit
]
| | |
| --- | --- |
| Roles: | Initiator Disabler Nuker Escape |
| Complexity: | ★★☆ |
| Playstyle: | A magnoceros does not believe in chance, and the eruption of Mount Joerlak was no accident. For this reason Magnus set out, never to return to his kin until those responsible had been impaled upon his horn. He charges into battle, Skewering and dragging enemies through any terrain. With a deep bellow, the magnoceros Empowers his companions to strike beyond their normal scope, and devastates entire enemy columns with subterranean Shockwaves. In the midst of the fray, Magnus unleashes his most remarkable ability, Reverse Polarity. Nearby foes are pulled instantly to a spot before him, dazed and immobilized, ready to be dispatched by his allies. |
History
[
edit
]
Equipment
[
edit
]
In the transition to Dota 2, Magnus's race was changed from Magnataur to Magnoceros, most likely to avoid copyright issues with Blizzard, since the Magnataur are an existing race in the Warcraft universe.
"Magnus" means "great" in Latin.

This was used as an honorific in certain esteemed Romans; the most famous being Gnaeus Pompey Magnus (Pompey the great), party with Caesar on two triumvirates. When Caesar refused to disband his army and enter Rome as a citizen, Pompey led the Roman's evacuation and was the main general to oppose Caesar, until his (Pompey's) death.

Magnus' lore was written by Greg Kasavin of Supergiant Games. In Greg's original draft, the Magnoceri were a dying race due to the males having the tendency of killing the females after mating, leading Magnus to go on a search for a new mate that could please him. Magnus still has many rivalry lines directed towards female heroes referencing that original draft.[1]
Gallery
[
edit
]
References
[
edit
]