Lycan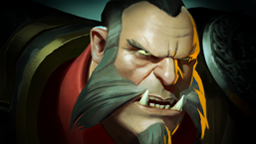 Shapeshifts into a ferocious beast.
Part man and part wolf, Banehallow stands as the lone surviving heir to the noble House of Ambry. Not one to squander his curse, Banehallow

Summon Wolves

to scout ahead and aid him in the hunt. A blood-curdling

Howl

empowers his animal companions, sinking fang and claw to

Cripple

his prey. But these abilities pale in comparison to the true manifestation of his lycanthropy. Under the full moon, he

Shapeshift

and

Bites

his ally, transforming both of them into great wolves, and takes on supernatural haste with

Feral Impulse

as they sprint unhindered across the battlefield to tear the throats from their enemies.
Roles:
Carry Pusher Jungler Durable Escape
Complexity:
★★☆
Bio
[
]
Abilities
[
]
Lycan Wolf
[
]
Talents
[
]
Recent Changes
[
]
Recommended Items
[
]
Starting items:
Early game:
Mid game:
Power Treads gives you movement speed, attack speed, and ability to switch to suitable attributes.
Helm of the Dominator controls a neutral creep, which will also benefit from Lycan's abilities.
Late game:
Assault Cuirass gives armor and attack speed to Lycan and his allies (including his summons), and reduces the opponents' armor (including their towers').
Desolator improves Lycan's tower pushing and increases his damage. It also synergizes with an Assault Cuirass pickup and creates a huge armor disparity.
Black King Bar gives more strength and temporary spell immunity so Lycan can shred his targets without worrying about disables.
Situational items:
Gameplay
[
]
Audio
[
]
History
[
]
Equipment
[
]
Trivia
[
]
Lycanthropy refers to the ability of a human to transform into a wolf, or gain wolf-like characteristics. The term derives from the Greek word lykànthropos, which translates to "wolf man", or "werewolf" in English.
The name Banehallow was derived from a Warcraft 3 hero unit called Dreadlord.
The line Link▶️ "Was I a wolf who dreamed he was a man?" refers to a quote by Chinese philosopher Zhuangzi - "Now I do not know whether I was then a man dreaming I was a butterfly, or whether I am now a butterfly, dreaming I am a man."
The line Link▶️ "Are you an air wolf?", refers to the American famous television series "Airwolf", counting this response is said to Gyrocopter.
The line Link▶️ "Who fears the wolf should fear the forest." is a reference to Russian novelist Fyodor Mikhailovich Dostoyevsky quote from 'The Gambler' : 'Who fears the wolf should never enter the forest'
The line Link▶️ "I thought you were Team Yakov!" is a reference (and pun) to Jacob Black from the Twilight series, who is a werewolf. Fans divide themselves into "teams" by who their most preferred main character is, one of such teams is "Team Jacob".
Gallery
[
]